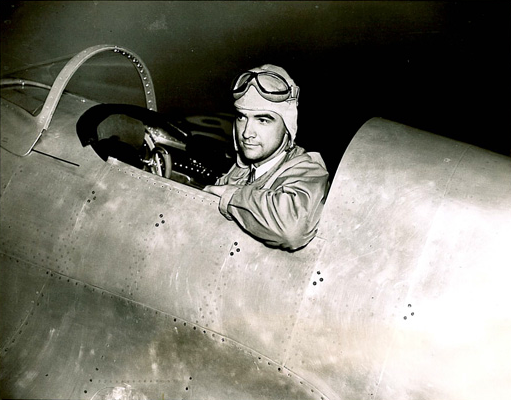 13 September 1935: Flying his Hughes H-1 Special, NR258Y,  Howard Robard Hughes, Jr. set a Fédération Aéronautique Internationale (FAI) World Record for Speed Over a 3 Kilometer Course near Santa Ana, California. Making seven passes over the measured course, each in opposite directions, his average speed was 567.12 kilometers per hour (352.39 miles per hour).¹ This was 61.27 kilometers per hour (38.07 miles per hour) faster than the previous record, set by Raymond Delmotte, 25 December 1934, flying a Caudron C.460 Rafale.²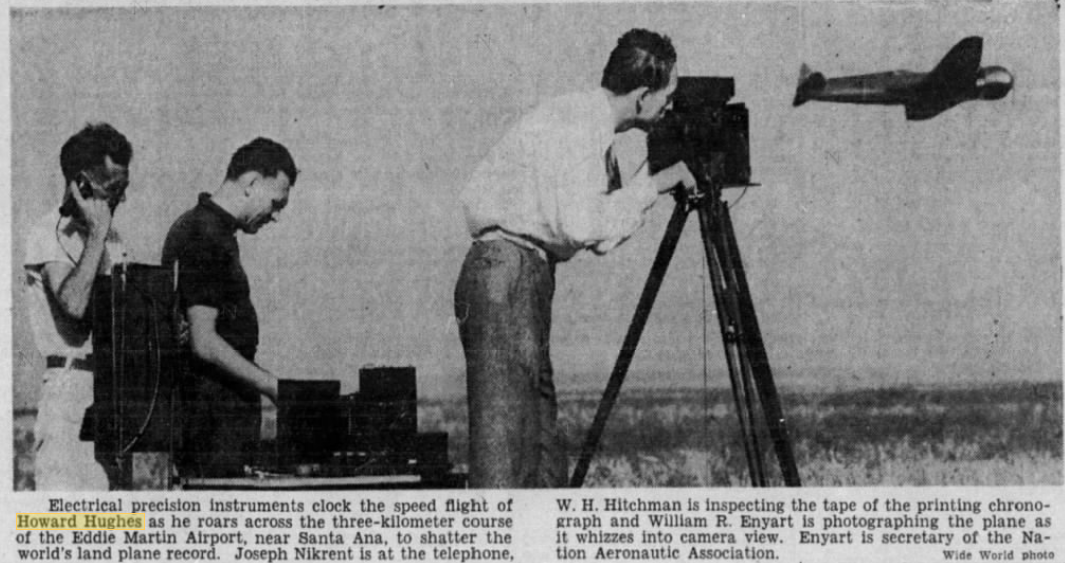 Just after completing the final pass over the course, the airplane's engine stopped due to fuel starvation. Hughes made a belly landing in a farm field. He was uninjured and the airplane received only minor damage.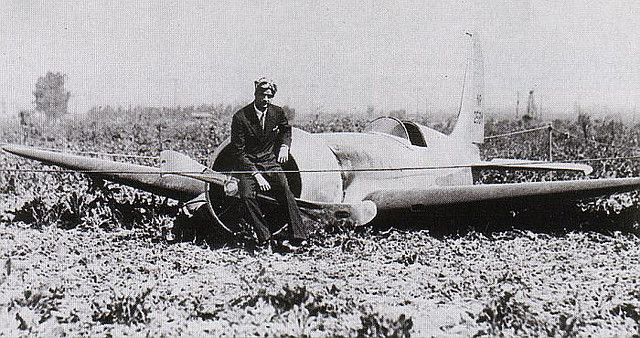 The Los Angeles Times reported:
HUGHES WINS SKY RECORD AND CRASHES
Death Escaped in Mishap
Millionaire Flyer Forced Down After Averaging 347 Miles and Hour
     Howard Hughes, Millionaire sport flyer, missed death by a narrow margin yesterday morning a few seconds after he brought back to the United States the world's speed mark for land planes when he averaged 347 miles an hour near Santa Ana.
Official confirmation of the new mark must await calibration of the speed over the measured three-kilometer course, bordering the Eddie Martin Airport, by the Federation Aeronautic Internationale of Paris, France. The figures are to be submitted following a conference between officials of the National Aeronautics Association and representatives of the California Institute of Technology.
TIMER CONFIDENT
     "I don't expect any difficulty in having Hughes's speed marks officially allowed," said William R. Enyart, official timer, shortly after the mystery racing plane made a forced landing in a beet field and ploughed a furrow for sixty yards.
     Hughes had just completed his seventh lap against the former world record of 314.319 miles an hour, held by Raymond Delmotte of France, when he suddenly lifted the silver monoplane into the air as his fourteen-cylinder Wasp radial air-cooled engine sputtered.
     The pilot sought altitude, climbing to 500 feet. Then he turned and headed for the beet field, his engine stopped.
DEAD STICK LANDING
     Despite his landing speed of about eighty miles and hour, Hughes made a perfect "dead stick" landing as the ship flattened out on its lower side and slid through the soft ground. A bent propeller and wrenched landing gear were the only visible damage.

     "My gas supply in one tank was exhausted," Hughes said as he stepped unhurt from the racer. When I switched on the other tank the motor didn't take it. An air lock—pressure built up from the dry tank—had developed in the line and the only thing I could do was attempt a forced landing."
WINS CONGRATULATIONS
     Hughes received the congratulations of numerous officials gathered to witness the assault on the speed record for his manipulation of the speedy ship and the perfect landing. Amelia Earhart, who had been flying as an observer, was one of the first to praise the pilot.
     "The stoppage in gas came so suddenly, Hughes said, "that I did not have time to lower the retractable landing gear. It was only partially down when the plane hit. The force drove it back into the ship and probably aided in preventing additional damage."
SERIES OF CHECKS
     Six record-breaking tests were made as Hughes streaked over the course. An electronic chronograph photographed and clocked each flight. Four are required to officially set a new speed mark.
     Determination of Hughes to make his second record-breaking attempt early yesterday morning came as a surprise and after he and his assistants had spent the night checking over difficulties faced in the flight late Thursday afternoon.
     Hughes rolled his $120,000, 1000-horsepower, low-winged monoplane from the hangar at Union Air Terminal shortly after daylight and awaited word from officials at the measured course that all was in readiness.
     At 6:30 a.m. he flashed into the air and an hour and ten minutes later had made his successful seven flight when halted by the gas supply stoppage.
     Hughes and associates announced that the next speed record he will attempt to break in his specially constructed racer will be the flight from Los Angeles to New York. The present time, 10 hours and 2 minutes, is held by Col. Roscoe Turner.
SCENE OF FLIGHT
     The record-breaking flight was made over the course on the Irvine ranch surveyed for the late Dr. Albert A. Michelson's experiments to measure the speed of light. Joe Nikrent and W.H. Hitchman, representing the National Aeronautic Association, helped time the dashes.
     In beating the Delmotte record by approximately twenty-nine miles an hour, Hughes brings back to America, the record once held by the late James Wedell. Wedell set a world mark of490.8 kilometers an hour, only to have it bettered by the French flyer last December 24.

—Los Angeles Times, Vol. LIV, Saturday, 14 September 1935, Page 1, Column 4, and Page 3, Columns 3 and 4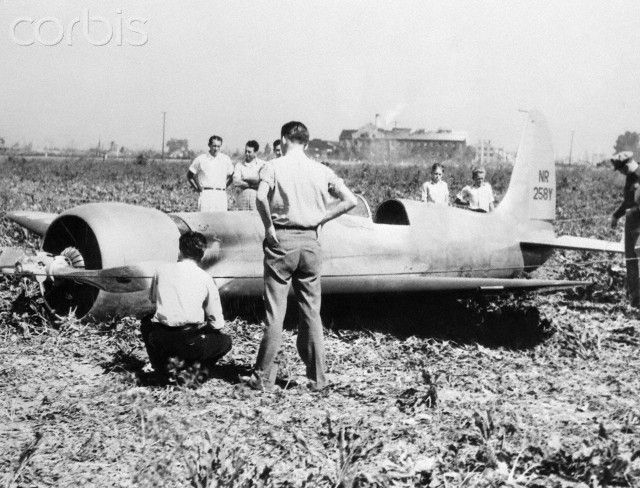 The Hughes H-1 (Federal Aviation Administration records identify the airplane as the Hughes Model 1B, serial number 1) was a single-seat, single-engine low-wing monoplane with retractable landing gear. Emphasis had been placed on an aerodynamically clean design and featured flush riveting on the aluminum skin of the fuselage. The airplane was 27 feet, 0 inches long (8.230 meters) with a wingspan of 25 feet (7.6 meters) and height of 8 feet (2.438 meters). (A second set of wings with a span of 31 feet, 9 inches (9.677 meters) was used on Hughes' transcontinental flight, 19 January 1937). The H-1 has an empty weight of 3,565 pounds (1,617 kilograms) and gross weight of 5,492 pounds (2,491 kilograms).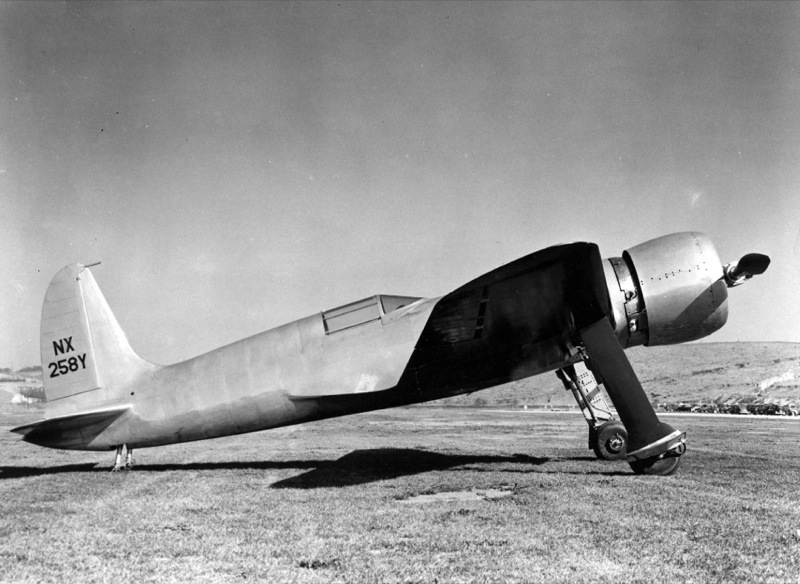 The H-1 was powered by a air-cooled, supercharged 1,534.943-cubic-inch-displacement (25.153 liter) Pratt & Whitney Twin Wasp Jr. two-row, fourteen-cylinder radial engine. Pratt & Whitney produced 18 civil and 22 military (R-1535) versions of the Twin Wasp Jr., in both direct-drive and geared configurations, rated from 650 to 950 horsepower. According to a 1937 article in Popular Mechanics,
"Hughes' motor is a stock air-cooled fourteen-cylinder twin-row Pratt & Whitney wasp junior that develops 700 horsepower at 2,500 revolutions per minute at 8,500 feet altitude. The engine has an outside diameter of forty-four and one-eighths inches, a dry weight of 1,060 pounds, and a displacement of 1,535 cubic inches. Compression ratio is 6.7 to one and the supercharger ratio is ten to one. Carburetion and magneto ignition are stock."
—Popular Mechanics Magazine, Vol. 67, No. 4, April 1937, at Page 502, Column 2
The data cited by Popular Mechanics seems to match the characteristics of P&W's Twin Wasp Jr. S3A5-G aircraft engine.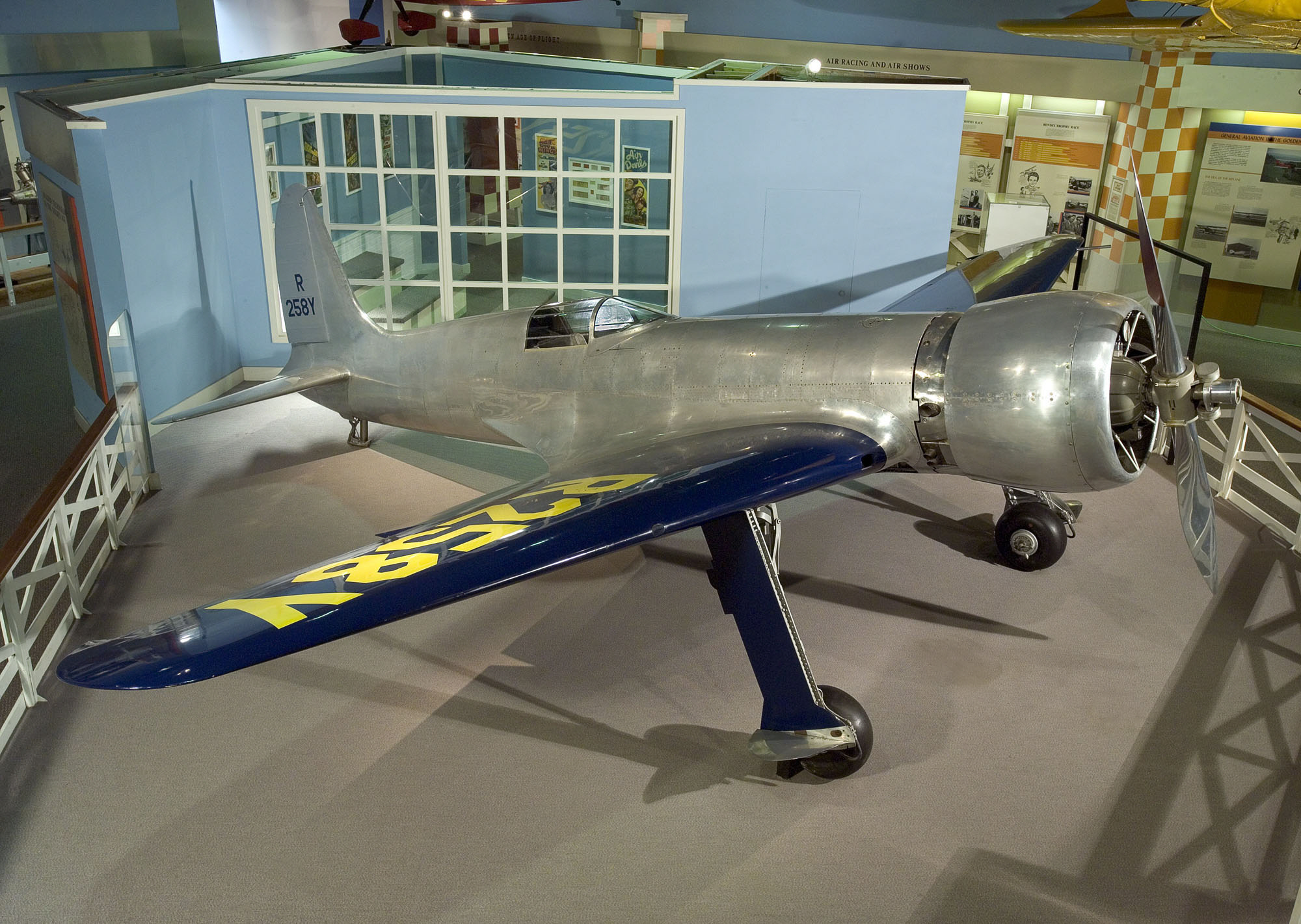 ¹ FAI Record File Number 8748
² FAI Record File Number 8749: 505.85 kilometers per hour (314.32 miles per hour)
© 2018, Bryan R. Swopes