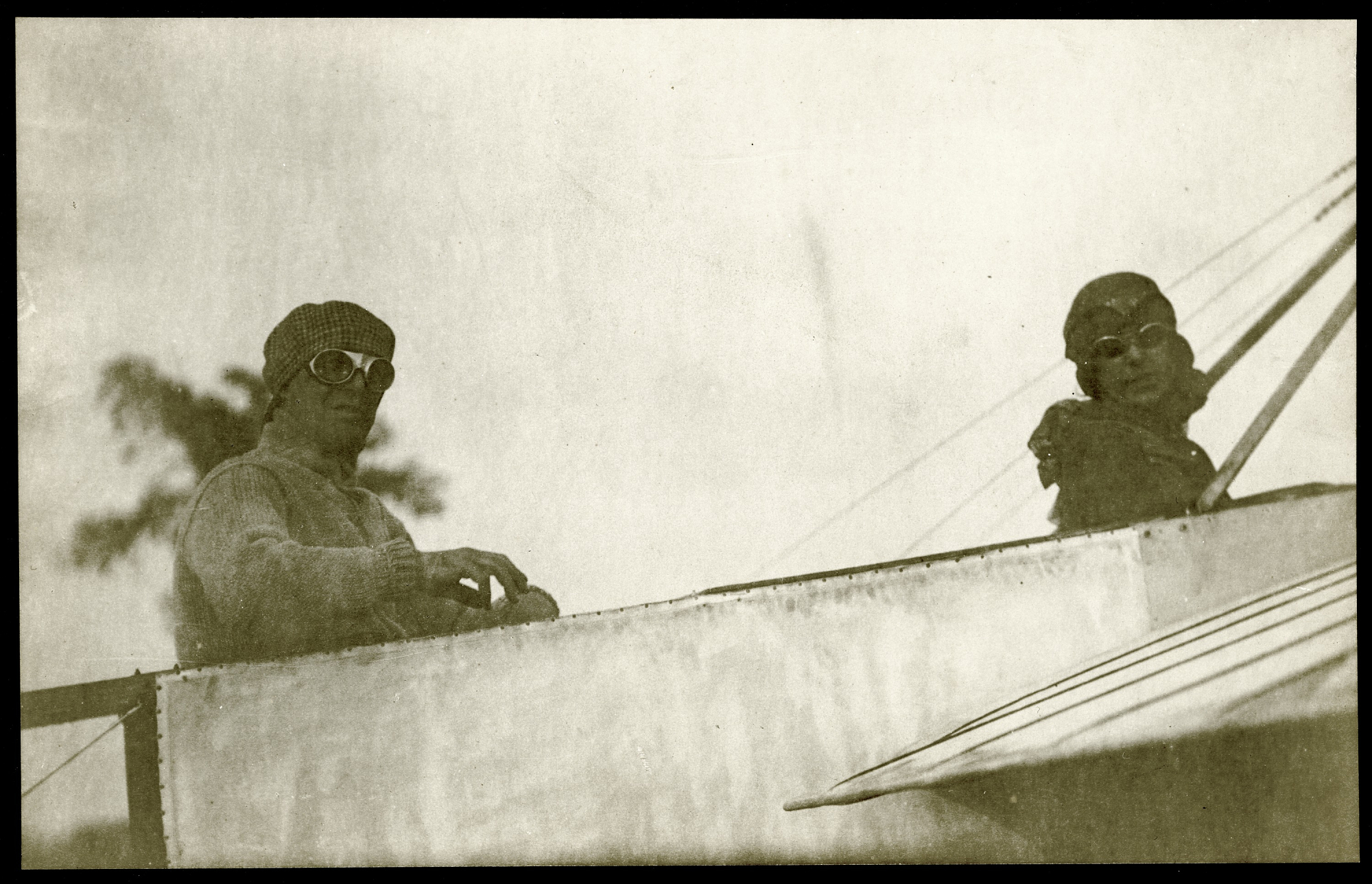 1 July 1912: While flying her new two-place Blériot XI monoplane, at the Third Annual Boston Aviation Meet at Squantum, Massachusetts, Harriet Quimby and her passenger, William A. P. Willard, Jr., organizer of the Meet, flew out over the water:
As the pair returned from circling the Boston Light far out in the bay, the sky had turned a dazzling orange. Five thousand spectators watched as the monoplane approached over the tidal flats, strikingly silhouetted against the blazing sky. Without any warning, the plane's tail suddenly rose sharply, and Willard was pitched from the plane. The two-passenger Blériot was known for having balance problems, and without Willard in the rear seat, the plane became gravely destabilized.
For a moment it seemed that Quimby was regaining control of the plane. But then it canted forward sharply again, and this time Quimby herself was thrown out. The crowd watched in horror as the two plunged a thousand feet to their deaths in the harbor. Ironically, the plane righted itself and landed in the shallow water with minimal damage.
Quimby was 37 years old.
—excerpt from PBS NOVA article, "America's First Lady of the Air," by Peter Tyson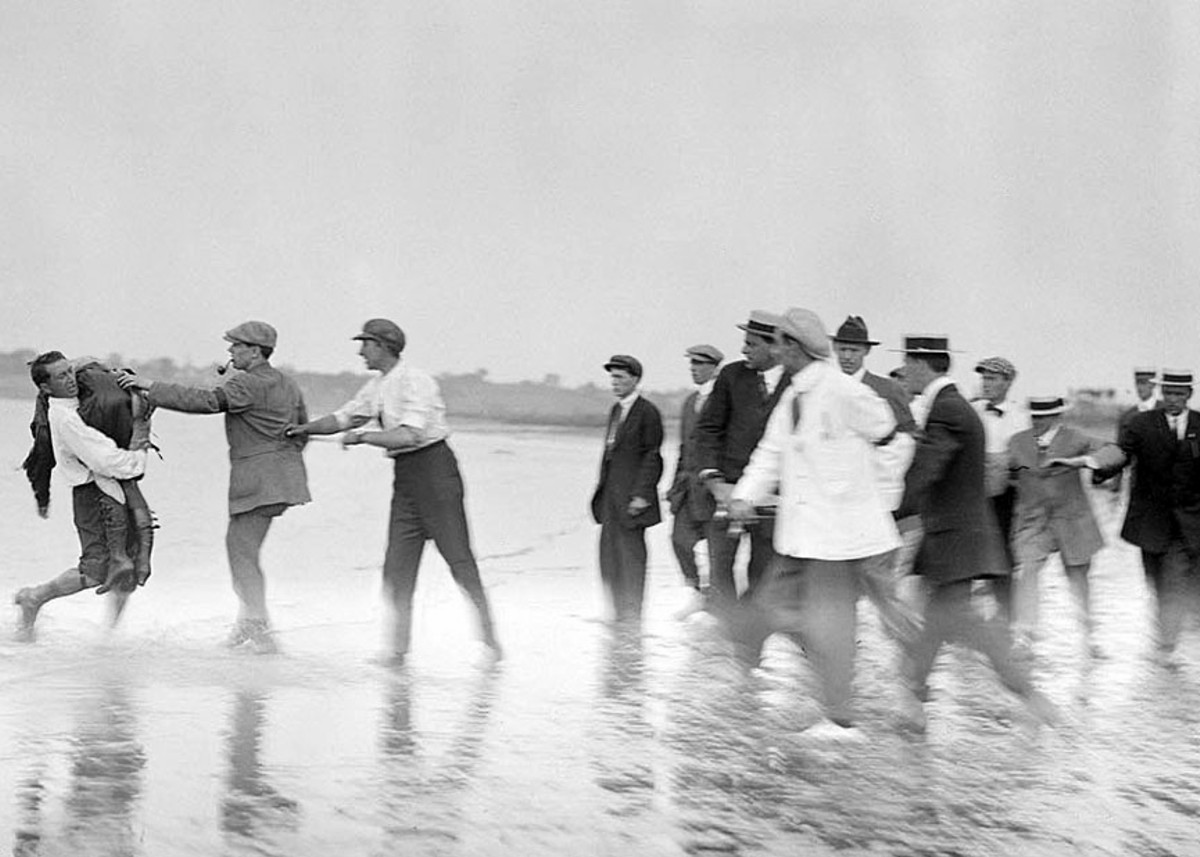 The cause of the accident is unknown and there was much speculation at the time. What is known is that neither Quimby nor Willard were wearing restraints. Also, the Blériot XI was known to be longitudinally unstable. With the nose pitched down the tail plane created more lift, which caused the nose to pitch down even further.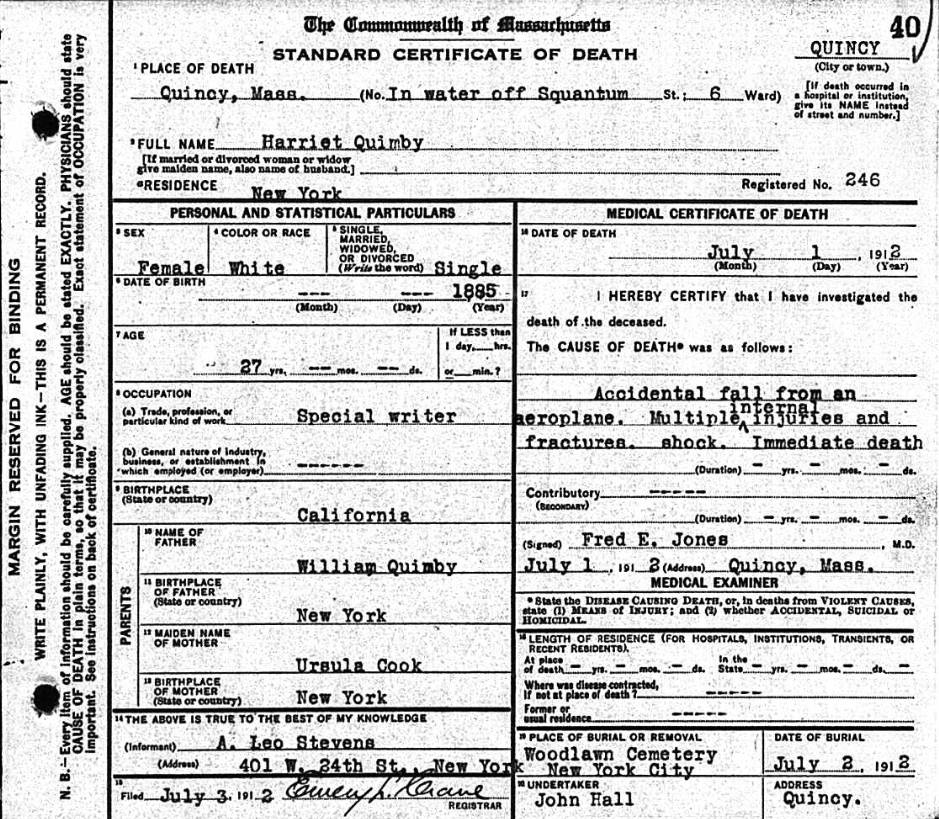 Harriet Quimby was born 11 May 1875 at Arcadia, Michigan. She was the fourth child of William F. Quimby, a farmer, and Ursula M. Cook Quimby. The family moved to California in 1887, initially settling in Arroyo Grande, and then San Francisco. There, she worked as an actress, and then a writer for the San Francisco Call newspaper, and Leslie's Illustrated Weekly. Quimby also wrote a number of screenplays for early Hollywood movies which were directed by D.W. Griffiths.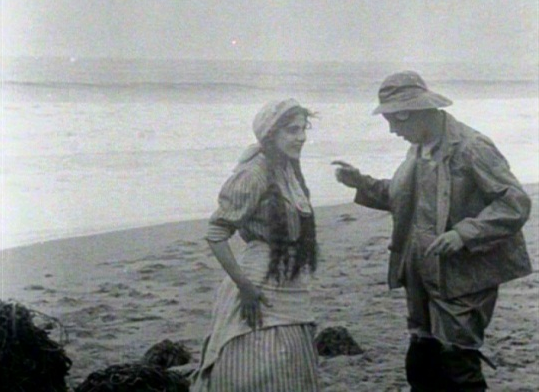 Harriet Quimby was the first American woman to become a licensed pilot. After 33 flight lessons over a four-month period at the Moisant Aviation School at Hempstead, Long Island, New York, on 1 August 1911, Harriet Quimby took her flight test and became the first woman to receive a pilot's license, Number 37, from the Aero Club of America. She was called as "America's First Lady of the Air."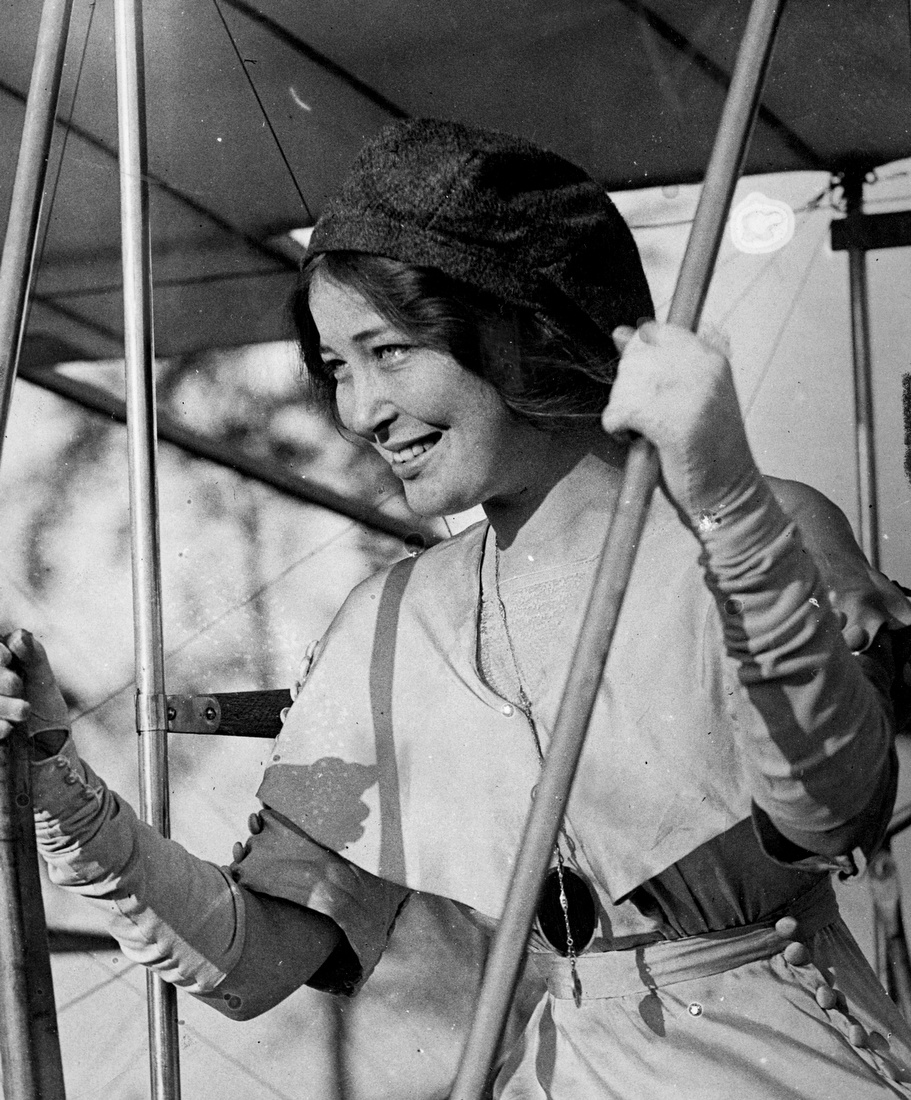 Miss Quimby was well-known throughout the United States and Europe, and she wore a "plum colored" satin flying suit. But she was a serious aviator. Just twelve weeks earlier, on 6 April 1912, Harriet Quimby became only the second pilot to fly across the English Channel when she flew a Blériot XI from Dover to Hardelot-Plage, Pas-de-Calais, in 1 hour, 9 minutes. Her only instruments were a hand-held compass and a watch.
Harriet Quimby was buried at the Kensico Cemetery, Valhalla, New York.
Miss Quimby's airplane was a tandem seat variant of the Blériot XI single-seat, single-engine monoplane, designed by Raymond Saulnier and built by Louis Charles Joseph Blériot. The basic airplane was 24 feet, 11 inches (7.595 meters) long with a wingspan of 27 feet, 11 inches (8.509 meters) and overall height of 8 feet, 10 inches (2.692 meters). The wings had a chord of 6 feet (1.829 meters). The airplane had an empty weight of 507 pounds (229.9 kilograms).
In its original configuration, the airplane was powered by an air-cooled, 3.774 liter (230.273 cubic inches) R.E.P.  two-row, seven-cylinder fan engine (or "semi-radial") which produced 30 horsepower at 1,500 r.p.m., driving a four-bladed paddle-type propeller. The R.E.P. engine weighed 54 kilograms (119 pounds). This engine was unreliable and was soon replaced by an air-cooled 3.534 liter (215.676 cubic inch) Alessandro Anzani & Co., 60° (some sources state 55°) three-cylinder "fan"-type radial engine (or W-3) and a highly-efficient Hélice Intégrale Chauvière two-bladed fixed-pitch propeller, which had a diameter of 6 feet, 8 inches (2.032 meters). The Anzani W-3 was a direct-drive, right-hand tractor engine which produced 25 horsepower at 1,400 r.p.m. It was 1.130 meters (3 feet 8.49 inches) long, 1.500 meters (4 feet, 11.01 inches) high, and 0.720 meters (2 feet, 4.35 inches) wide. The engine weighed 66 kilograms (145.5 pounds).
The Blériot XI had a maximum speed of 47 miles per hour (76 kilometers per hour) and the service ceiling was (3,280 feet) 1,000 meters.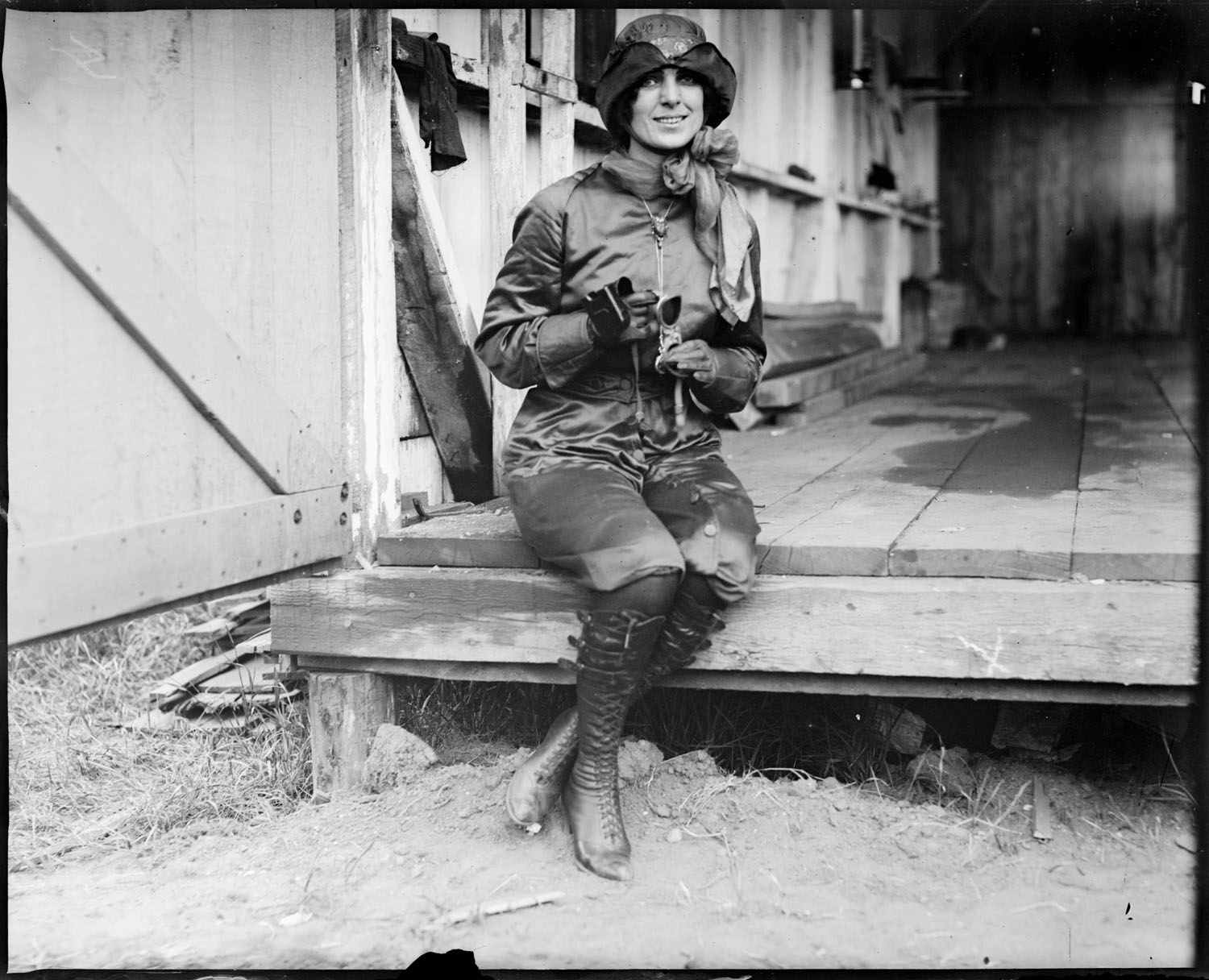 © 2018, Bryan R. Swopes