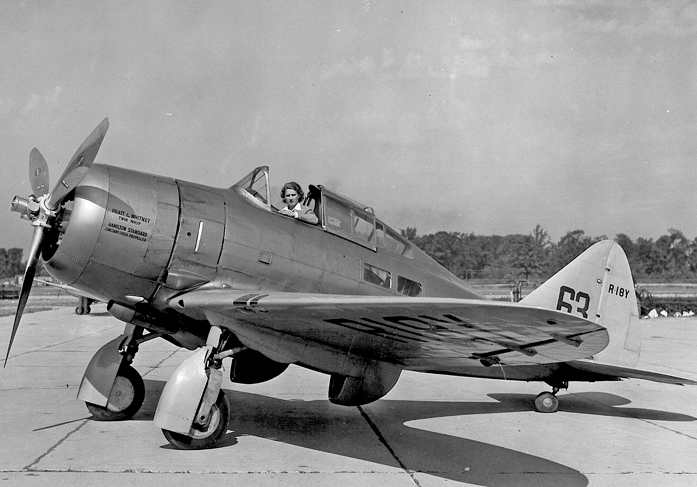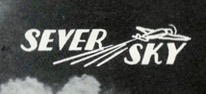 21 September 1937: Jackie Cochran flew the Seversky Aircraft Corporation SEV-S1, civil registration NR18Y, over a 3 kilometer course at Detroit Wayne County Airport, Romulus, Michigan, averaging 470.40 kilometers per hour (292.29 miles per hour). This was a new Fédération Aéronautique Internationale (FAI) world speed record.¹
For her accomplishment, Ms. Cochran was awarded the Harmon International Aviatrix Trophy by Mrs. Franklin D. Roosevelt in a ceremony 4 April 1938.
The Seversky SEV-S1 Executive was an improved version of the P-35 fighter, which was designed by Major Alexander P. de Seversky. The P-35 was the first U.S. Army Air Corps single-engine airplane to feature all-metal construction, an enclosed cockpit and retractable landing gear.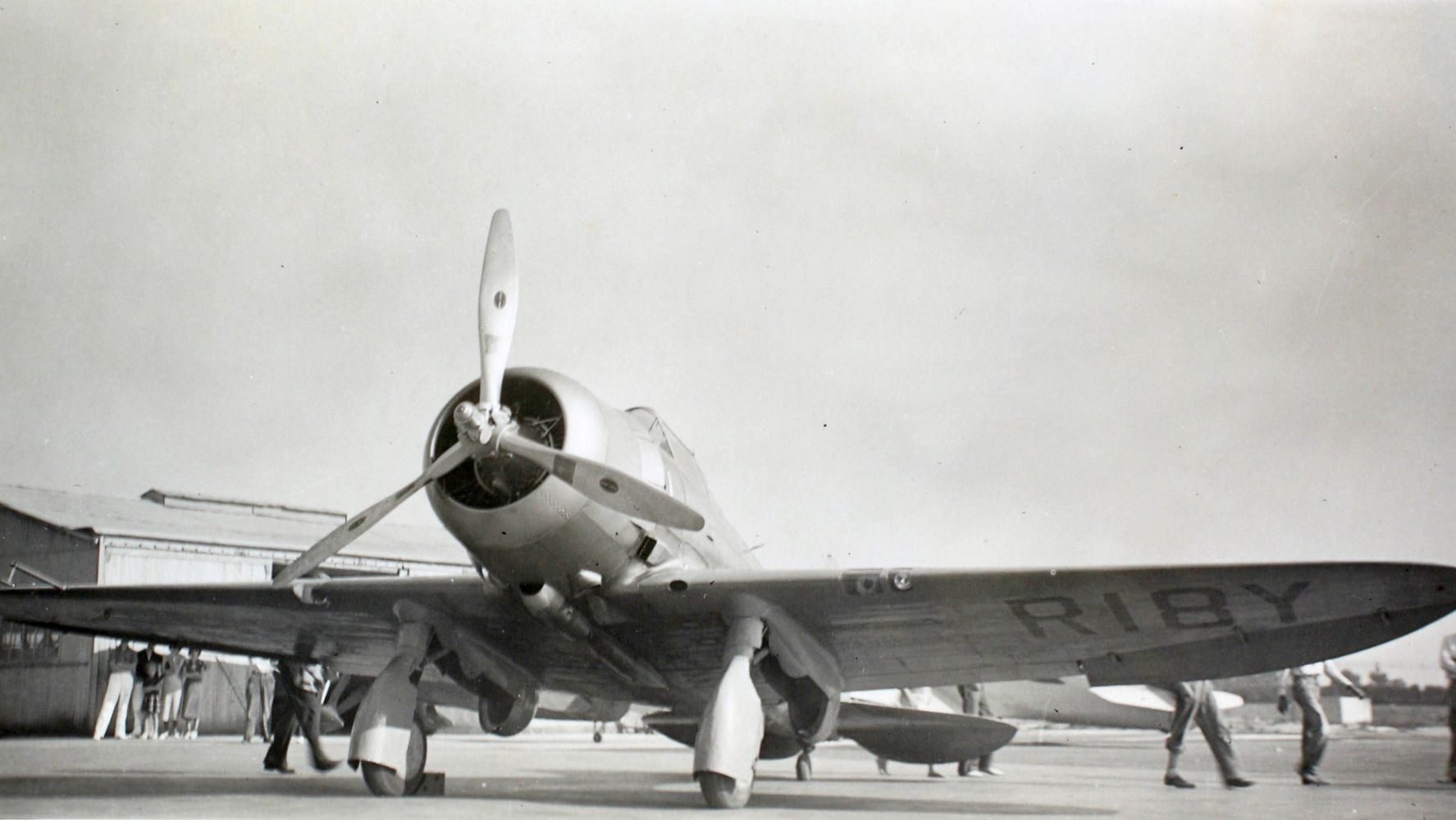 The airplane had been built as the SEV-2XP, a two-place monoplane with fixed landing gear, and powered by an air-cooled, supercharged 1,666.860-cubic-inch-displacement (27.315 liter) Wright Aeronautical Division GR1670 two-row, 14-cylinder radial engine.
The SEV-2XP was to be a second entry, along with the SEV-1XP, to enter a fly-off against the Curtiss 75 Hawk for the Air Corps fighter contract in 1935. It was damaged, though, while en route Wright Field. The prototype was rebuilt as a single-place airplane with retractable landing gear and a 1,000-horsepower Wright Cyclone GR-1820G4 nine-cylinder engine. In this configuration, the airplane was designated SEV-1XP.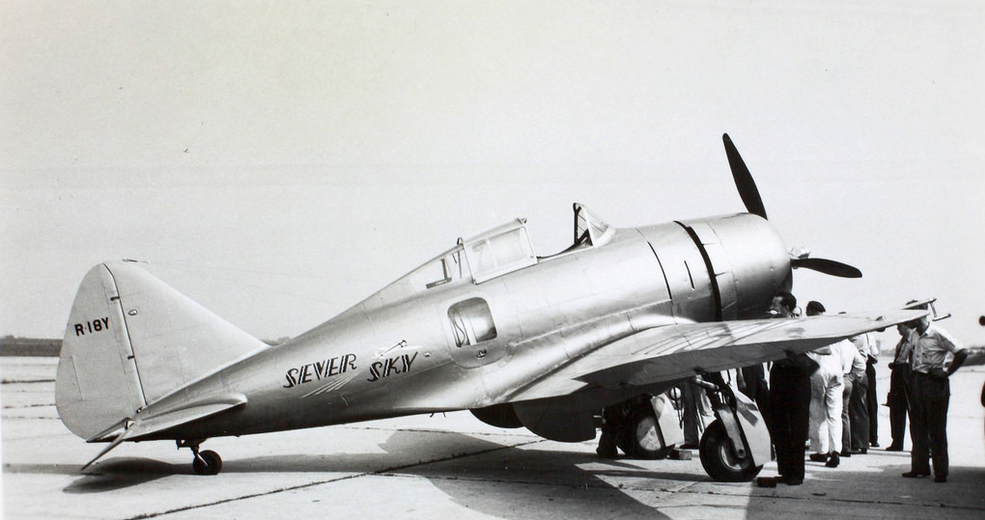 After the Air Corps demonstrations, which resulted in an order for 100 Seversky P-35s, NX18Y was again repowered, this time with an air-cooled, supercharged, 1,829.39-cubic-inch-displacement (29.978 liter) Pratt & Whitney Twin Wasp S1B3-G (R-1830-11) two-row 14-cylinder radial engine. The R-1830-11 had a compression ratio of 6.7:1 and was rated at 850 horsepower at 2,450 r.p.m. at 5,000 feet (1,524 meters), and 1,000 horsepower at 2,600 r.p.m. for take off. 87-octane aviation gasoline was required. The engine turned a three-bladed Hamilton-Standard controllable-pitch propeller through a 3:2 gear reduction. The R-1830-11 was 4 feet, 8.66 inches (1.439 meters) long with a diameter of 4 feet, 0.00 inches (1.219 meters), and weighed 1,320 pounds (599 kilograms).
With the Twin Wasp, NR18Y's designation was changed to SEV-S1. Frank Sinclair, Seversky's chief test pilot, flew it in the 1937 Bendix Trophy Race and the Thompson Trophy Race. (Jackie Cochran flew a Beech Staggerwing in the '37 Bendix, beating Sinclair and NX18Y by 33 minutes.) Sinclair went on to place fourth in the Thompson pylon race. The Seversky averaged 252.360 miles per hour (406.134 kilometers per hour).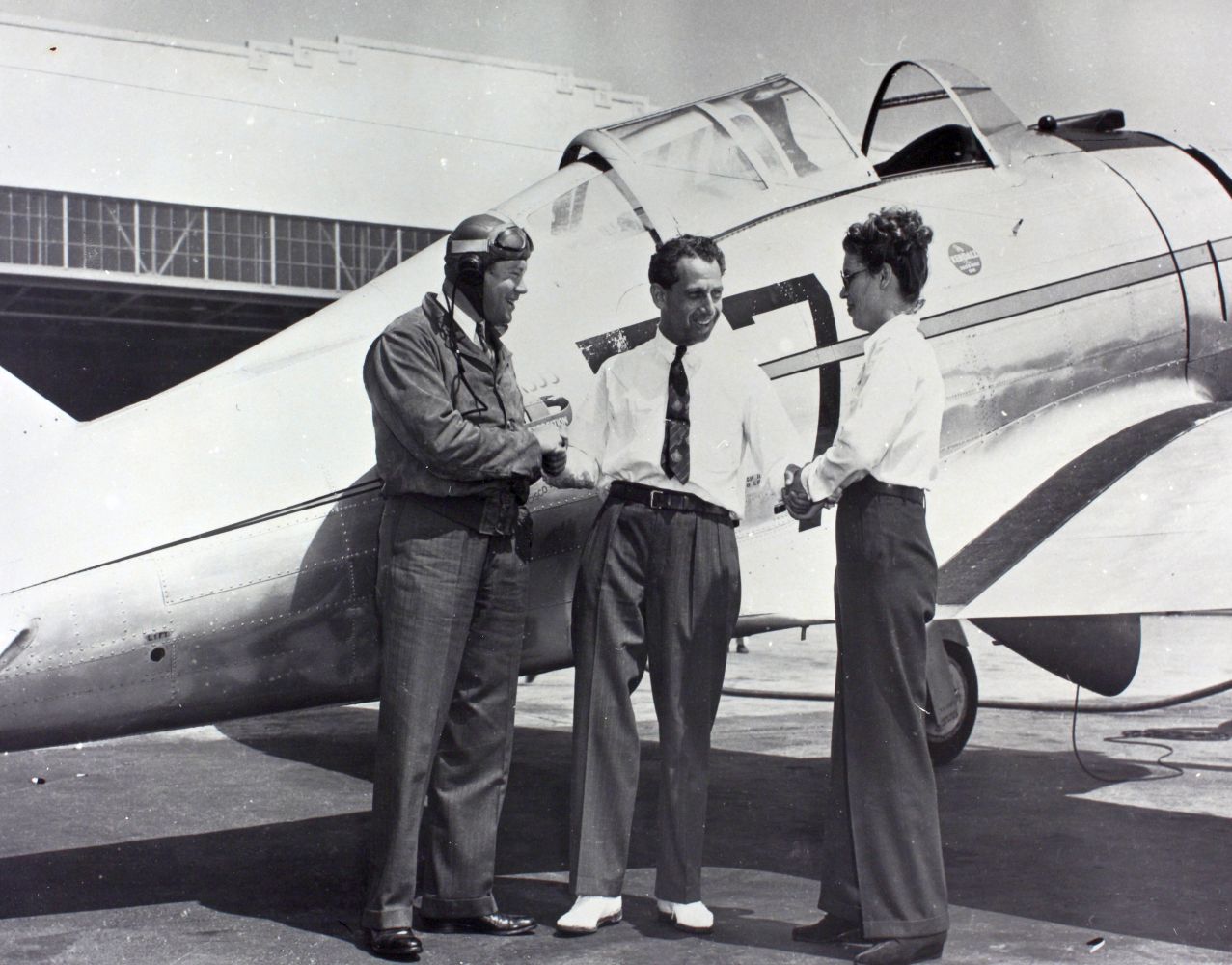 ¹ FAI Record File Number 12026
© 2018, Bryan R. Swopes
by