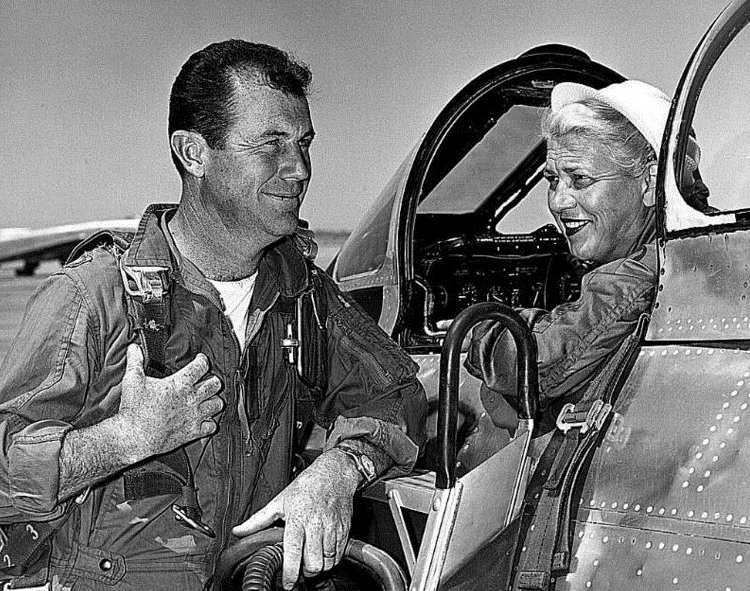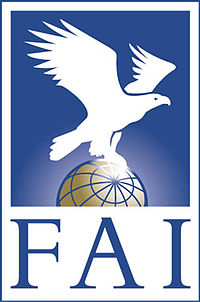 23 May 1953: At Edwards Air Force Base, California, Jackie Cochran set another Fédération Aéronautique Internationale (FAI) speed record with the Canadair CL-13 Sabre Mk.3, No. 19200. Flying over a 500-kilometer closed circuit without payload, the Orenda-powered Sabre averaged 952.032 kilometers per hour (591.565 miles per hour). ¹
"The following week a morning opened up with conditions satisfactory, except for a fifteen-knot wind, and I went around the course five times for a 500-kilometer record of 590 miles per hour. The plane, without the  carrying of external tanks, had fuel for only seventeen minutes of full-power low-altitude flying, so for this longer run I had to carry the external tanks, which slowed the airplane down by about 40 miles per hour. Even so, I only had fuel for twenty-seven minutes of full-power flying, which was insufficient, so I had to make the runs pulling 94 per cent of full power rather than full power. I landed on the dry lake bed just as I did after the 100-kilometer run and again with two minutes of fuel remaining."
—The Stars at Noon, by Jacqueline Cochran, Little, Brown and Company, Boston, 1954, Chapter XII, at Pages 230–231.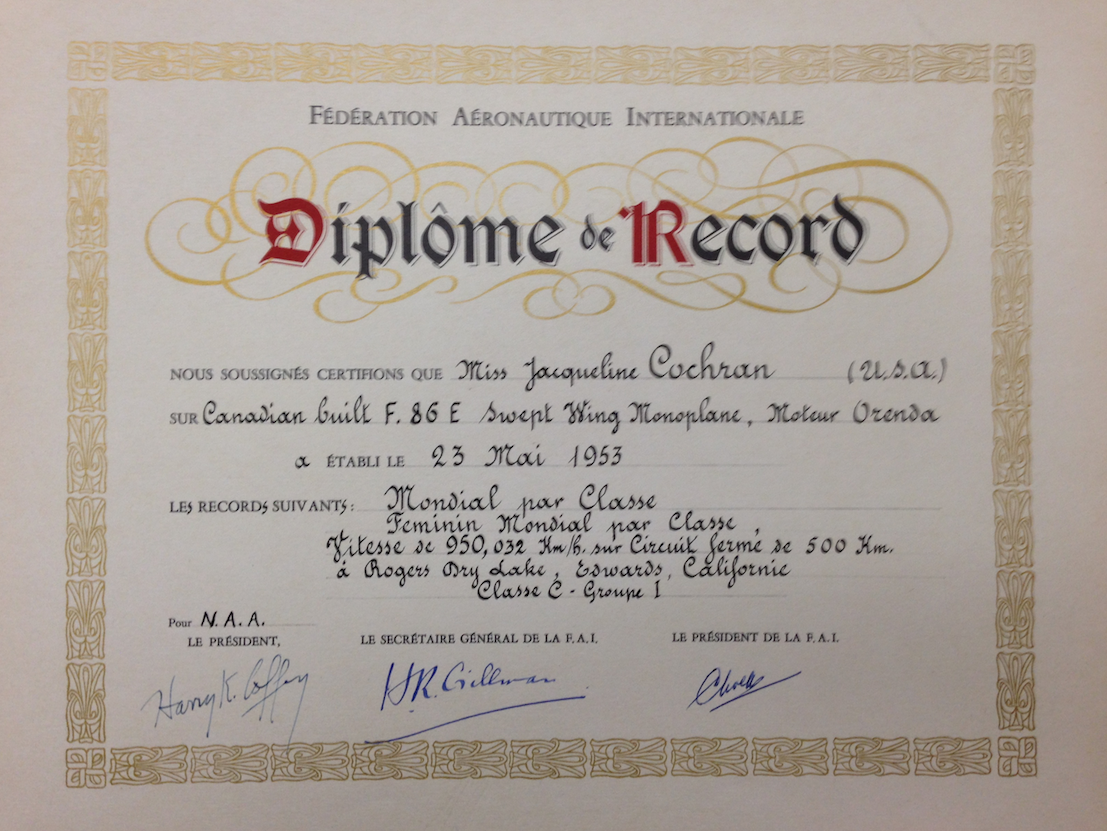 During May and June 1953, Cochran, a consultant to Canadair, flew the Sabre Mk.3 to FAI records over the 15/25 kilometer straight course, the 100-kilometer closed circuit, the 500-kilometer closed circuit and to an altitude record of 14,377 meters (47,168.635 feet). She was the first woman to "break the Sound Barrier" when she flew No. 19200 to Mach 1.04.

The Canadair Sabre Mk.3 was a one-of-a-kind CL-13 Sabre (an F-86E Sabre manufactured by Canadair Ltd. under license from North American Aviation, Inc.) built to test the prototype Avro Canada Gas Turbine Division Orenda 3 engine. Modifications to the F-86 airframe were required to install the new, larger engine.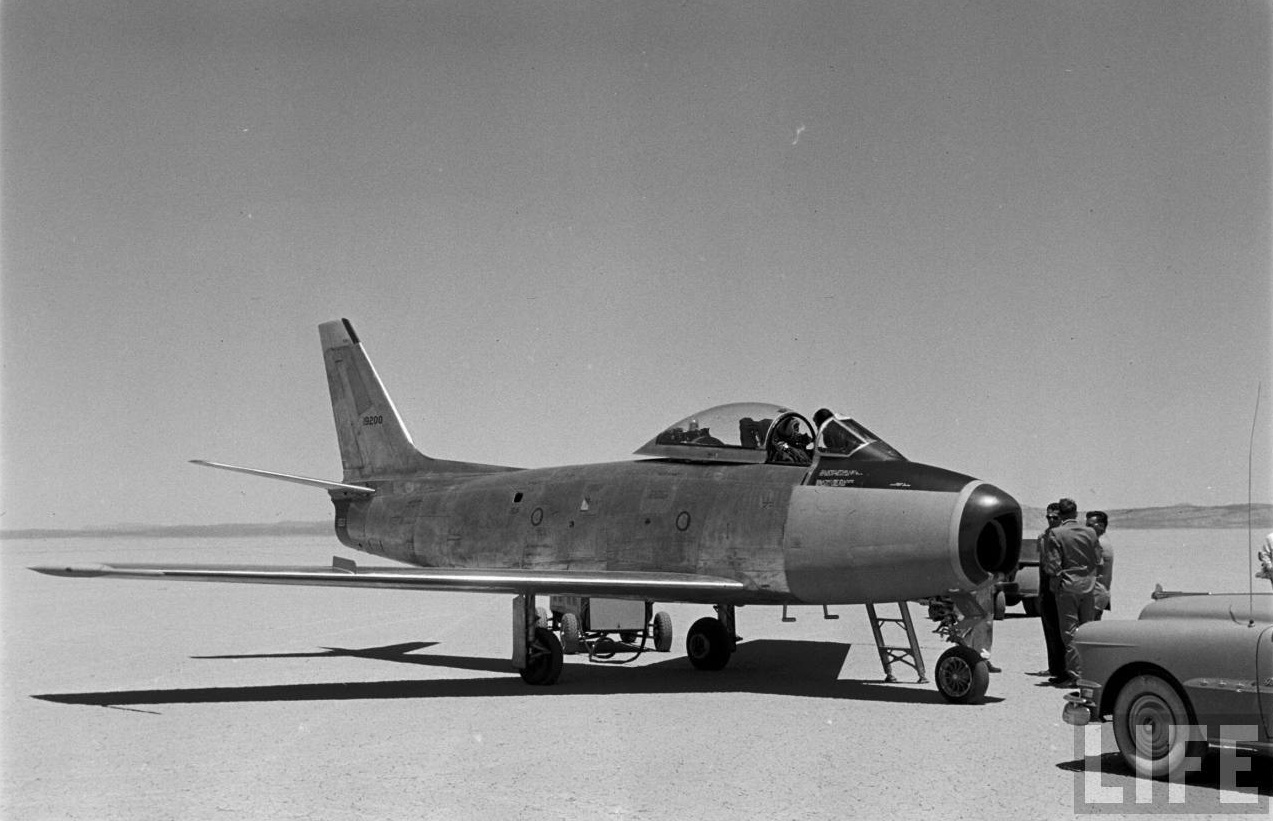 The Orenda 3 was an axial-flow turbojet engine with a 10-stage compressor, six combustion chambers and single-stage turbine. It produced 6,000 pounds of thrust (16.69 kilonewtons), a 15% improvement over the General Electric J47-GE-13 installed in the standard F-86E. The Orenda was 121.3 inches (3.081 meters) long, 42 inches (1.067 meters) in diameter and weighed 2,650 pounds (1,202 kilograms).
Canadair Ltd. was an aircraft manufacturer located at Cartierville, Montreal, Canada, owned by the American submarine builder, Electric Boat Company. Canadair also built licensed versions of the Douglas DC-4 (powered by Rolls-Royce Merlin engines) and the Lockheed T-33 two-place jet trainer. In 1954, the company became a part of General Dynamics.
After the speed records, No. 19200 was sent to North American Aviation for evaluation. Today, it is on static display outdoors at Wetaskiwin Regional General Airport (CEX3), Alberta, Canada.
¹ FAI Record File Number 9075
© 2018, Bryan R. Swopes
by