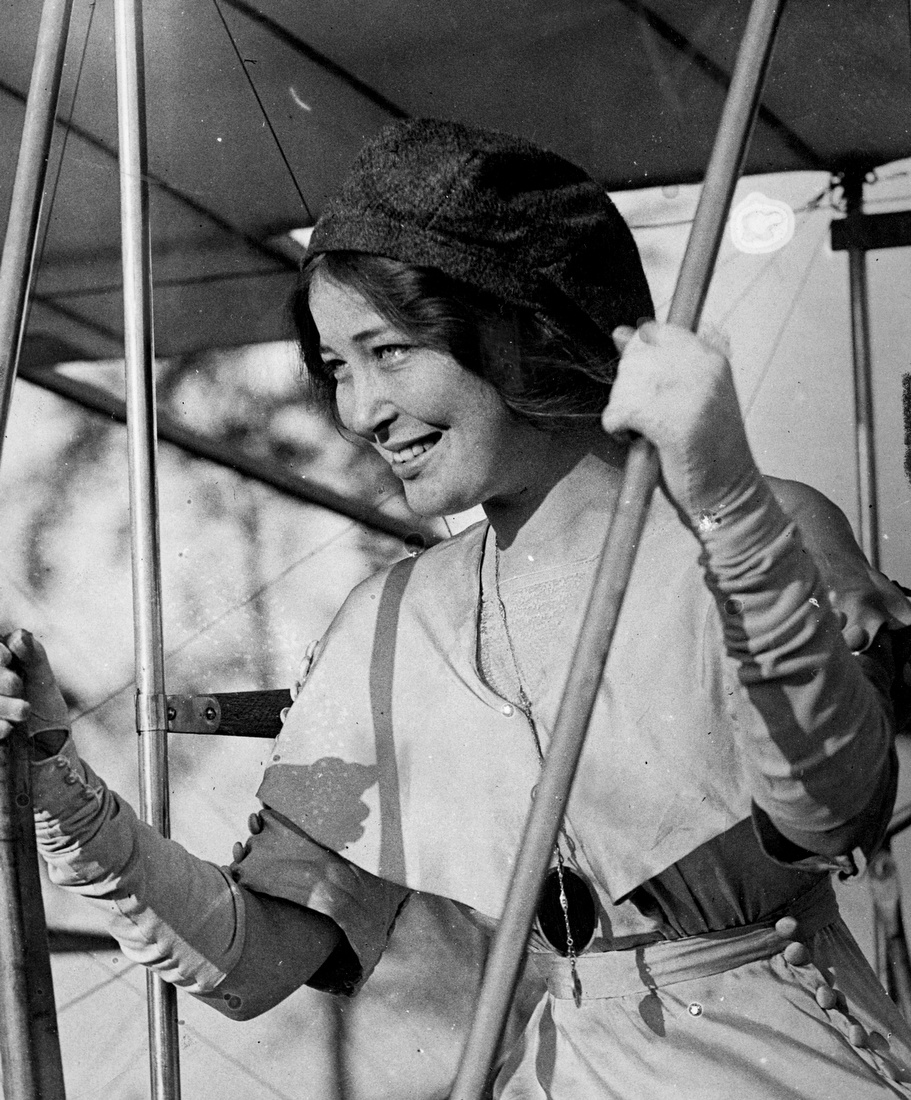 16 April 1912: American aviatrix Harriet Quimby flew across the English Channel in a Blériot XI monoplane. She departed Dover at 5:30 a.m. and crossed a fog-shrouded channel to land at Hardelot-Plage, Pas-de-Calais, 1 hour, 9 minutes later. Her only instruments were a hand-held compass and a watch.
FLIGHT reported:
MISS QUIMBY FLIES THE CHANNEL.
ALTHOUGH Miss Harriet Quimby has made an enviable reputation for herself as a capable pilot in America, her native country, she has not been very well-known on this side of the Atlantic, and no doubt few of our readers who read the announcement in FLIGHT a week or so back that she was coming to Europe, looked for her so soon to make her mark by crossing the Channel. Contrary to what one would expect, the feat was carried through without any fuss or elaborate preparations, and only a few friends, including Mr. Norbet Chereau and his wife and Mrs Griffith, an American friend, knew the attempt was being made and were present at the start. Miss Quimby had ordered a 50-h.p. Gnome-Blériot, which arrived from France on Saturday, and was tested on Sunday by Mr. Hamel. On Tuesday morning, as previously arranged, after Mr. Hamel had taken the machine for a preliminary trial flight, Miss Quimby, who had been staying at Dover under the name of Miss Craig, took her place in the pilot's seat, and at 5.38 left Deal, rising by a wide circle and steering a course, by the aid of the compass, for Cape Grisnez. Dover Castle was passed at a height of 1,500 feet, and by the time the machine was over the sea, it was at an altitude of about 2,000 feet. Guided solely by compass, Miss Quimby arrived above the Grisnez Lighthouse a little under an hour later, and making her way towards Boulogne she came down at Equihen by a spiral vol plané not far from the Blériot sheds.
     To Miss Quimby, therefore belongs the honour of being the first of the fair sex to make the journey, unaccompanied, across the Channel on an aeroplane; and, appropriately enough, as the first crossing of an aeroplane by a "mere man" was on a Blériot machine, her mount was of that type. Miss Trehawke Davies, it will be remembered, was the first lady to cross the Channel in an aeroplane, but she was a passenger with Mr. Hamel on his Blériot monoplane.

—FLIGHT, No. 173. (No. 16, Vol. IV.), 20 April 1912 at Page 345
Quimby was the first woman to fly across the channel, but that was not her only "first": On 11 August 1911, after 33 flight lessons over a four-month period at the Moisant Aviation School at Hempstead, Long Island, New York, she had become the first American woman to receive a pilot's license, Number 37, from the Aero Club of America. She was called as "America's First Lady of the Air." Miss Quimby was widely known for her "plum-colored" satin flying suit.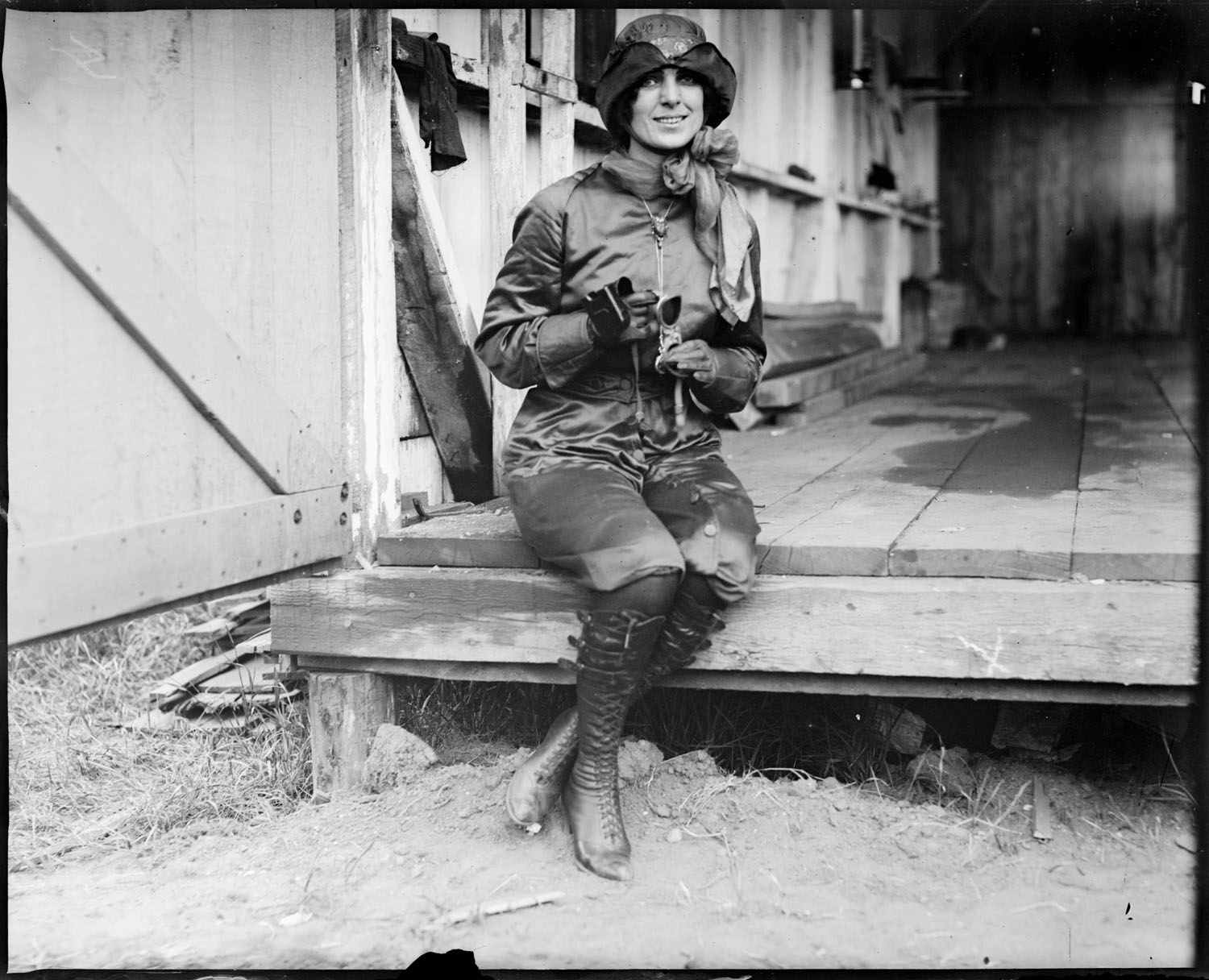 Harriet Quimby was born 11 May 1875 at Arcadia, Michigan. She was the fourth child of William F. Quimby, a farmer, and Ursula M. Cook Quimby. The family moved to California in 1887, initially settling in Arroyo Grande, and then San Francisco. There, she worked as an actress, and then a writer for the San Francisco Call newspaper, and Leslie's Illustrated Weekly. Quimby also wrote a number of screenplays for early Hollywood movies which were directed by D.W. Griffiths.
Harriet Quimby was killed at Quincy, Massachusetts, 1 July 1912, when her Blériot XI, circling the airfield at 1,500 feet (457 meters) suddenly pitched down and she and her passenger were thrown out. Miss Quimby was buried at the Kensico Cemetery, Valhalla, New York.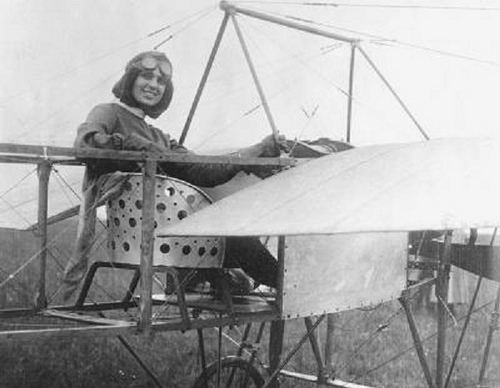 The Blériot XI was a single-seat, single-engine monoplane, designed by Raymond Saulnier and built by Louis Charles Joseph Blériot. It was 26.24 feet (7.998 meters) long with a wingspan of 25.35 feet (7.727 meters) and overall height of 8 feet (2.438 meters). The wings had a chord of 6 feet (1.829 meters). The airplane had an empty weight of 507 pounds (229.9 kilograms).
In its original configuration, the airplane was powered by an air-cooled, 3.774 liter (230.273 cubic inches) R.E.P.  two-row, seven-cylinder fan engine (or "semi-radial") which produced 30 horsepower at 1,500 r.p.m., driving a four-bladed paddle-type propeller. The R.E.P. engine weighed 54 kilograms (119 pounds). This engine was unreliable and was soon replaced by an air-cooled 3.534 liter (215.676 cubic inch) Alessandro Anzani & Co., 60° (some sources state 55°) three-cylinder "fan"-type radial engine (or W-3) and a highly-efficient Hélice Intégrale Chauvière two-bladed fixed-pitch propeller, which had a diameter of 6 feet, 8 inches (2.032 meters). The Anzani W-3 was a direct-drive, right-hand tractor engine which produced 25 horsepower at 1,400 r.p.m. It was 1.130 meters (3 feet 8.49 inches) long, 1.500 meters (4 feet, 11.01 inches) high, and 0.720 meters (2 feet, 4.35 inches) wide. The engine weighed 66 kilograms (145.5 pounds).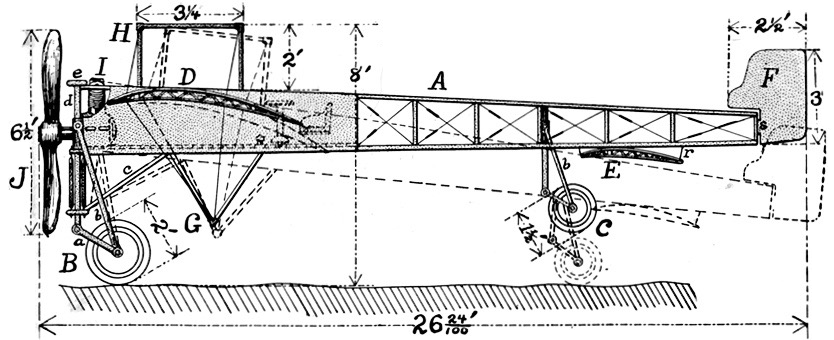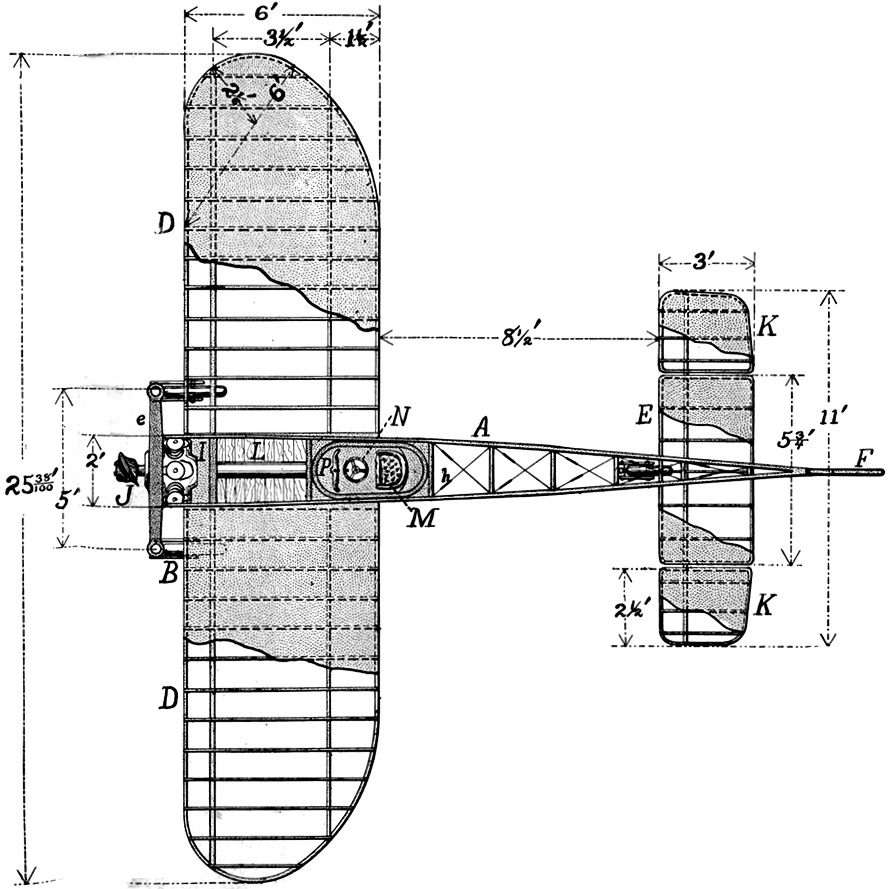 Miss Quimby's airplane, though, was powered by a normally-aspirated, air-cooled, 7.983 liter (487.140-cubic-inch-displacement) Société des Moteurs Gnome Omega 7-cylinder rotary engine which produced 50 horsepower at 1,200 r.p.m. The direct-drive engine turned a two-bladed wooden propeller in a left-hand, pusher configuration. The Omega 7 is 79.2 centimeters (2 feet, 7.2 inches) long, 83.8 centimeters (2 feet, 9.0 inches) in diameter, and weighs 75.6 kilograms (166.7 pounds). The prototype of this engine is in the collection of the Smithsonian Institution National Air & Space Museum.
The Anzani-powered Blériot XI had a maximum speed of 76 kilometers per hour (47 miles per hour) and its service ceiling was 1,000 meters (3,281 feet).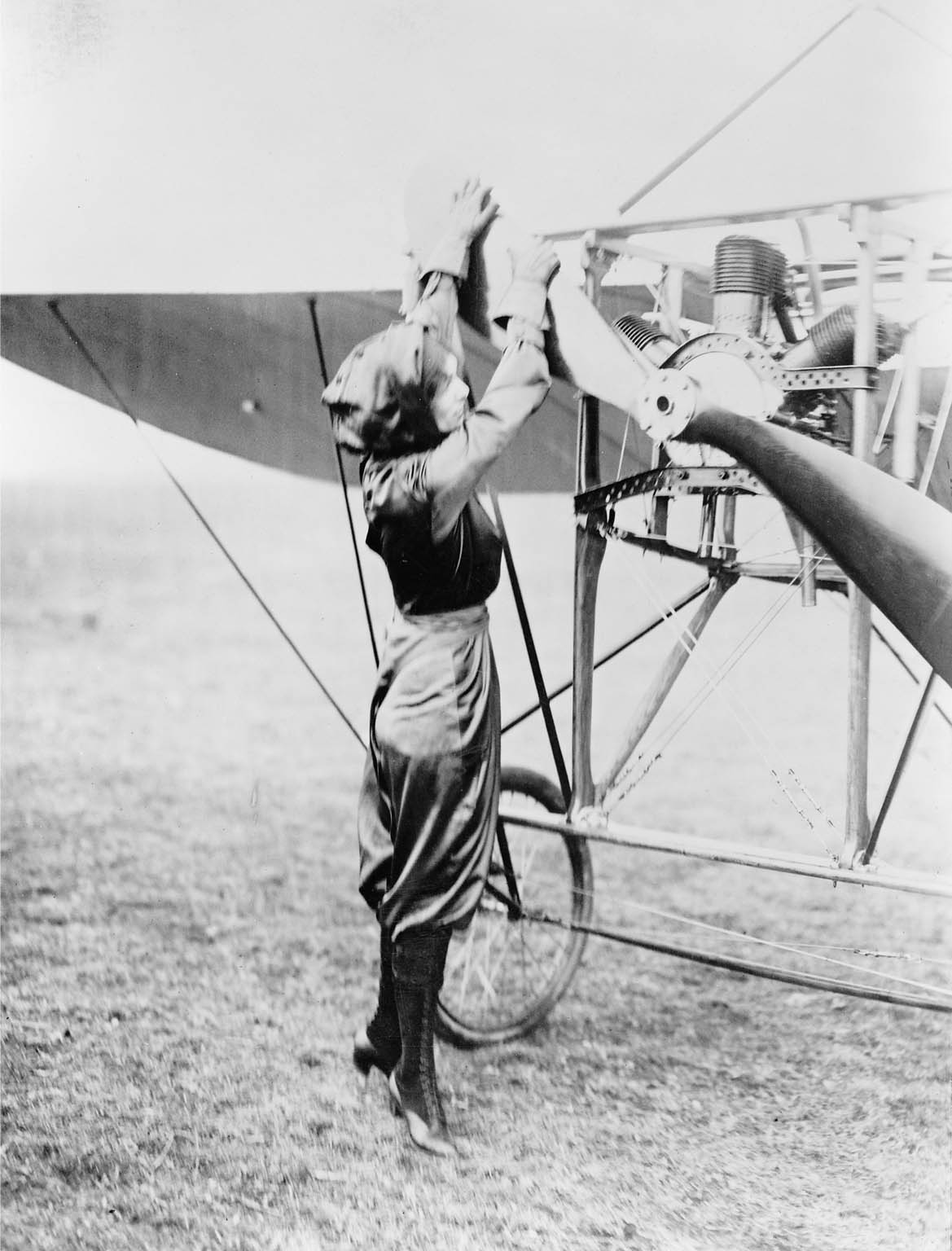 © 2019, Bryan R. Swopes