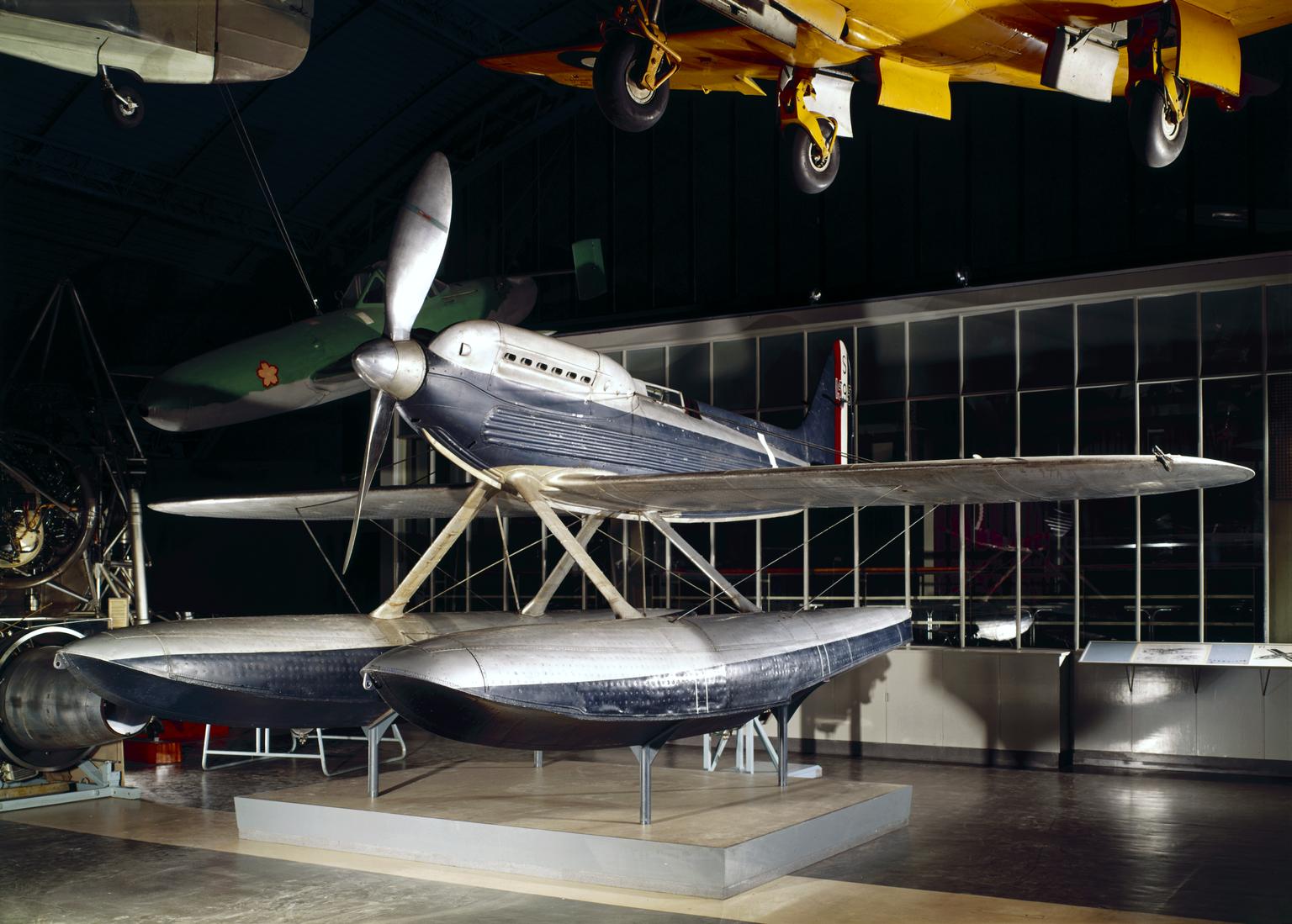 13 September 1931: Having won the previous two Coupe d'Aviation Maritime Jacques Schneider international seaplane races, the United Kingdom was in the position of permanently winning the famous Schneider Trophy if it were to win a third consecutive race.
The 1931 race was the twelfth in a series of annual or semiannual races which were first held in 1913, specifically for seaplanes. Teams from several nations, France, Great Britain, Italy and the United States, competed with float-equipped airplanes built specifically for the races. The national team which won three consecutive races would win the series and take home the Trophy. Italy had won three times (1920, 1921, and 1926); the United States, twice (1923, 1925); and France, one time (1913). The United Kingdom had previously won in 1922, 1927 and 1929.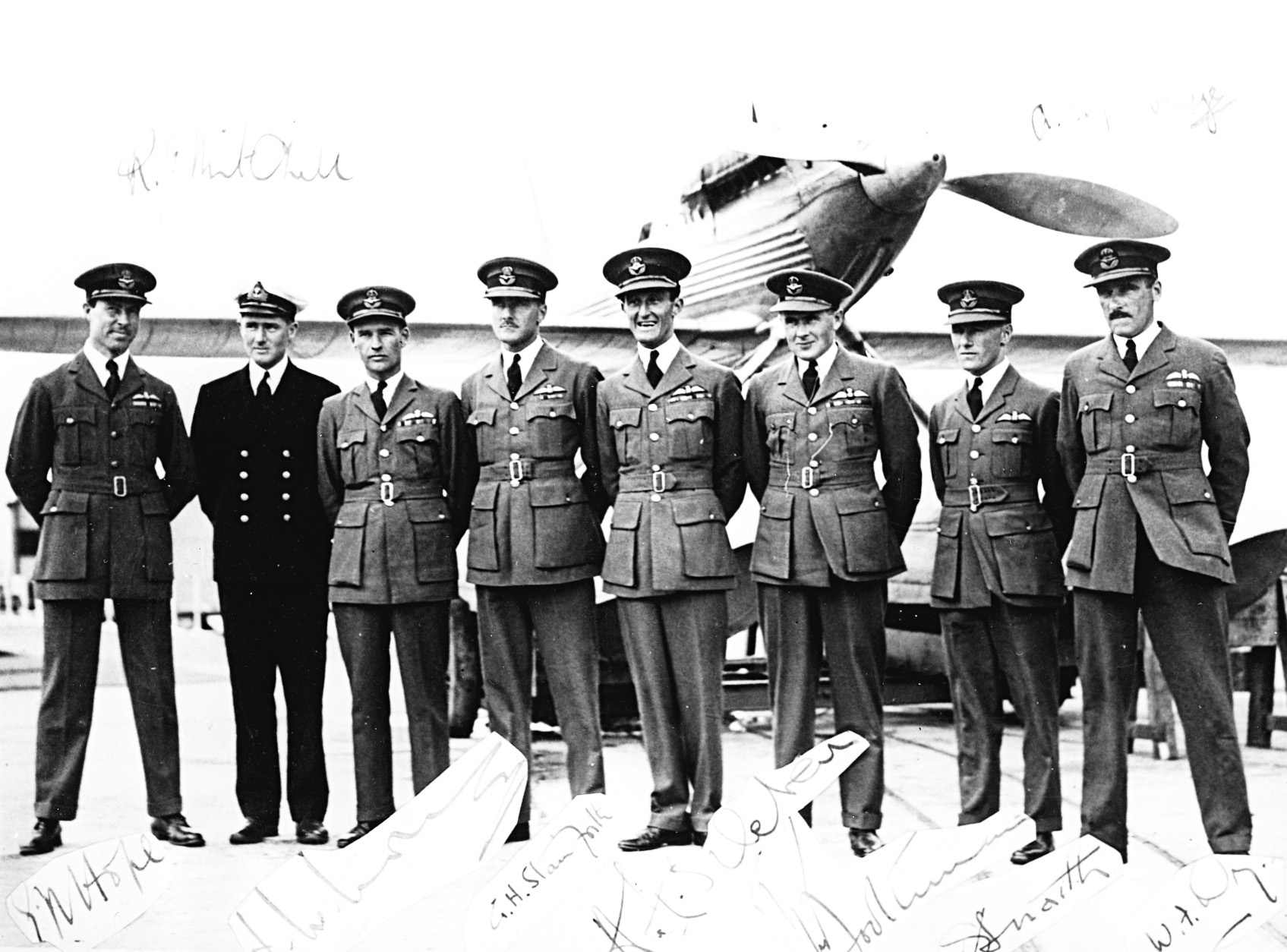 Having won the race in 1929, Great Britain was the host nation for 1931. Like the 1929 race, the 1931 race was held over The Solent, a body of water between the harbor city of Portsmouth, England, and the Isle of Wight. Instead of the four-sided polygon used previously, the 1931 race course was a triangle of 50 kilometers (31.07 statute miles). Competitors would make seven circuits of the course, with all left-hand turns, for a total distance of 350 kilometers (217.48 statute miles).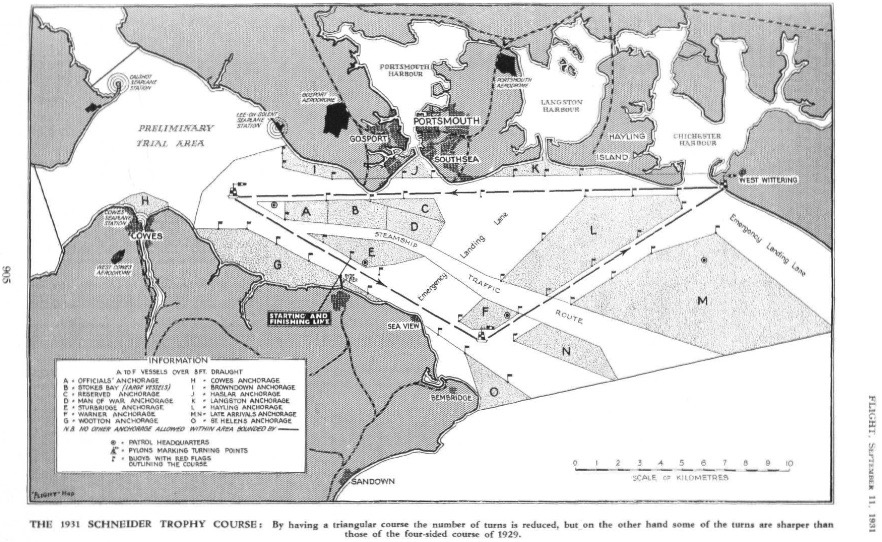 Italy had been developing the Macchi-Castoldi M.C. 72 with its 3,100-horsepower, 24-cylinder Fiat AS.6 engine, but the airplane was not ready by the required date. The United States was unwilling to invest the required money and had not entered since the 1927 race. France also was not prepared to compete. Both France and Italy formally announced their intention not to compete on 4 September 1931.
This meant that only a single British airplane was required to complete the race course to win the race and permanent possession of the trophy. Three airplanes were ready, one Supermarine S.6 and two new S.6Bs.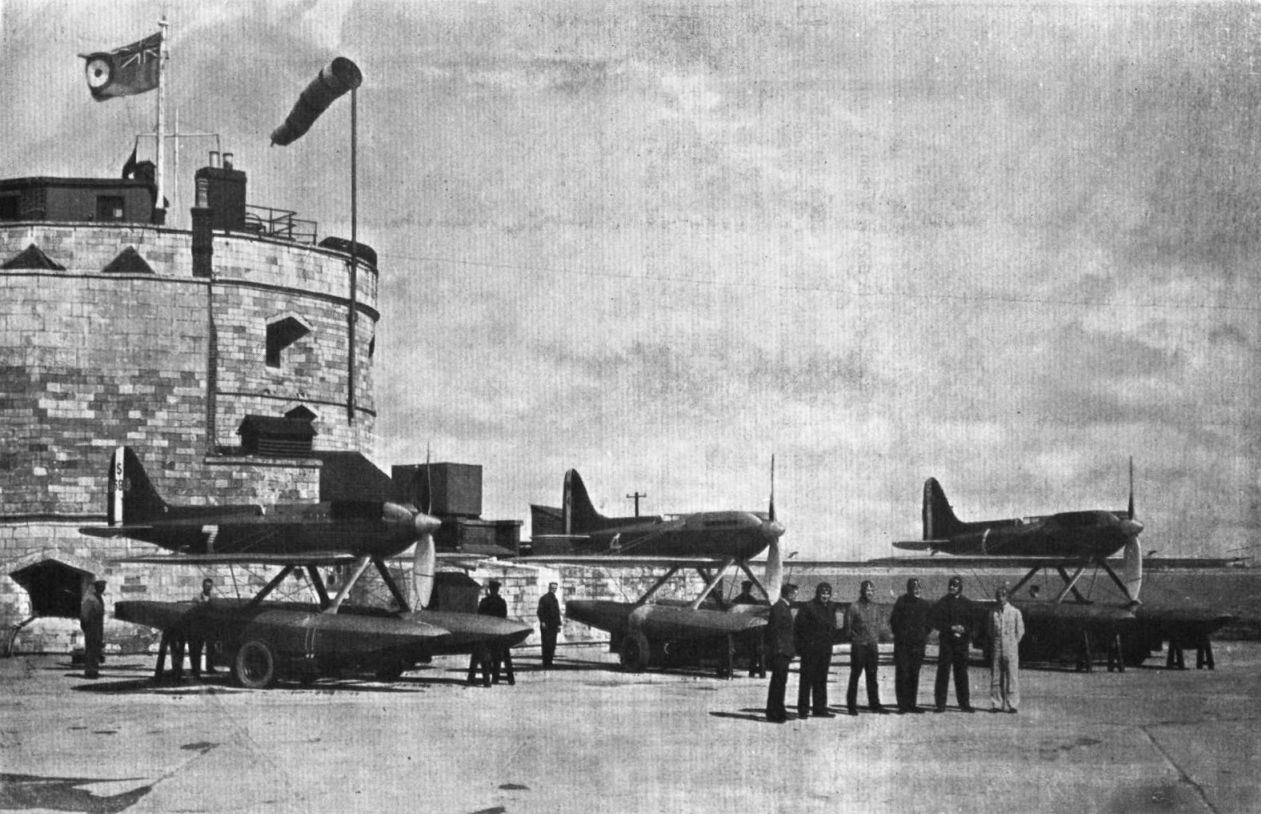 Postponed because of rain and fog on the previous day, the 1931 race started at 1:02:10 p.m., Sunday, 13 September, with the firing of the starting gun from HMS Medea. Flight-Lieutenant John Nelson Boothman, Royal Air Force, in a blue and silver Supermarine S.6B, number S.1565, taxied across the start line at 1:10:19 p.m.
Race rules required that competitors take off, circle and land on the water. They were then required to taxi on the water for two minutes, before taking off a second time to begin the officially timed race laps. Observers reported that Flight-Lieutenant Boothman's performance of the preliminary test was flawless. He taxied into position for his second takeoff and was airborne with a 40 second run.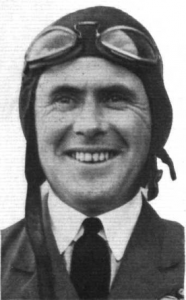 Boothman's lap times were:
Lap 1: 552.15 kilometers per hour (343.1 miles per hour)
Lap 2: 551.5 kilometers per hour (342.7 miles per hour)
Lap 3: 547.1 kilometers per hour (340.0 miles per hour)
Lap 4: 544.5 kilometers per hour (338.3 miles per hour)
Lap 5: 546.5 kilometers per hour (339.6 miles per hour)
Lap 6: 546.1 kilometers per hour (339.4 miles per hour)
Lap 7: 543.5 kilometers per hour (337.7 miles per hour)
Overall average speed: 547.3 kilometers per hour (340.08 miles per hour)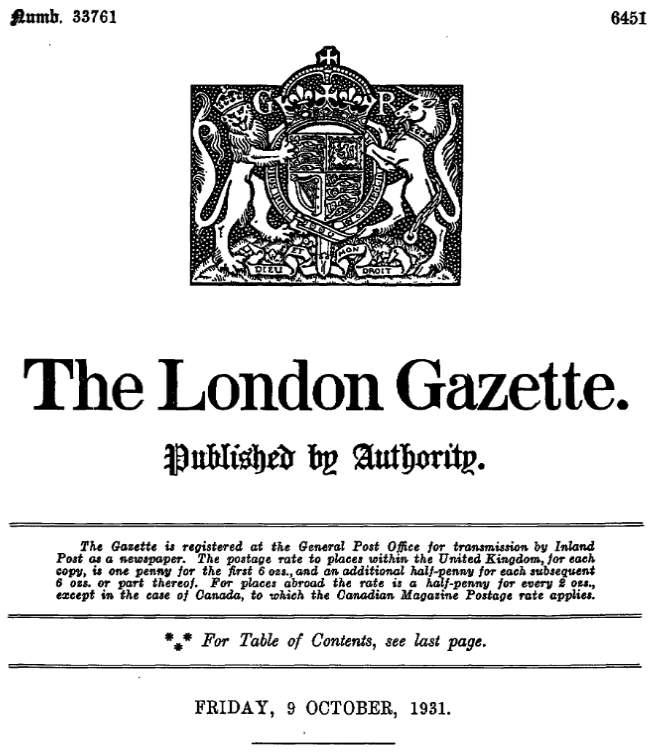 Air Ministry,
9th October, 1931.
ROYAL AIR FORCE.
     The KING has been graciously pleased to approve of the award of the Air Force Cross to the undermentioned officers of the Royal Air Force:—
Flight Lieutenant John Nelson Boothman.
In recognition of his achievement in winning the Schneider Trophy Contest, 1931.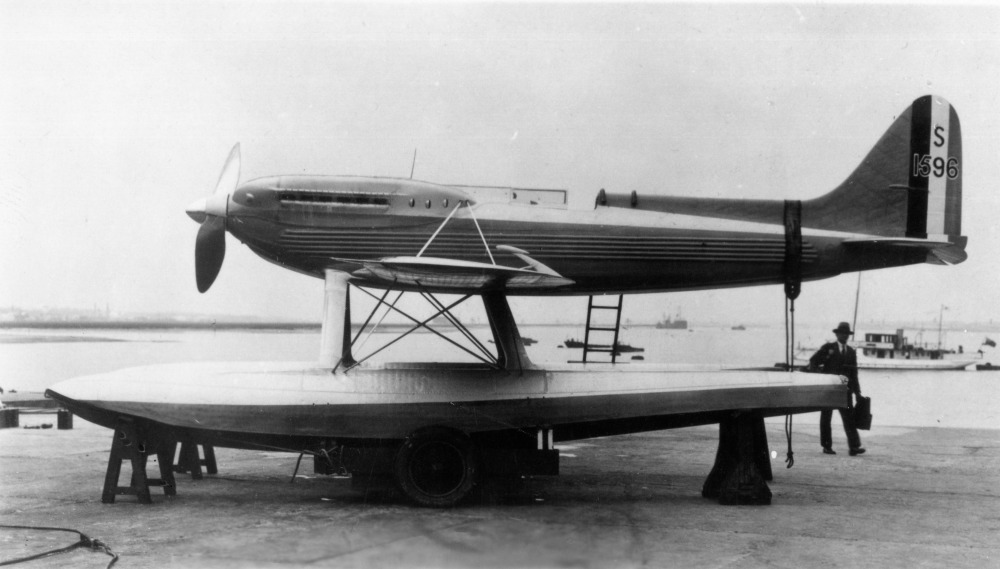 S.1595 was Vickers-Supermarine S.6B Monoplane, designed by Reginald Joseph Mitchell, who would later design the legendary Supermarine Spitfire fighter of World War II. The racer was developed from Mitchell's earlier S.4, S.5 and S.6 Schneider Cup racers, and was built at the Supermarine Aviation Works (Vickers), Ltd., Southampton, on the south coast of England. There were two S.6Bs, with the second identified as S.1596.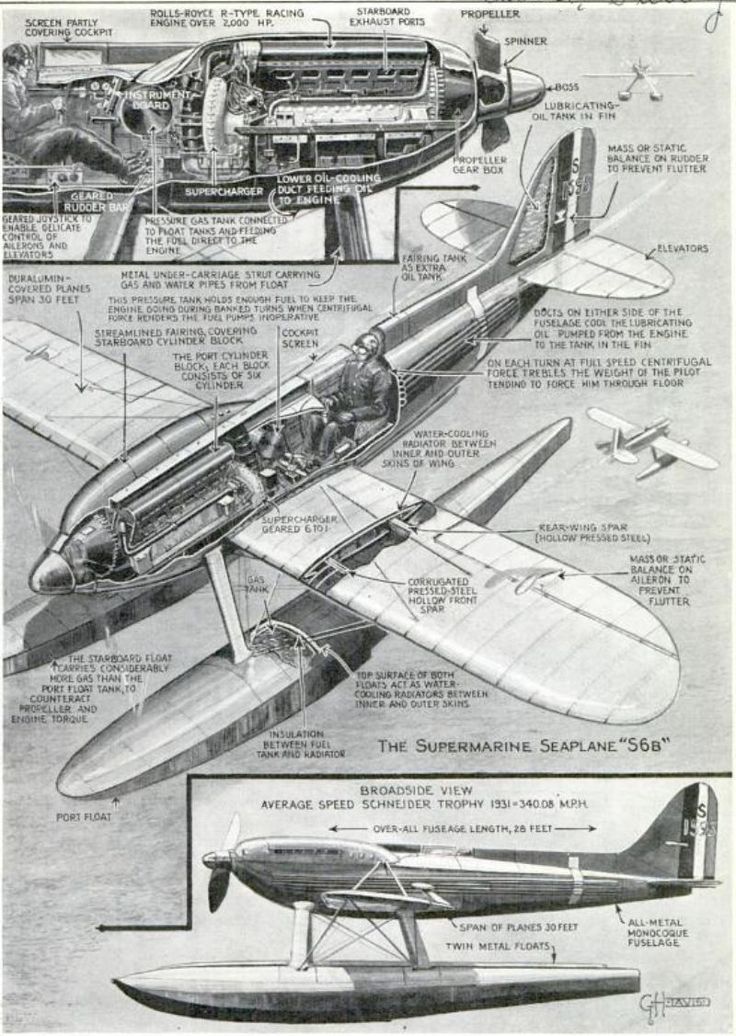 The Supermarine S.6B was a single-place, single-engine, low-wing monoplane with two fixed pontoons as an undercarriage. It was of all-metal construction and used a high percentage of duralumin, a very hard alloy of aluminum and copper, as well as other elements. The float plane was 28 feet, 10 inches (8.788 meters) long, with a wingspan of 30 feet, 0 inches (9.144 meters) and height of 12 feet, 3 inches (3.734 meters). The wing area was 145 square feet (13,5 square meters). The S.6B had an empty weight of 4,560 pounds (2,068 kilograms) and gross weight of 5,995 pounds (2,719 kilograms).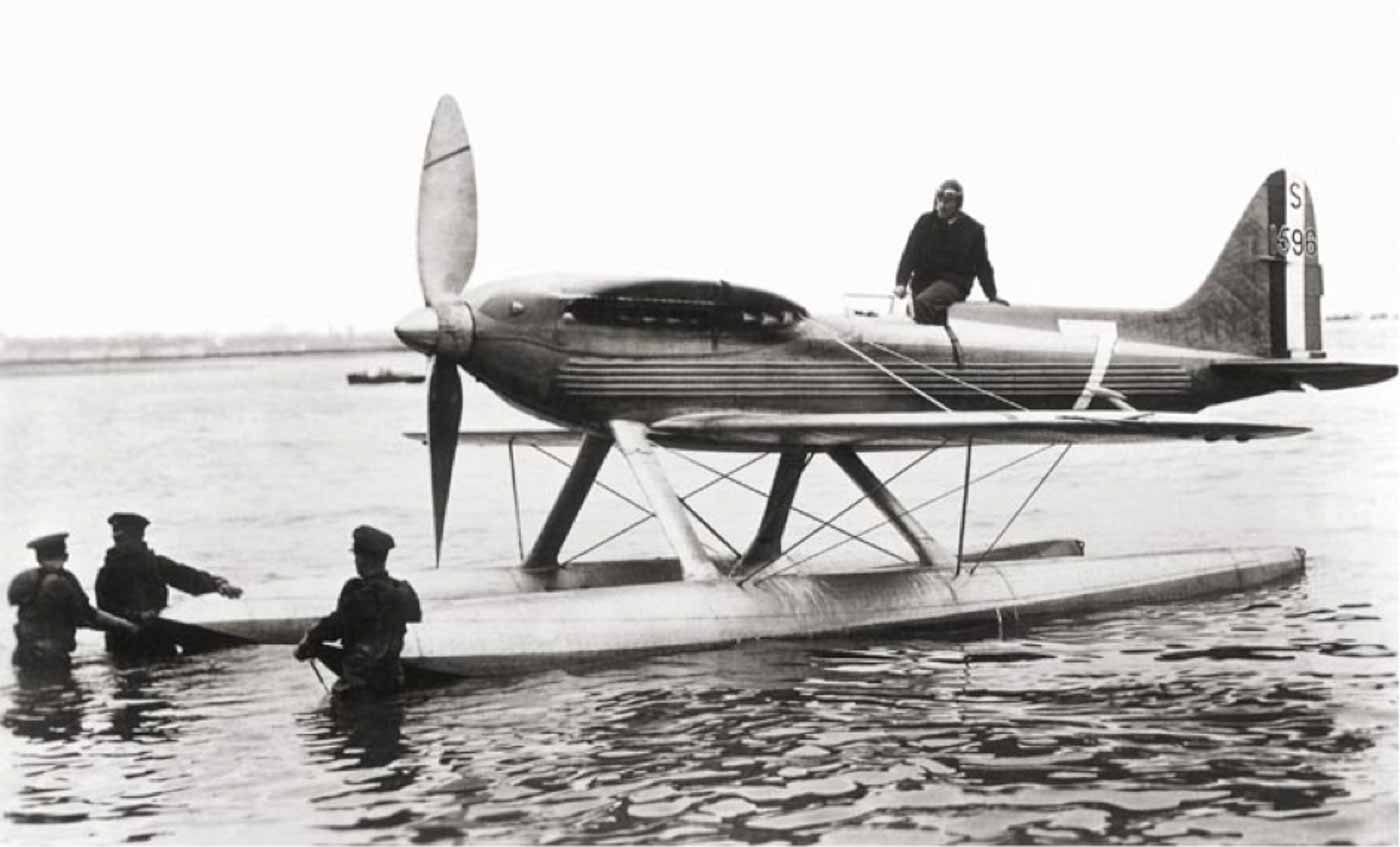 In an effort to achieve the maximum possible speed, aerodynamic drag was eliminated wherever possible. There were no radiator or oil cooler intakes. The wing surfaces were constructed of two thin layers of duralumin with a very small space between them. The engine coolant, a mixture of water and ethylene glycol, was circulated between these layers, which are known as surface radiators. The engine had a high oil consumption rate and the vertical fin was the oil supply tank. The skin panels also served as surface radiators. The fuselage panels were corrugated for strength, and several small parallel passages transferred lubricating oil from the fin tank to the engine, and further cooled the oil.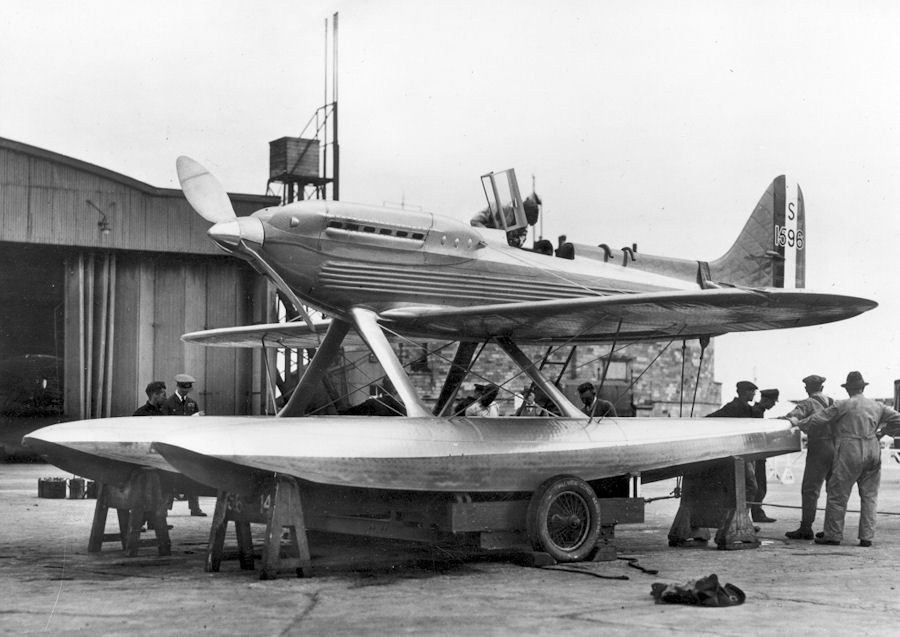 S.1595 was powered by a liquid-cooled, supercharged, 2,239.327-cubic-inch-displacement (36.696 liter) Rolls-Royce Type R single-overhead-camshaft (SOHC) 60° V-12 engine, number R29. The Type R was a racing engine with 4 valves per cylinder and a compression ration of 6:1. In the 1931 configuration, it produced 2,350 horsepower at 3,200 r.p.m. It used a 0.605:1 reduction gear and turned a Fairey Aviation fixed-pitch airscrew with a diameter of 8 feet, 6 inches (2.591 meters). A special fuel, a mixture of benzol, methanol and acetone with TCP anti-detonation additive, was used.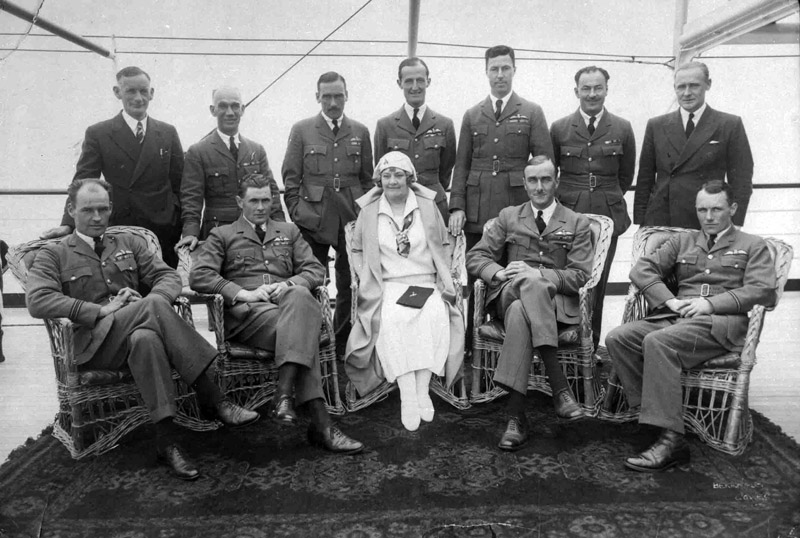 There would have been no 1931 British Schneider Trophy Race team without the generous contribution of Lucy, Lady Houston, D.B.E., who donated £100,000 to Supermarine to finance the new aircraft. Lady Houston would later sponsor the 1933 Houston Mount Everest Flying Expedition.
The winning aircraft, S.1595, is in the collection of the Science Museum, London.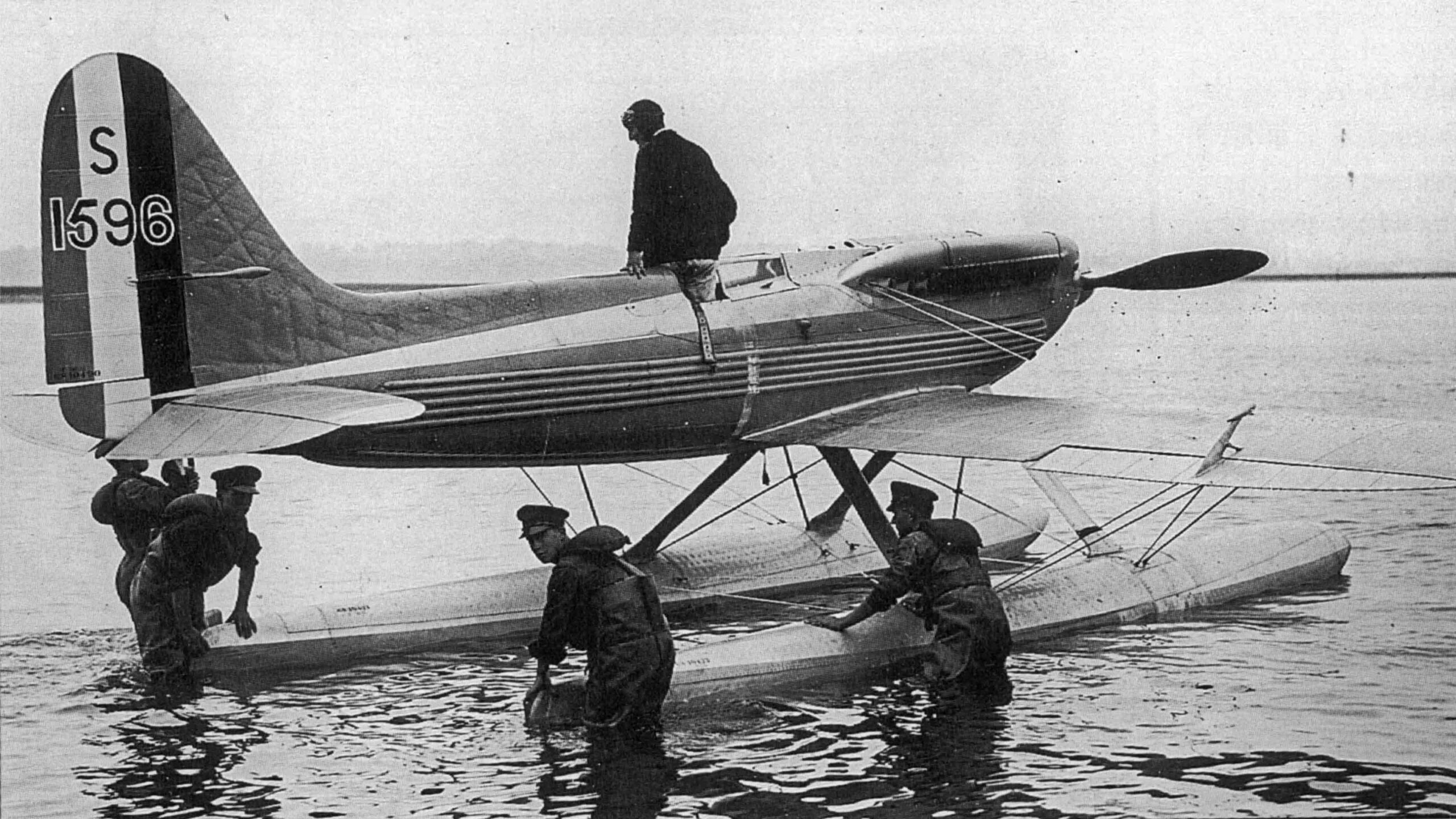 John Nelson Boothman was born at Harrow, northwest London, England, 19 February 1901. He was the son of Thomas John Boothman, a railway clerk, and Mary Burgess Boothman. He  became interested in aviation while very young, and took his first flight at the age of 10, as a passenger of Samuel Franklin Cody, the first pilot to fly a powered airplane in England.
Boothman was educated at Harrow High School. In 1918, when he was 16 years old, Boothman volunteered as a driver with the Croix-Rouge française (French Red Cross), serving in the Balkans until World War I came to an end. He was awarded the Croix de Guerre.
On his return to England, he took flying lessons and joined the Royal Air Force. He received a short-service commission as a Pilot Officer (probationary), 29 March 1921. He trained at No. 1 Flight Training School. He then joined No. 4 Squadron at Constantinople. On 22 March 1922, Boothman was confirmed in the rank of Pilot Officer. He was promoted to Flying Officer 29 September 1922.
Also in 1922, Pilot Officer Boothman married Miss Gertrude Andrews. They would have one son.
Flying Officer Boothman returned to England in 1924 and was assigned as a flight instructor at the Central Flying School. He was also a member of an aerial demonstration team.
After five years of service, on 1 January 1926 Boothman's commission as a Flying Officer, Royal Air Force, was made permanent. He returned to the Middle East, joining No. 55 Squadron in Iraq, 21 September 1926. This was a bombing squadron, equipped with the de havilland DH-9A. Boothman was promoted to Flight-Lieutenant 1 July 1927. He served with the Air Staff before going on to No. 30 Squadron, which also flew DH-9As, as a flight commander, 24 February 1928.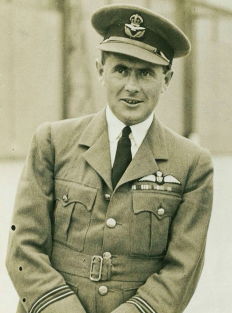 Flight-Lieutenant Boothman was assigned as a test pilot at the Marine Aircraft Experimental Establishment, Felixstowe, Suffolk, 10 February 1930. On 11 May 1931, he became a member of the High-Speed Flight at RAF Calshot.
After winning the Schneider Trophy Race, on 3 October 1931, Flight-Lieutenant Boothman was assigned as a flight commander with No. 22 Squadron, a test squadron supporting the Aeroplane Experimental Establishment at RAF Martlesham Heath. During 1932, he became seriously ill and was removed from duty for several months. He returned to duty 13 August 1932 as a test pilot in the Experimental Section at RAE Farnborough. He then served as Chief Flying Instructor, Central Flying School.
Flight-Lieutenant Boothman attended the Royal Air Force Staff College in 1935. He was promoted to the rank of Squadron Leader, 1 December 1935. From 4 January 1936, he was assigned to Air Staff, Headquarters, Coastal Command. On 26 March 1937, Squadron Leader Boothman was assigned to Air Staff, Headquarters, Royal Air Force, Far East.
Boothman was promoted to Wing Commander, 1 January 1939. In September he was placed in command of No. 44 Squadron at RAF Waddington in Lincolnshire. This was a light bomber squadron which flew Bristol Blenheims and Handley Page Hampdens.
During the early stages of World War II, Wing Commander Boothman was assigned to Air Staff—Directorate of Operations (Home), and Air Staff, Headquarters, Bomber Command. He returned to RAF Waddington in March 1940 as the station's commanding officer. He was promoted to Group Captain (temporary), 1 March 1941, then sent to the United States as an adviser to the U.S. Army Air Forces. Boothman returned to England as commanding officer of RAF Finningley, South Yorkshire.
On 6 June 1943, Group Captain Boothman was promoted to the rank of Acting Air Commodore, and assigned as Air Officer Commanding, No. 106 Wing. The wing controlled all photographic reconnaissance units in the United Kingdom. In 1 December 1943, Air Commodore Boothman's rank was changed from Acting to Temporary.
In July 1944 Air Commodore Boothman was assigned as Commandant, Aeroplane and Armament Experimental Establishment (A. & A.E.E.) at RAF Boscombe Down, Wiltshire. In the King's Birthday Honours, 1944, Air Commodore Boothman was invested Companion of the Most Honourable Order of the Bath, Military Division (C.B.).
On 2 July 1945, was promoted to Acting Air Vice Marshal and appointed Assistant Chief of Air Staff (Technical Requirements). On 9 October 1945, The U.S. Army Air Forces awarded him the the medal of Commander, Legion of Merit.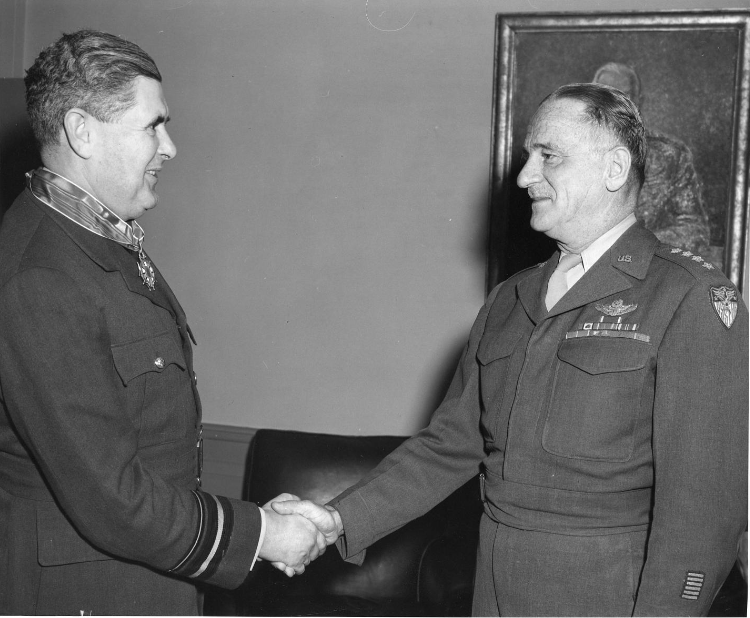 Air Vice Marshal Boothman once again returned to Iraq in 1948 as Air Officer Commanding, Air Headquarters, Iraq.
On 4 September 1950, he was promoted to Acting Air Marshal, and Controller of Supply (Air), Ministry of Supply. On 15 November 1953, Air Marshal Boothman became Commander in Chief, Coastal Command and Commander in Chief (Air) Eastern Atlantic Area.
In the King's Birthday Honours list, 7 June 1951, Air Marshal Boothman, C.B., D.F.C., A.F.C., was promoted to Knight Commander of the Military Division of the Most Excellent Order of the British Empire (K.B.E.).
In the Queen's Birthday Honours, June 1954, Air Marshal Sir John Boothman, K.B.E., D.F.C., A.F.C., was invested Knight Commander of the Most Honourable Order of the Bath (K.C.B.).
On 1 October 1954, Sir John was promoted to the rank of Air Chief Marshal. He retired from the Royal Air Force in 1956.
Air Chief Marshal Sir John Nelson Boothman, K.C.B., K.B.E., D.F.C., A.F.C., Royal Air Force, died 29 December 1957 at the age of 57 years.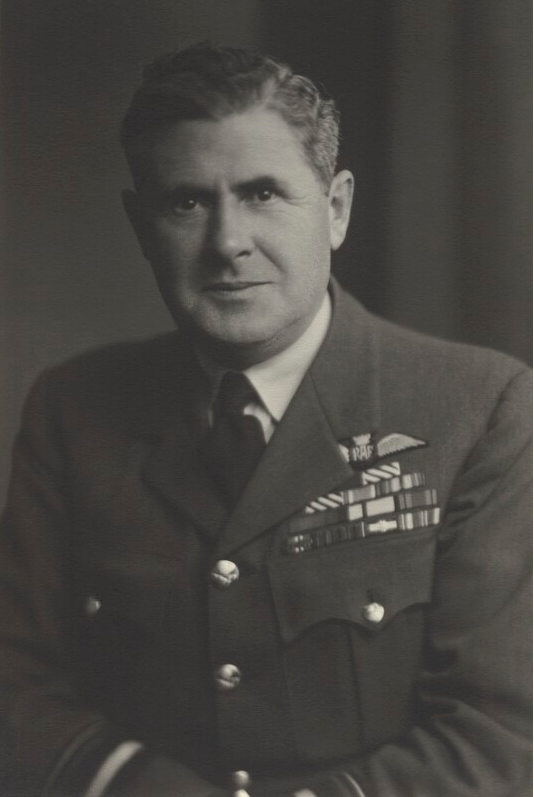 © 2018, Bryan R. Swopes