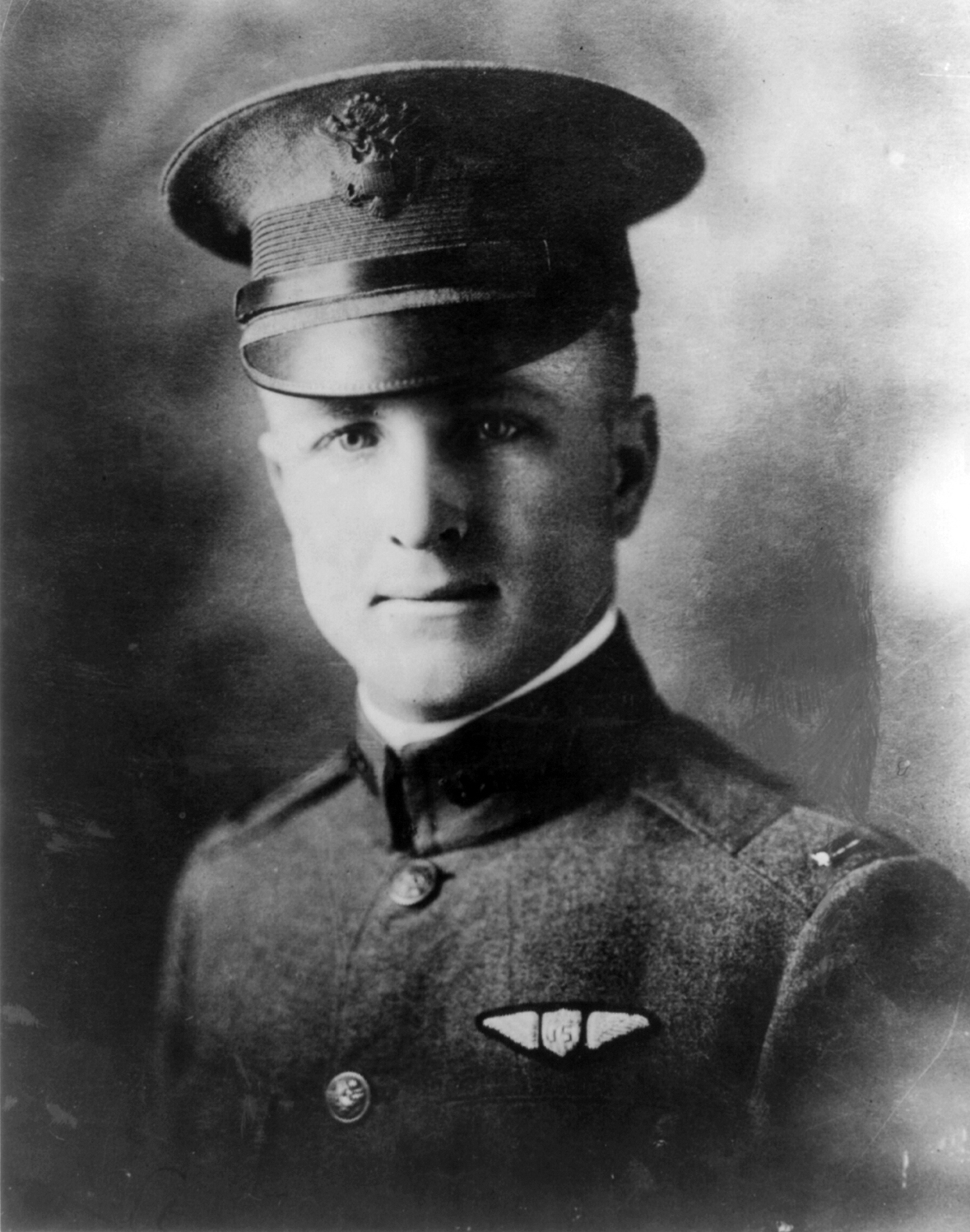 The President of the United States
in the name of
The Congress
takes pleasure in presenting the
Medal of Honor
to
FRANK LUKE, JR.
Rank and Organization: Second Lieutenant, 27th Aero Squadron, 1st Pursuit Group, Air Service.
Place and Date: Near Murvaux, France, 29 September 1918.
Entered Service At: Phoenix, Ariz. Born: 19 May 1897, Phoenix, Ariz.
G. O. No.: 59, W.D., 1919.
Citation:
"For conspicuous gallantry and intrepidity above and beyond the call of duty in action with the enemy near Murvaux, France, September 29, 1918. After having previously destroyed a number of enemy aircraft within 17 days he voluntarily started on a patrol after German observation balloons. Though pursued by eight German planes which were protecting the enemy balloon line, he unhesitatingly attacked and shot down in flames three German balloons, being himself under heavy fire from ground batteries and the hostile planes. Severely wounded, he descended to within 50 meters of the ground, and flying at this low altitude near the town of Murvaux opened fire upon enemy troops, killing six and wounding as many more. Forced to make a landing and surrounded on all sides by the enemy, who called upon him to surrender, he drew his automatic pistol and defended himself gallantly until he fell dead from a wound in the chest."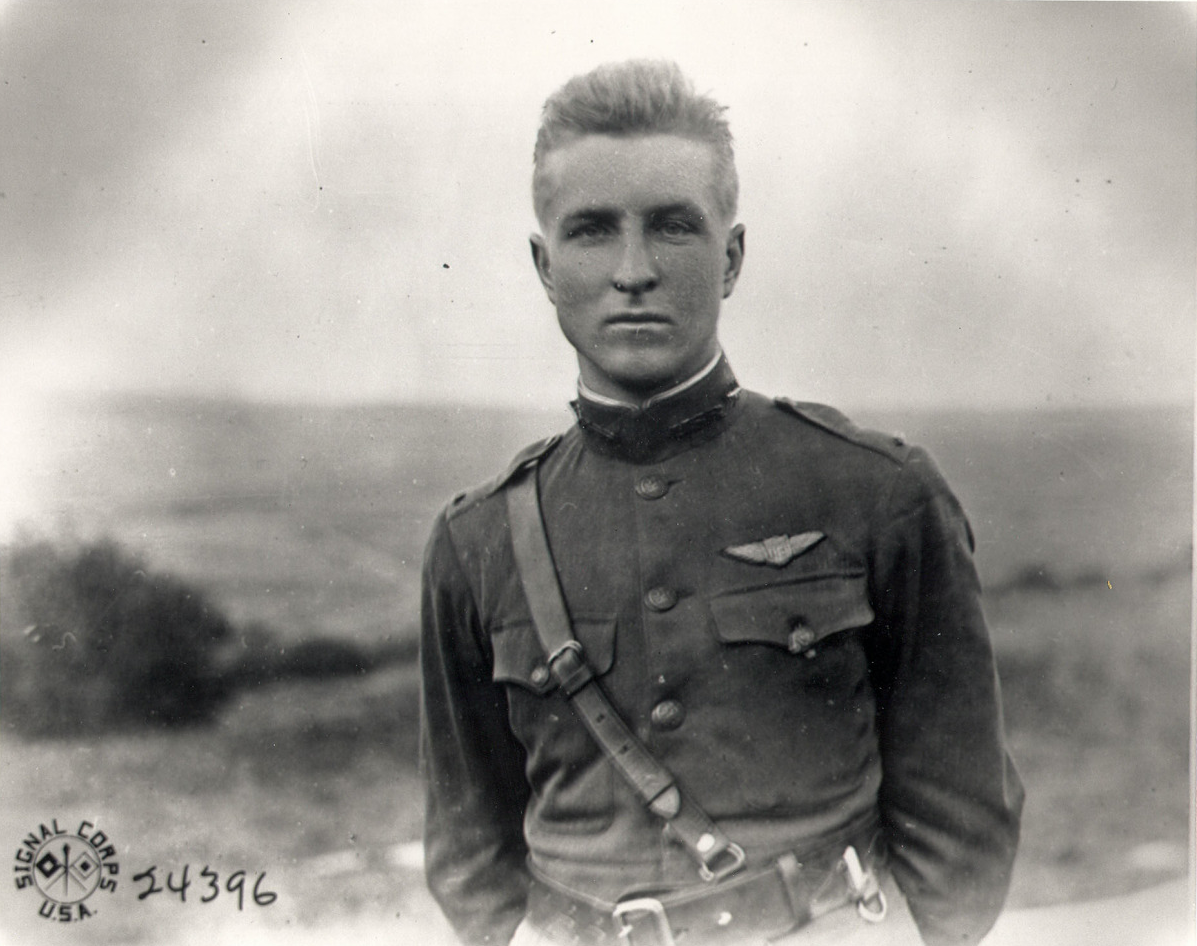 Second Lieutenant Frank Luke, Jr., shot down three enemy observation balloons along the Meuse front, on Sunday, 29 September 1918. He was apparently wounded by rifle or machine gun fire from the ground and made an emergency landing near the village of Murvaux.
Trying to evade capture, Luke walked away from his airplane toward a nearby creek. He exchanged gunfire with several German soldiers that were near, and was killed in the brief fire fight. The event was witnessed by at least thirteen of the local French villagers.
Luke's body was buried near a village church, and was not located by graves registration personnel until several months later.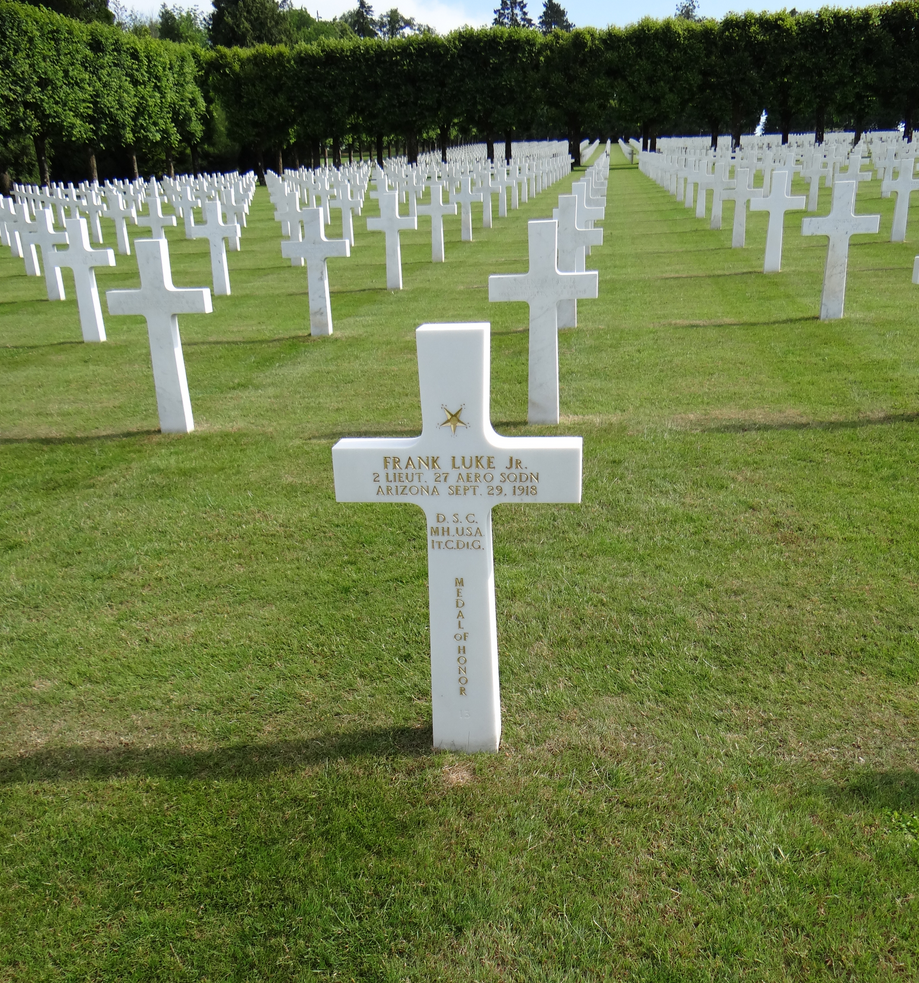 Luke's commander, Major Harold E. Hartney, said of him, "No one had the sheer contemptuous courage that boy possessed. He was an excellent pilot and probably the best flying marksman on the Western Front. We had any number of expert pilots and there was no shortage of good shots, but the perfect combination, like the perfect specimen of anything in the world, was scarce. Frank Luke was the perfect combination."
Leading American ace Captain Edward V. Rickenbacker said of Luke: "He was the most daring aviator and greatest fighter pilot of the entire war. His life is one of the brightest glories of our Air Service. He went on a rampage and shot down fourteen enemy aircraft, including ten balloons, in eight days. No other ace, even the dreaded Richthofen, had ever come close to that."
Luke is officially credited with destroying 14 observation balloons and 4 enemy airplanes during a 17 day period, 12–29 September 1918. It is probable that he shot down several more.
In 1919, the U.S. Army airfield at Ford Island, in Pearl Harbor, Hawaii, was named Luke Field in honor of Lieutenant Luke. In 1939, the Air Corps was moved to Hickham Field and the Pearl Harbor facility was turned over to the U.S. Navy. In 1941, a new Air Corps training base was established west of Phoenix, Arizona. It was named Luke Army Airfield. During World War II, Luke Field was the largest fighter pilot school in the United States. In 1951, it became Luke Air Force Base.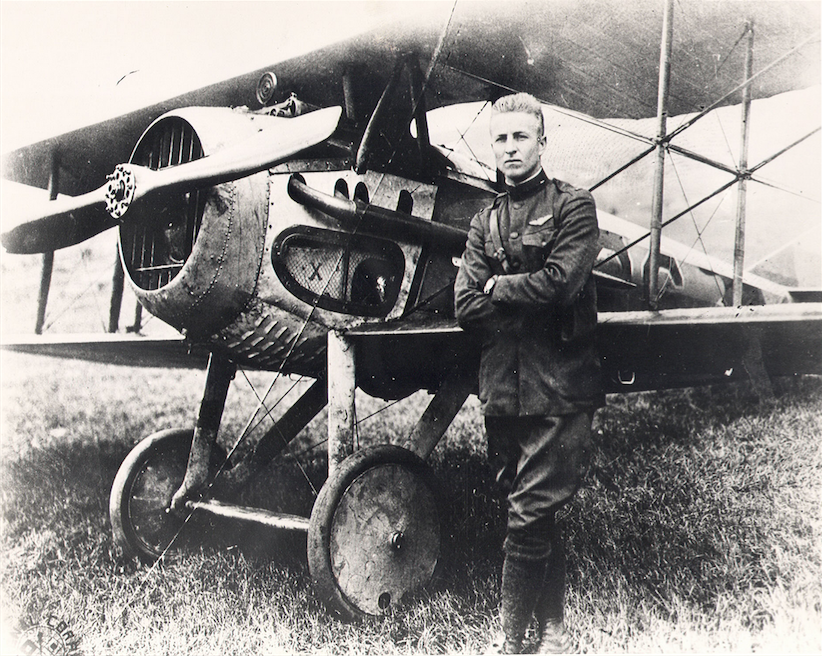 The airplane flown by Lieutenant Luke on the day he was killed was a new Société des Avions Bernard-built SPAD S.XIII C.I, serial number 7984. It had been assigned to the 27th Aero Squadron the previous day and had not yet been painted with any squadron markings.
The Société Pour L'Aviation et ses Dérivés SPAD S.XIII C.I was a single-seat, single-engine two-bay biplane designed by Louis Béchéreau. It was first flown by Sous-Lieutenant René Pierre Marie Dorme of the Aéronautique Militaire (French Air Service), on 4 April 1917.
The S.XIII was 20 feet, 4 inches (6.198 meters) long.¹ The upper and lower wings had equal span and chord. The span was 26 feet, 3¾ inches (8.020 meters) and chord, 4 feet, 7-1/8 inches (1.400 meters). The vertical spacing between the wings was 3 feet, 10½ inches (1.181 meters), and the lower wing was staggered 1¼° behind the upper. Interplane struts and wire bracing was used to reinforce the wings. The wings had no sweep or dihedral. The angle of incidence of the upper wing was 1½° and of the lower, 1°. Only the upper wing was equipped with ailerons. Their span was 7 feet, 3½ inches (2.222 meters), and their chord, 1 foot, 7½ inches (0.495 meters). The total wing area was 227 square feet (21.089 square meters).
The horizontal stabilizer had a span of 10 feet, 2 inches (3.099 meters) with a maximum chord of 1 foot, 8¾ inches (0.527 meters). The height of the vertical fin was 2 feet, 7/8-inch (0.876 meters) and it had a maximum length of 3 feet, 11¼ inches (1.200 meters). The rudder was 3 feet, 10-5/8 inches high (1.184 meters) with a maximum chord of 2 feet, 2 inches (0.660 meters).
The SPAD S.XIII C.I had fixed landing gear with two pneumatic tires. Rubber cords (bungie cords) were used for shock absorption. The wheel track was 4 feet, 10¾ inches (1.492 meters). At the tail was a fixed skid.
The airplane had an empty weight of 1,464 pounds (664 kilograms), and gross weight 2,036 pounds (924 kilograms).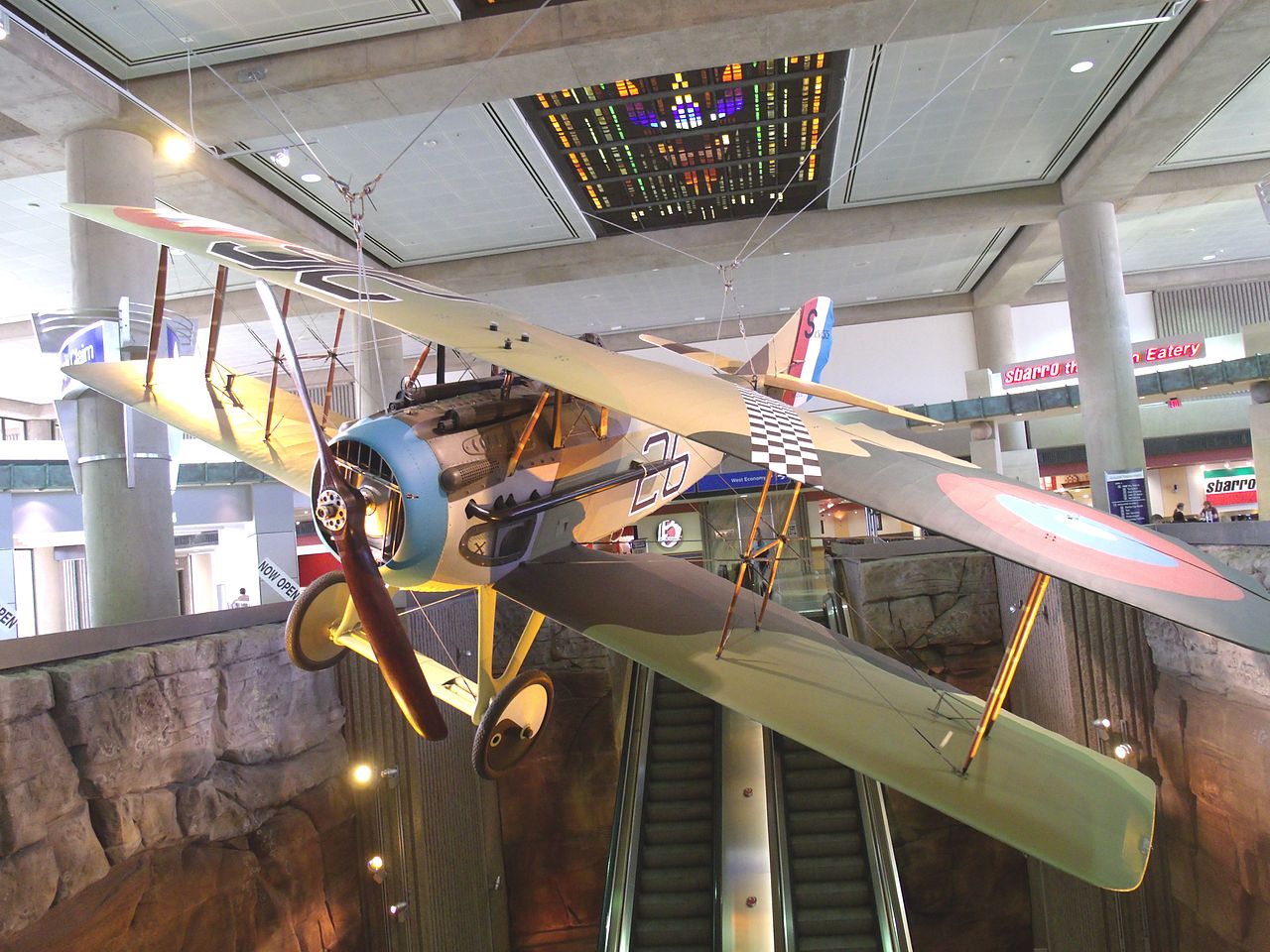 Initial production SPAD XIIIs were powered by a water-cooled 11.762 liter (717.769-cubic-inch displacement), La Société Hispano-Suiza 8Ba single overhead cam (SOHC) left-hand-tractor 90° V-8 engine. It was equipped with two Zenith down-draft carburetors and had a compression ratio of 5.3:1. The 8Ba was rated at 150 cheval vapeur (148 horsepower) at 1,700 r.p.m., and 200 cheval vapeur (197 horsepower) at 2,300 r.p.m. It drove a two-bladed, fixed-pitch, wooden propeller with a diameter of 2.50 meters (8 feet, 2.43 inches) through a 0.585:1 gear reduction. (The 8Be engine had a 0.75:1 reduction gear ratio and used both 2.50 meter and 2.55 meter (8 feet, 4.40 inches) propellers.) The Hispano-Suiza 8Ba was 1.36 meters (4 feet, 5.5 inches) long, 0.86 meters (2 feet, 9.9 inches) wide and 0.90 meters (2 feet, 11.4 inches) high. It weighed 236 kilograms (520 pounds).
The airplane had a main fuel tank behind the engine, with a gravity tank located in the upper wing. The total fuel capacity was 183 pounds (83 kilograms), sufficient for 2 hours, 30 minutes endurance at full throttle at 10,000 feet (3,048 meters), including climb. There was also a 4.5 gallon (17 liters) lubricating oil tank.
During flight testing at McCook Field, Ohio, following the war, a SPAD S.XIII C.I demonstrated a maximum Sea Level speed of 131.5 mph (211.6 kilometers per hour) at 2,300 rpm, and 105 mph (169 kilometers per hour) at 2,060 r.p.m., at 18,400 feet (5,608 meters). Its service ceiling was 18,400 feet (5,608 meters), and the absolute ceiling was 20,000 feet (6,096 meters).
The chasseur was armed with two fixed, water-cooled, .303-caliber (7.7 mm) Vickers Mk.I machine guns with 400 rounds of ammunition per gun, synchronized to fire forward through the propeller arc. Because of the cold temperatures at altitude, the guns' water jackets were not filled, thereby saving considerable weight.
The SPAD S.XIII C.I was produced by nine manufacturers. 8,472 were built in 1917 and 1918. Only four are still in existence.
Recommended: The Stand: The Final Flight of Lt. Frank Luke, Jr., by Stephen Skinner, Schiffer Publishing Ltd., Atglen, Pennsylvania, 2008.
¹ Dimensions, weights, capacities and performance data cited above refer to SPAD S.XIII C.I serial number 17956 (A.S. 94101), which was tested at McCook Field, Dayton, Ohio (Project Number P-154), 1921.
© 2017, Bryan R. Swopes