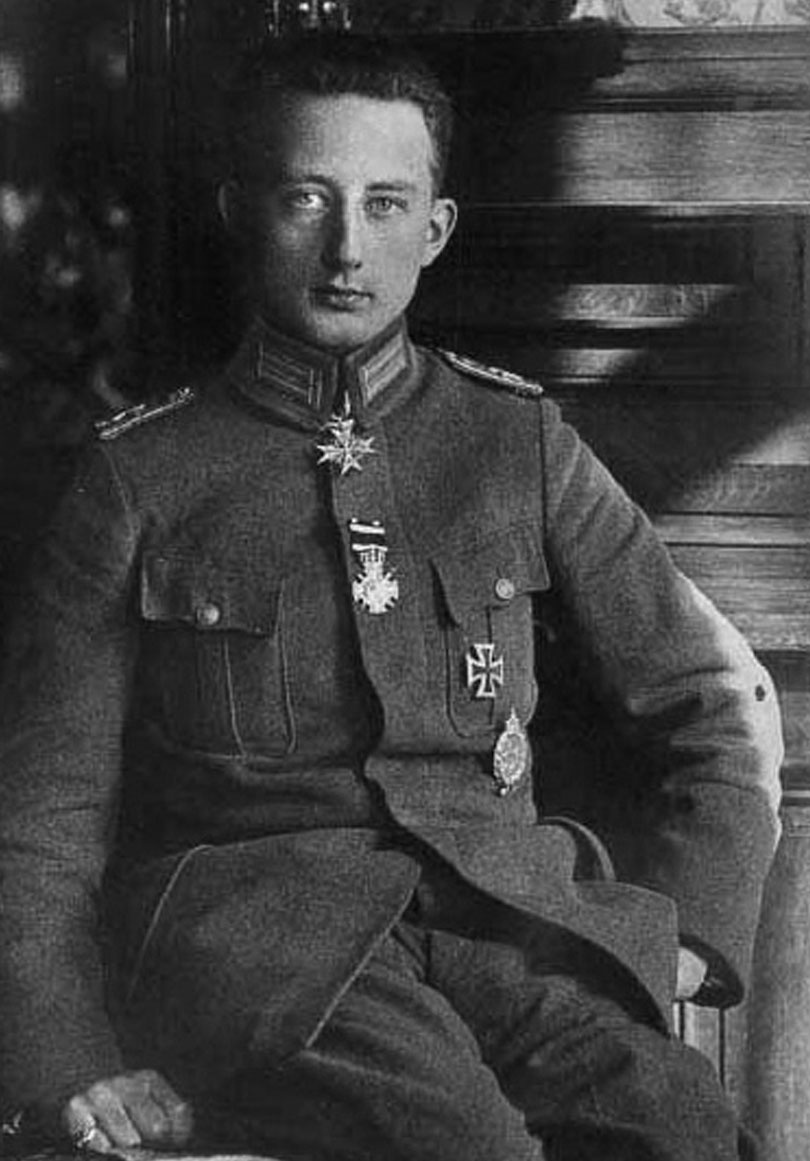 23 September 1917: Leutnant Werner Voss, commanding officer of Jagdstaffel 10 of the Deutsche Luftstreitkräfte (German Air Force), a leading fighter ace with 48 confirmed victories, was shot down during a battle which lasted at least eight minutes and involved seven British pilots, themselves aces.
Though Voss' machine gun fire damaged most of his opponents' airplanes, his own was hit by fire from at least two of the British airplanes. Voss was struck by three bullets.
His airplane, a prototype Fokker F.I triplane, serial number 103/17, went into a steep dive and crashed north of Frezenberg, Belgium. Voss was killed.
Major James Thomas Byford McCudden, V.C., D.S.O. and Bar, M.C. and Bar, M.M., one of the British pilots involved in the dogfight, later said of Voss,
"As long as I live I shall never forget my admiration for that German pilot, who single-handed fought seven of us for ten minutes and also put some bullets through all our machines. His flying was wonderful, his courage magnificent, and in my opinion he was the bravest German airman whom it has been my privilege to see fight."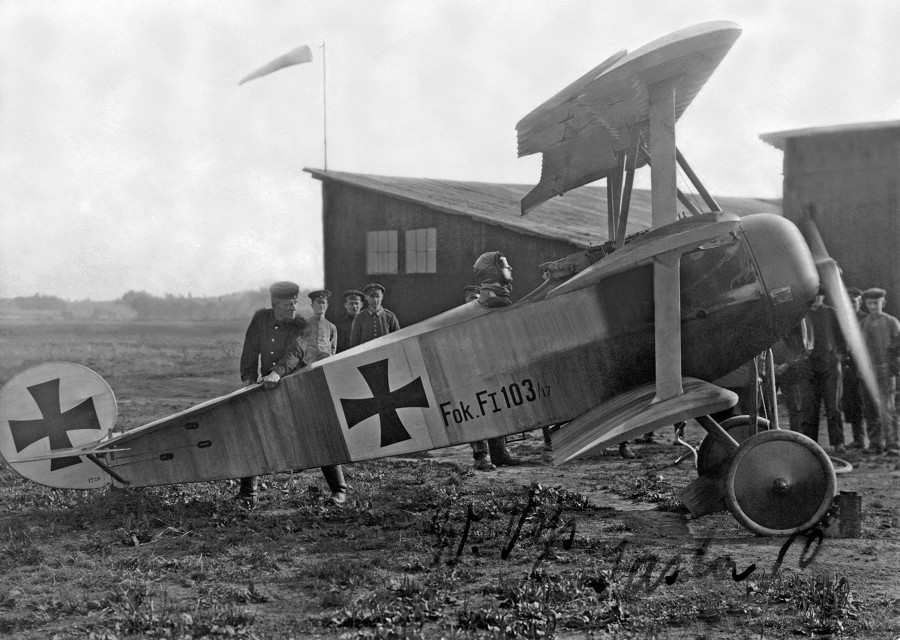 The Fokker F.I was a prototype single-engine, single-seat triplane fighter, designed and built by Fokker Flugzeugwerke GmbH, Schwerin, Germany. After very slight changes, the production version would be designated Fokker Dr.I. The fuselage was constructed of steel tubing braced with wire and covered with fabric. The wings used plywood ribs and a boxed plywood spar.
The F.I was 5.770 meters (18 feet, 11.2 inches) long. The upper wing had a span of 7.190 meters (23 feet, 7.1 inches); the middle wing, 6.225 meters (20 feet, 5 inches); and the lower wing, 5.725 meters (18 feet, 9.4 inches). All three wings had a chord of 1.000 meters (3 feet, 3.4 inches). The airplane had an overall height of 2.950 meters (9 feet, 8.1 inches). Its empty weight was 405 kilograms (893 pounds), and the gross weight was 587 kilograms (1,294 pounds).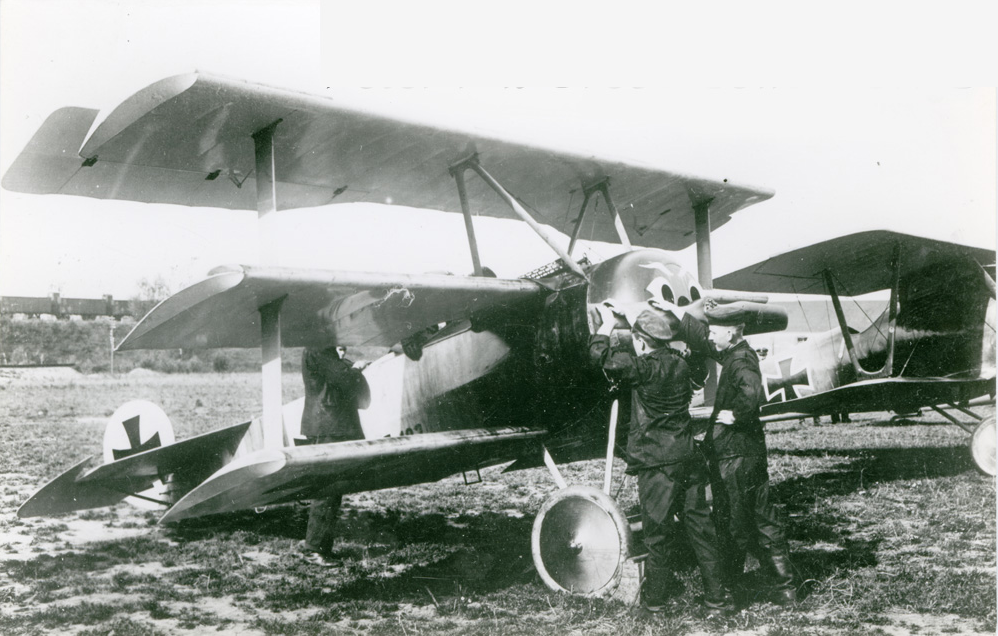 Originally built with a Motorentfabrik Oberursel Ur.II nine-cylinder rotary engine rated at 110 horsepower (a license-built copy of the French Le Rhône 9J engine), Werner Voss had an actual Le Rhône 9J, serial number J6247, installed to replace the Ur.II.
The Le Rhône 9J, produced by Société des Moteurs Le Rhône, was an air-cooled, normally aspirated, 15.074 liter (919.85 cubic inches) nine-cylinder rotary engine, capable of producing 113 horsepower at 1,200 r.p.m., and a maximum 135 horsepower at 1,350 r.p.m. As the engine rotated, it turned a two-bladed Axial Proppellerwerk AG fixed-pitch, laminated wood propeller with a diameter of 2.660 meters (8 feet, 8.7 inches). The Le Rhône 9J was 850 millimeters (2 feet, 9.47 inches) long and 970 millimeters (3 feet, 2.19 inches) in diameter. It weighed 137 kilograms (302 pounds).
The Fokker F.I had a maximum speed of 185 kilometers per hour (115 miles per hour) at Sea Level and 166 kilometers per hour (103 miles per hour) at 4,000 meters (13,123 feet ). The service ceiling was 7,000 meters (22,966 feet). It carried fuel for approximately 1½ hours of flight.
The F.I was armed with two fixed 8mm Spandau LMG 08/15 machine guns, synchronized to fire forward through the propeller arc. The fighter carried 550 rounds of ammunition per gun.
Werner Voss' triplane, 103/17 (Wn. 1730), was a prototype, Versuch 5, or V5, ordered on 14 July 1917 and accepted by the German Air Force on 16 August. It was sent to Jagdstafell 10 on 21 August.
A British intelligence officer who examined the wreckage of Voss' Fokker F.I described it as having camouflaged green upper surfaces and blue lower surfaces. Photographs of 103/17 show painted eyes and a mustache on the engine cowling, which are believed to have been inspired by Japanese kites that Voss had flown as a child.
Leutnant Werner Voss had been awarded the famous Pour le Mérite (the "Blue Max"), Germany's highest award; the Hausorden von Hohenzollern (the Cross of the Order of the Royal House Order of Hohenzollern with Crown and Swords); and the Eisernes Kreuz (Iron Cross), 1st and 2nd Class.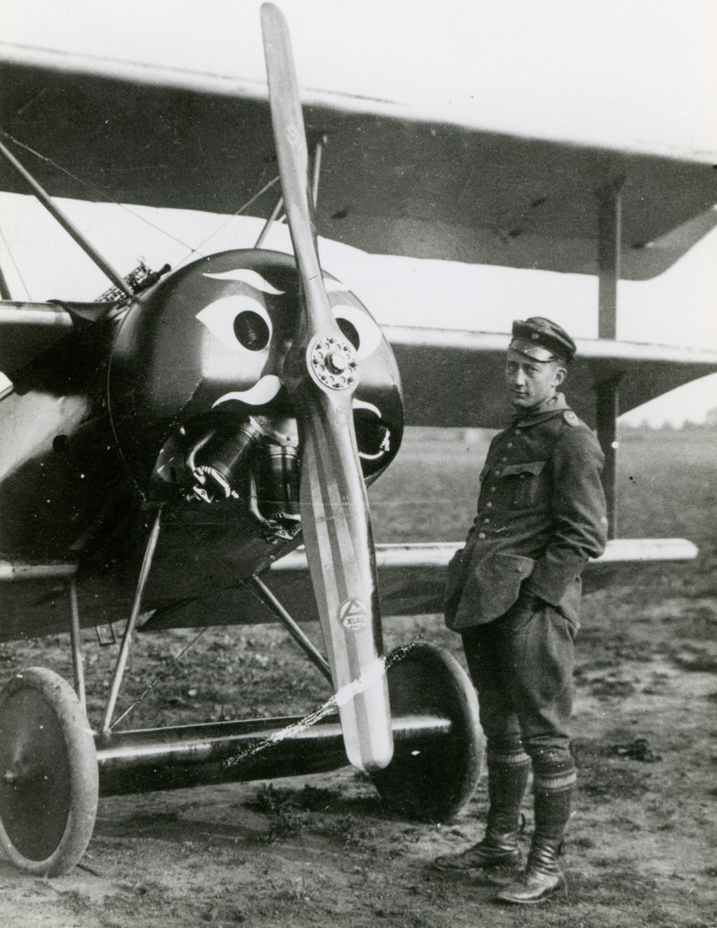 © 2016, Bryan R. Swopes