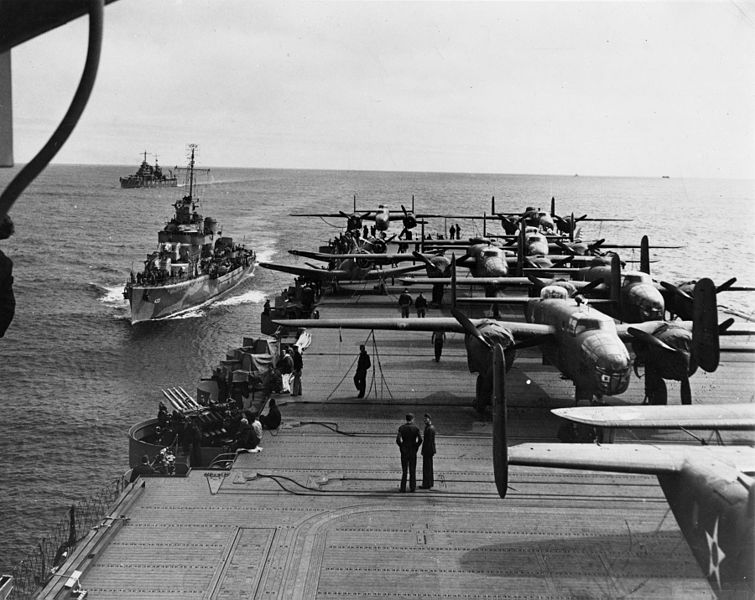 2 April 1942: After loading sixteen North American Aviation B-25B Mitchell medium bombers and their crews of the 17th Bombardment Group (Medium) at NAS Alameda, the recently commissioned United States Navy aircraft carrier USS Hornet (CV-8) departed San Francisco Bay with her escorts and headed for a secret rendezvous with Vice Admiral William F. Halsey, Jr., and Task Force 16.
The new carrier was under command of Captain Marc A. Mitscher. The strike group was commanded by Lieutenant Colonel James H. ("Jimmy") Doolittle, U.S. Army Air Corps. Until the second day at sea, only six U.S. military officers knew of the mission.
The photograph above shows some of the bombers secured on Hornet's flight deck. An escorting destroyer, USS Gwin (DD-433) is closing from astern, with light cruiser USS Nashville (CL-43) in the distance. Two more ships are on the horizon.
USS Hornet was a brand new Yorktown-class aircraft carrier, commissioned 20 October 1941. It had just completed its shakedown cruise in the Atlantic when it was sent west for this mission.
The ship was 824 feet, 9 inches (251.384 meters) long, overall, with a maximum width of 114 feet (34.747 meters). Hornet's dimensions at the waterline (full load displacement) were 761 feet (232 meters) long with a beam of 83 feet, 3 inches (25.375 meters). Its draft was 28 feet (8.5 meters).
The flight deck had two hydraulic catapults, and three elevators for bringing aircraft up from the hangar deck. A third catapult was on the hangar deck, launching aircraft laterally.
Powered by four geared steam turbines driving four propeller shafts, Hornet's engines produced 120,000 shaft horsepower. The carrier's maximum speed was 33.84 knots (39.94 miles per hour/62.67 kilometers per hour), and maximum range, 12,500 nautical miles (14,385 kilometers).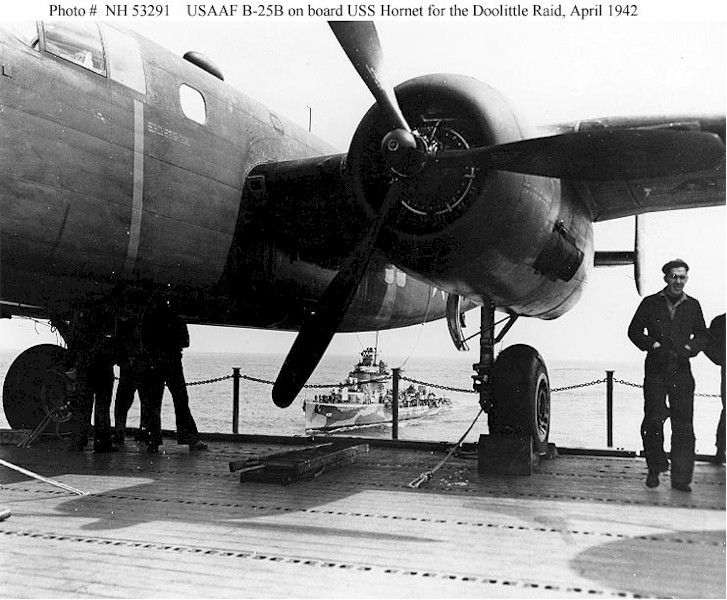 The aircraft carrier's primary armament was its air wing, consisting of a squadron each of Grumman F4F Wildcat fighters, Douglas SBD Dauntless dive bombers and Douglas TBD Devastator torpedo bombers. For the Halsey-Doolittle Raid, Hornet's air wing was stored on the hangar deck and unavailable.
"To make room for the Army bombers, Hornet had struck her own planes below. Wildcats and Devastators, with wings folded, and dismantled SBDs were packed into every available space, even hung from the overhead. So, except for her few guns, the carrier was defenseless until she rendezvoused with Task Force 16. . . ."
—History of United States Naval Operations in World War II, Volume III, The Rising Sun in the Pacific, by Samuel Eliot Morison, Little, Brown & Company, Boston, 1988, Chapter XX at Page 392.
For defense, the ship was lightly armored, with 2.5–4 inches (6.35–10.2 centimeters) of belt and deck armor. She also carried eight 5-inch, 38-caliber (5″/38) dual-purpose guns in single mounts, thirty 20mm Oerlikon autocannon, twenty water-cooled 1.1-inch, 75-caliber (1.1″/75) guns in four-gun mounts, and twenty-four Browning .50-caliber (12.7 millimeter) machine guns.
Including the ship's air wing, the complement was 2,919 men.
USS Hornet fought at the Battle of Midway, June 3–7, 1942. She was sunk at the Battle of the Santa Cruz Islands, 26 October 1942, having been hit by two airplanes, 8 bombs, 16 torpedoes and an unknown number of 5-inch shells.¹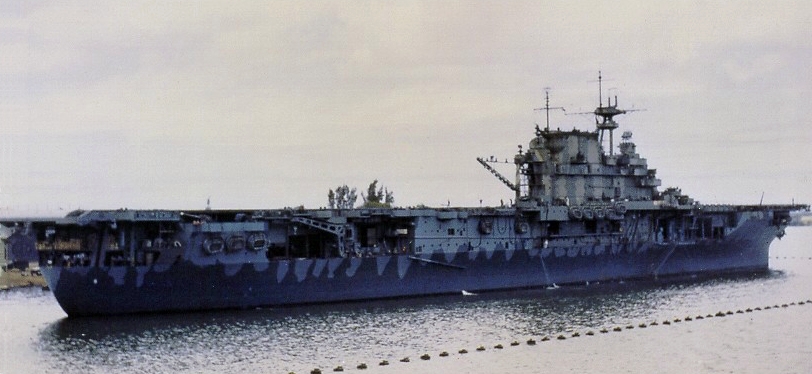 ¹ The research vessel R/V Petrel located the wreck of USS Hornet on the sea floor in January 2019. The ship lies at a depth of 5,330 meters (17,487 feet).
© 2019, Bryan R. Swopes