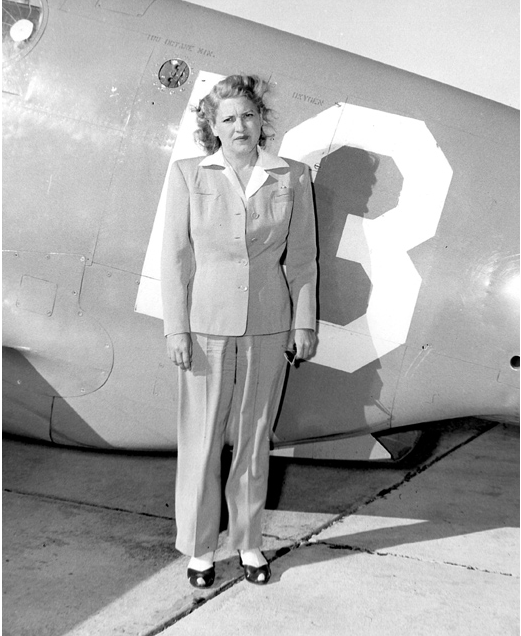 10 December 1947: Near the Santa Rosa Summit in the Coachella Valley of southeastern California, Jackie Cochran flew her green North American Aviation P-51B Mustang, NX28388, over a 100-kilometer (62 miles) closed circuit, averaging 755.668 kilometers per hour (469.549 miles per hour). She set both a U.S. National and a Fédération Aéronautique Internationale (FAI) World Record.¹
This record still stands.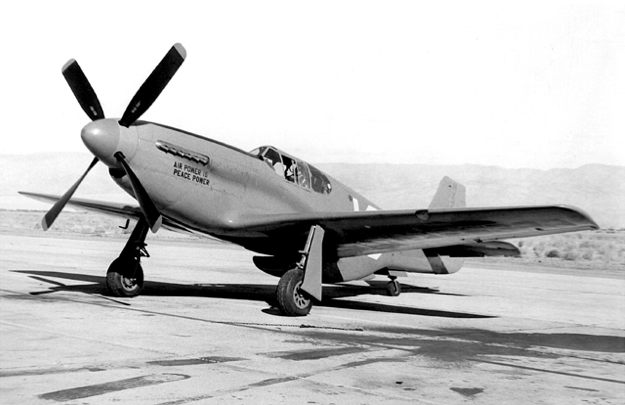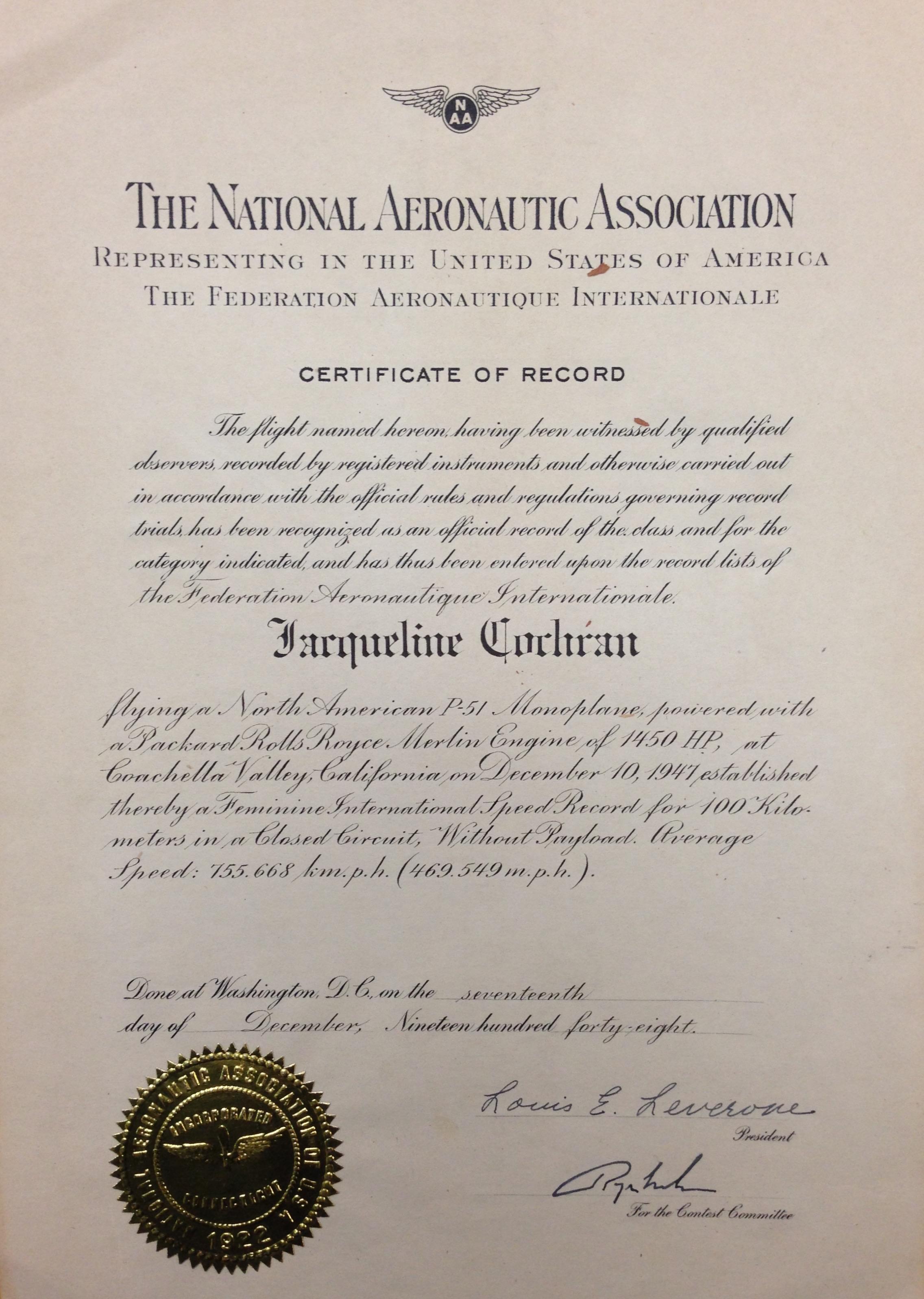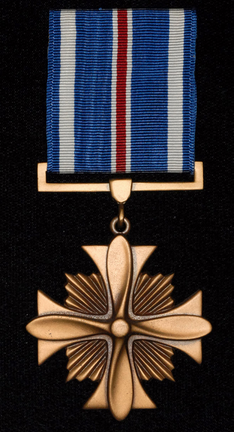 For a series of six records set in her P-51, Jackie Cochran, who held a commission as a colonel in the United States Air Force, was awarded the Distinguished Flying Cross.
The President of the United States of America, authorized by Act of Congress, July 2, 1926, takes pleasure in presenting the Distinguished Flying Cross to Colonel Jacqueline Cochran, United States Air Force, for extraordinary achievement while participating in aerial flight from 1947 to 1951. During this period, Colonel Cochran piloted an F-51 aircraft in which she established six world speed records. At Coachella Valley, California, flying a closed-circuit 100-kilometer course, Colonel Cochran established a new speed record of 469.549 miles per hour. In other flights from Thermal, Indio, and Palm Springs, CA, Colonel Cochran established world speed records for the 3-, 15-, 500-, 1000-, and 2000-kilometer courses. The professional competence, aerial skill, and devotion to duty displayed by Colonel Cochran reflect great credit upon herself and the United States Air Force.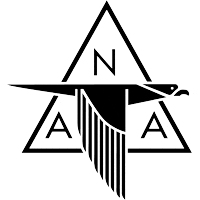 NX28388 was the first of three P-51 Mustangs owned by Jackie Cochran. It was a North American Aviation P-51B-15-NA Mustang built at Inglewood, California in 1944. It was assigned NAA internal number 104-25789 and U.S. Army Air Corps serial number 43-24760.
Cochran bought it from North American Aviation, Inc., 6 August 1946. The airplane was registered to Jacqueline Cochran Cosmetics, Inc., 142 Miller Street, Newark, New Jersey, but was based at Jackie's C-O Ranch at Indio, California. The Mustang was painted "Lucky Strike Green" and carried the number 13 on each side of the fuselage, on the upper surface of the left wing and lower surface of the right wing.
NX28388 was powered by Packard V-1650-7 Merlin V-12, serial number V332415.
Jackie Cochran flew NX28388 in the 1946 Bendix Trophy Race and finished second to Paul Mantz in his P-51C Mustang, Blaze of Noon. Cochran asked Bruce Gimbel to fly the Mustang for her in the 1947 Bendix. There was trouble with the propeller governor and he finished in fourth place. In May 1948, Jackie set two more speed records with NX28388. Jackie and her green Mustang finished in third place in the 1948 Bendix race. She asked another pilot, Lockheed test pilot Sampson Held, to ferry the fighter back to California from Cleveland, Ohio after the race, but,
". . . my plane crashed, carrying my associate, Sam Held, with it to his death." —The Stars At Noon, by Jacqueline Cochran, Little, Brown and Company, Boston, 1954, Chapter IV at Page 79.
NX28388 had crashed six miles south of Sayre, Oklahoma, 8 September 1948, killing Sam Held. Two witnesses saw a wing come off of the Mustang, followed by an explosion.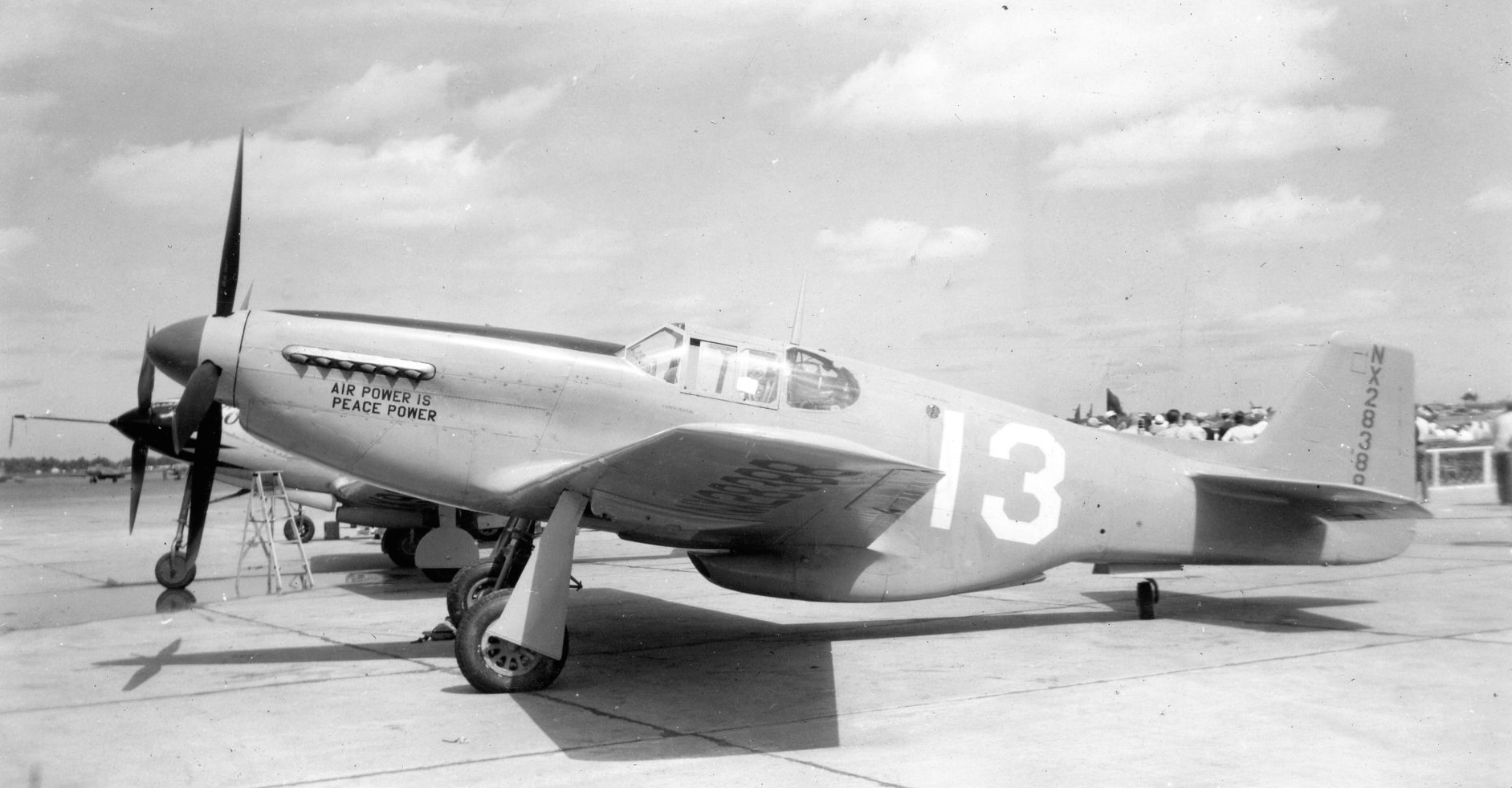 The P-51B was the first production Mustang to be built with the famous Rolls-Royce Merlin engine, and was virtually identical to the P-51C variant. (The P-51Bs were built by North American Aviation, Inc., at Inglewood, California. P-51Cs were built at North American's Dallas, Texas plant.) They were 32 feet, 2.97 inches (9.829 meters) long, with a wingspan of 37 feet, 0.31-inch (11.282 meters) and overall height of 13 feet, 8 inches (4.167 meters) high. The fighter had an empty weight of 6,985 pounds (3,168 kilograms) and a maximum gross weight of 11,800 pounds (5,352 kilograms).

P-51Bs and Cs were powered by a liquid-cooled, supercharged, 1,649-cubic-inch-displacement (27.04-liter) Packard V-1650-3 or -7 Merlin single overhead cam (SOHC) 60° V-12 engine which produced 1,380 horsepower at Sea Level, turning 3,000 r.p.m and 60 inches of manifold pressure (V-1650-3) or 1,490 horsepower at Sea Level, turning at 3,000 r.p.m. with 61 inches of manifold pressure (V-1650-7). These were license-built versions of the Rolls-Royce Merlin 63 and 66. The engine drove a four-bladed Hamilton-Standard Hydromatic constant speed propeller with a diameter of 11 feet, 2 inches (3.404 meters).
The P-51B/C had a cruise speed of 362 miles per hour (583 kilometers per hour) and the maximum speed was 439 miles per hour (707 kilometers per hour) at 25,000 feet (7,620 meters). The service ceiling was 41,900 feet (12,771 meters). With internal fuel, the combat range was 755 miles (1,215 kilometers).
In military service, armament consisted of four Browning AN/M2 .50-caliber machine guns, mounted two in each wing, with 350 rounds per gun for the inboard guns and 280 rounds per gun for the outboard.
1,988 P-51B Mustangs were built at North American's Inglewood, California plant and another 1,750 P-51Cs were produced at Dallas, Texas. This was nearly 23% of the total P-51 production.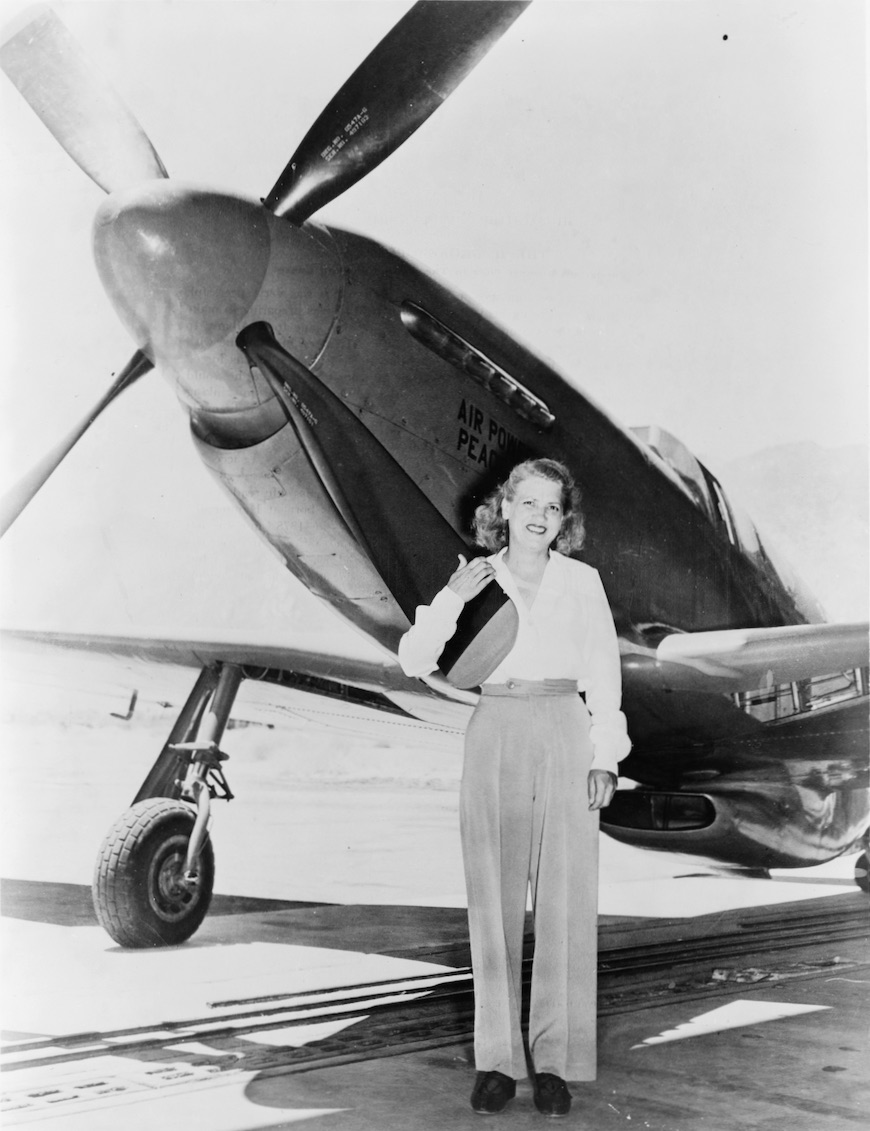 ¹ FAI Record File Number 4478
© 2018, Bryan R. Swopes