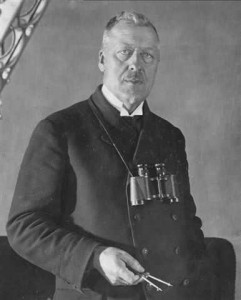 8 August 1929: The rigid airship Graf Zeppelin, LZ 127, under the command of Dr. Hugo Eckener, departed Lakehurst Naval Air Station, New Jersey, heading east across the Atlantic Ocean on the first circumnavigation by air. The flight was sponsored by publisher William Randolph Hearst, who had placed several correspondents aboard.
Graf Zeppelin was named after Ferdinand Adolf Heinrich August Graf von Zeppelin, a German general and count, the founder of the Zeppelin Airship Company. The airship was constructed of a lightweight metal structure covered by a fabric envelope. It was 776 feet (236.6 meters) long. Contained inside were 12 hydrogen-filled buoyancy tanks, fuel tanks, work spaces and crew quarters.
A gondola mounted underneath contained the flight deck, a sitting and dining room and ten passenger cabins. The LZ-127 was manned by a 36 person crew and could carry 24 passengers.
LZ 127 was powered by five water-cooled, fuel injected 33.251 liter (2,029.1 cubic inches) Maybach VL-2 60° V-12 engines producing 570 horsepower at 1,600 r.p.m., each. Fuel was either gasoline or blau gas, a gaseous fuel similar to propane. The zeppelin's maximum speed was 80 miles per hour (128 kilometers per hour).
The route of the flight was from Lakehurst NAS to the LZ 127 home base at Friedrichshafen. Germany. After refueling, it continued across Europe, Russia and Siberia, non-stop to Tokyo, Japan, where it moored and refueled at the Kasumigaura Naval Air Station. This leg crossed 7,297 miles (11,743 kilometers) in 101 hours, 49 minutes. After five days in Japan, Graf Zeppelin headed east across the Pacific Ocean to Mines Field, Los Angeles, California. This was the first ever non-stop flight across the Pacific Ocean. The distance was 5,986 miles (9,634 kilometers) and took 79 hours, 54 minutes. The transcontinental flight from Los Angeles back to the starting point at Lakehurst NAS, 2,996 miles (4,822 kilometers), took 51 hours, 13 minutes.
The total elapsed time for the circumnavigation was 21 days, 5 hours, 31 minutes. The route covered 20,651 miles (33,234 kilometers). The actual flight time was 12 days, 12 hours, 13 minutes, an average of 68.786 miles per hour (110.7 kilometers per hour).
Graf Zeppelin made 590 flights and carried more than 13,000 passengers. It is estimated that it flew more than 1,000,000 miles. After the Hindenburg accident, it was decided to replace the hydrogen buoyancy gas with non-flammable helium. However, the United States government refused to allow the gas to be exported to Germany. With no other source for helium, in June 1938, Graf Zeppelin was deflated and placed in storage.
© 2020, Bryan R. Swopes