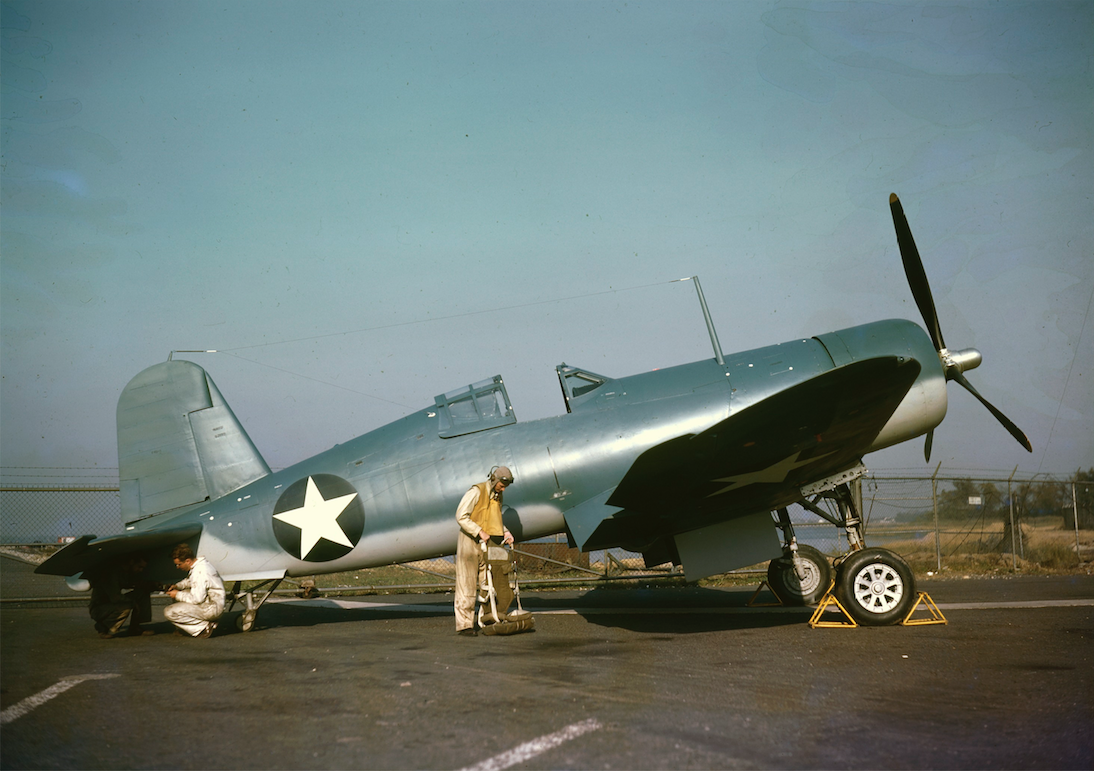 24 June 1942: The first production Vought-Sikorsky F4U-1 Corsair, Bu. No. 02155, made its first flight at Stratford, Connecticut. (Some sources state 25 June.)
The Corsair was designed by Rex Buren Beisel, and is best known for its distinctive inverted "gull wing," which allowed sufficient ground clearance for its 13 foot, 4 inch (4.064 meter) diameter propeller, without using excessively long landing gear struts. The prototype XF4U-1, Bu. No. 1443, had first flown 29 May 1940, with test pilot Lyman A. Bullard in the cockpit.
The F4U-1 was had a length of 33 feet, 4.125 inches (10.163 meters), wingspan of 40 feet, 11.726 inches (12.490 meters) and overall height (to top of propeller arc) of 15 feet, 0.21 inches (4.577 meters). The wings' angle of incidence was 2°. The outer wing had 8.5° dihedral and the leading edges were swept back 4°10′. With its wings folded, the width of the F4U-1 was 17 feet, 0.61 inches (5.197 meters), and gave it a maximum height of 16 feet, 2.3 inches (4.935 meters). When parked, the Corsair's 13 foot, 4 inch (4.064 meter) propeller had 2 feet, 1.93 inches (65.862 centimeters) ground clearance, but with the fighter's thrust line level, this decreased to just 9.1 inches (23.1 centimeters). The F4U-1 had an empty weight of 8,982 pounds (4,074.2 kilograms) and gross weight of 12,162 pounds (5,516.6 kilograms).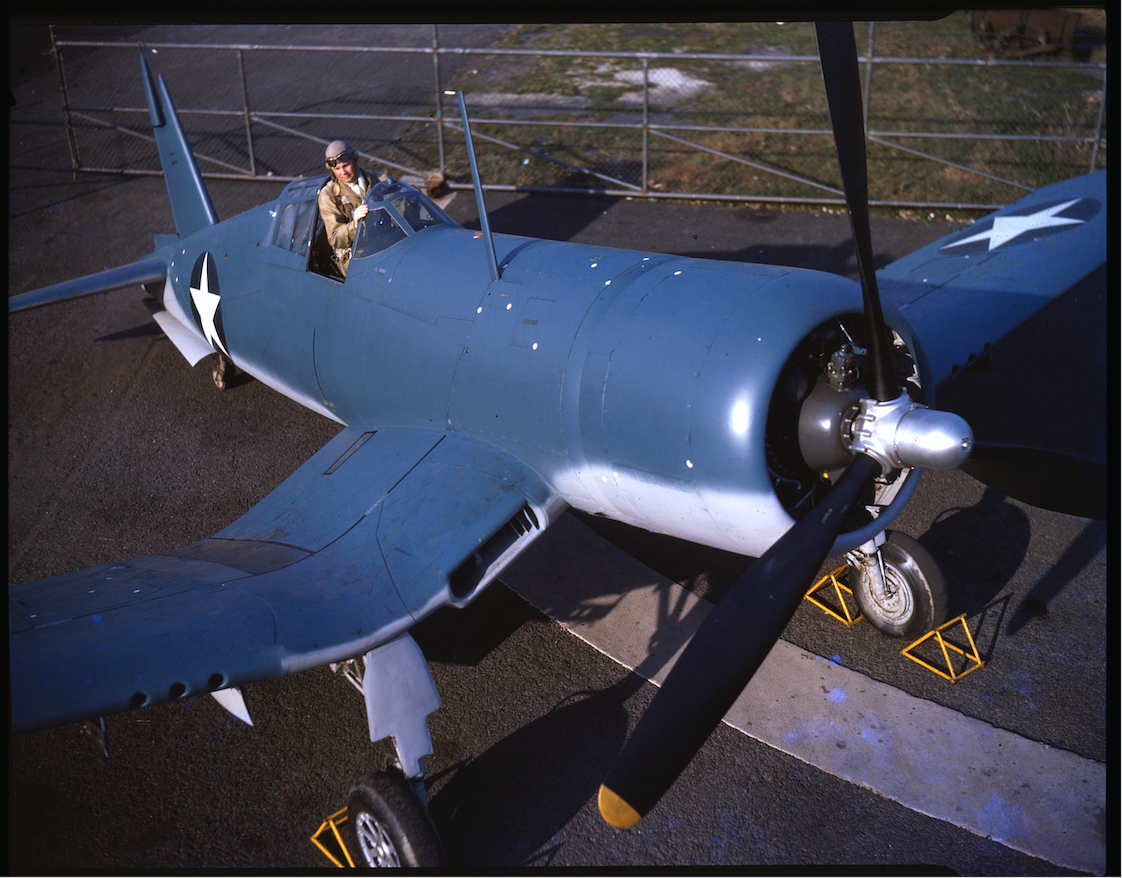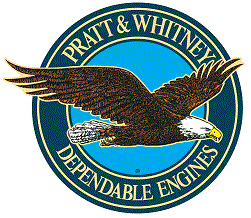 The F4U-1 variant of the Corsair was powered by an air-cooled, supercharged, 2,804.4-cubic-inch-displacement (45.956 liter) Pratt & Whitney Double Wasp SSB2-G (R-2800-8) two-row, 18-cylinder radial engine, with a compression ratio of 6.65:1. The R-2800-8 had a normal power rating of 1,675 horsepower at 2,550 r.p.m. and 44.0 inches of manifold pressure (1.490 bar) at 5,500 feet (1,676 meters); 1,550 horsepower at 21,500 feet (6,553 meters); and 2,000 horsepower at 2,700 r.p.m. with 54.0 inches of manifold pressure (1.829 bar) for takeoff. The engine turned a three-bladed Hamilton Standard Hydromatic constant-speed propeller with a diameter of 13 feet, 4 inches (4.064 meters) through a 2:1 gear reduction. The R-2800-8 was 7 feet, 4.47 inches (2.247 meters) long, 4 feet, 4.50 inches (1.334 meters) in diameter and weighed 2,480 pounds (1,125 kilograms).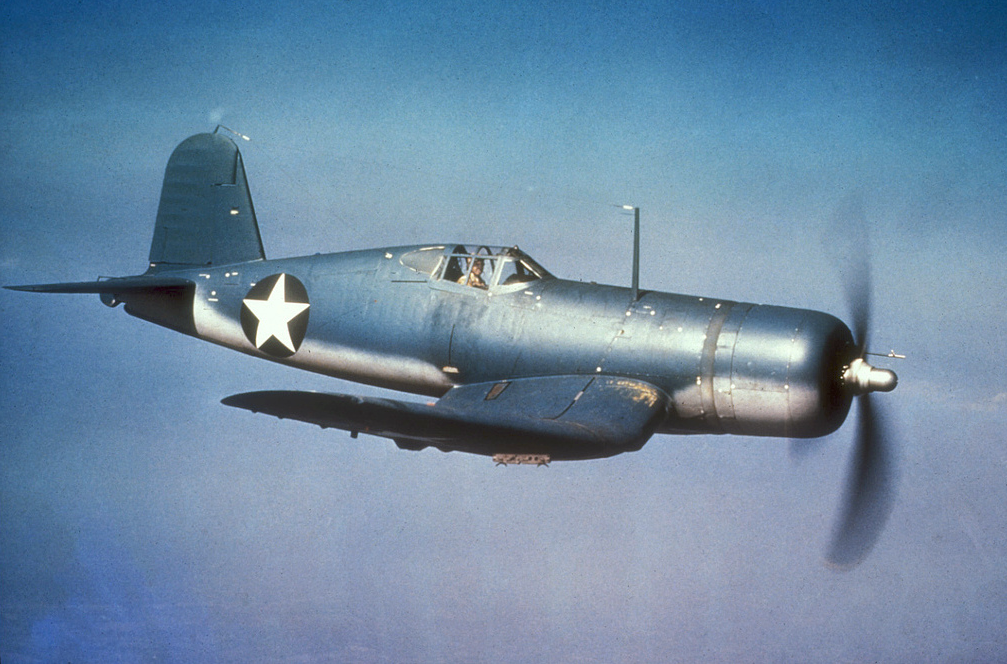 The F4U-1 had a cruise speed of 186 miles per hour (299 kilometers per hour) at Sea Level. Its maximum speed at Sea Level was 365 miles per hour (587 kilometers per hour). During flight testing, an F4U-1 reached 431 miles per hour (694 kilometers per hour) at 20,300 feet (6,187 meters) with War Emergency Power. The service ceiling was 38,200 feet (11,643 meters) and its maximum range was 1,510 miles (2,430 kilometers) with full main and outer wing tanks.
The Corsair was armed with six air-cooled Browning AN-M2 .50-caliber machine guns, three in each wing, with 400 rounds of ammunition per gun.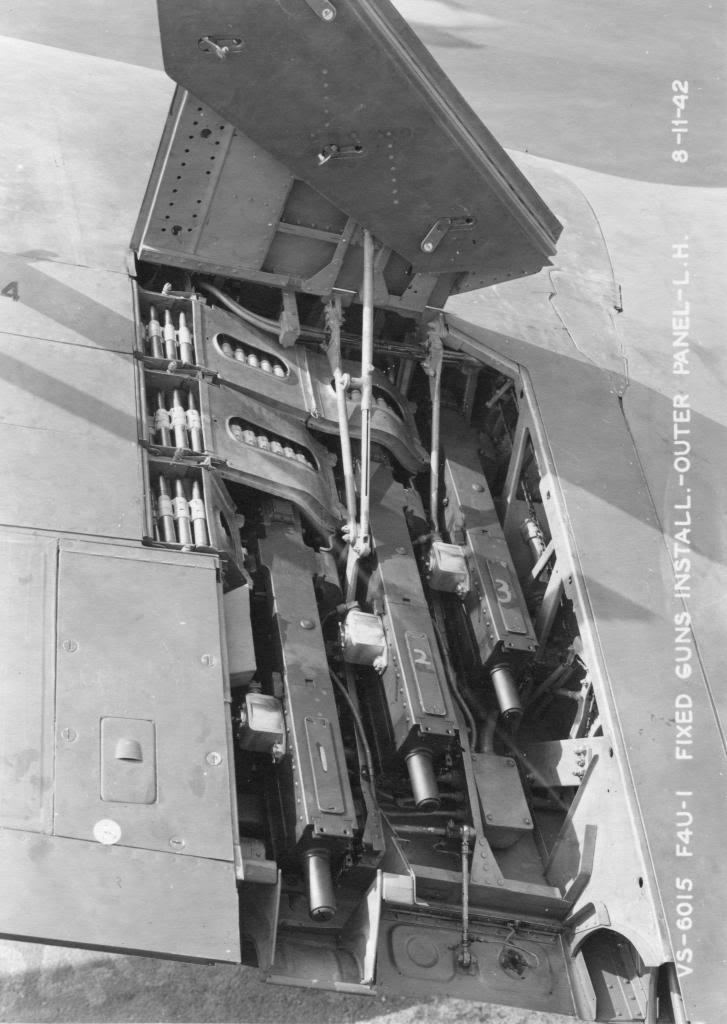 A total of 12,571 Corsairs were manufactured by the Vought-Sikorsky Aircraft Division (F4U-1), Goodyear Aircraft Corporation (FG-1D) and Brewster Aeronautical Corporation (F3A-1). The Corsair served the U.S. Navy and Marine Corps in World War II and the Korean War. Corsairs also served in other countries' armed forces. Its last known use in combat was in Central America in 1969.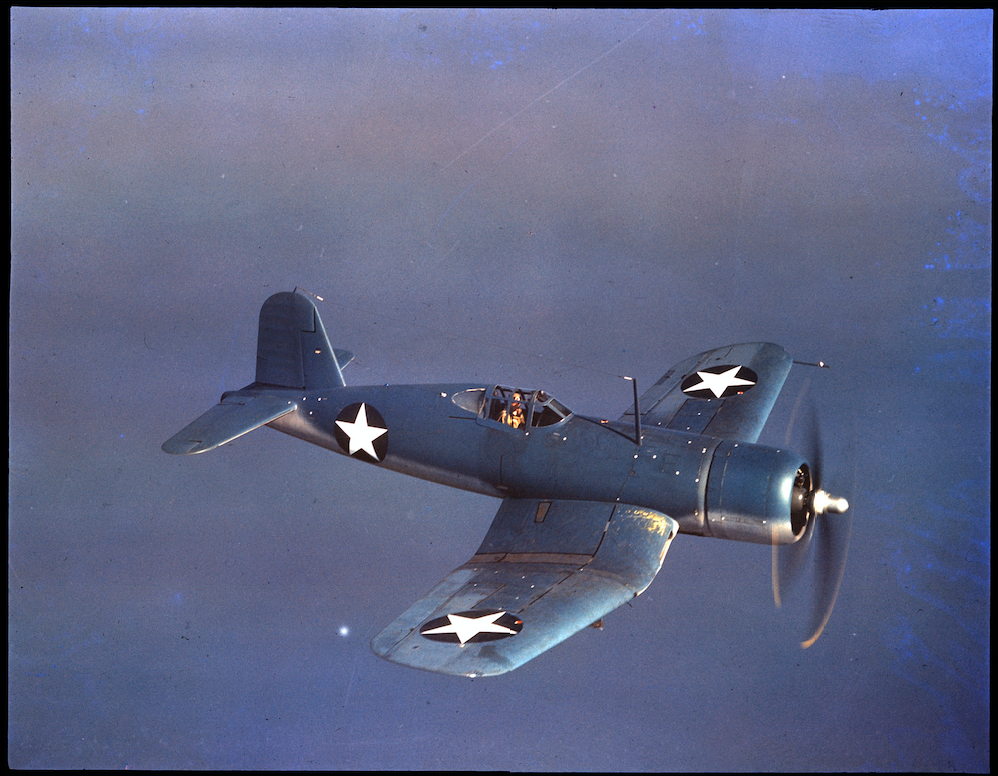 © 2019, Bryan R. Swopes