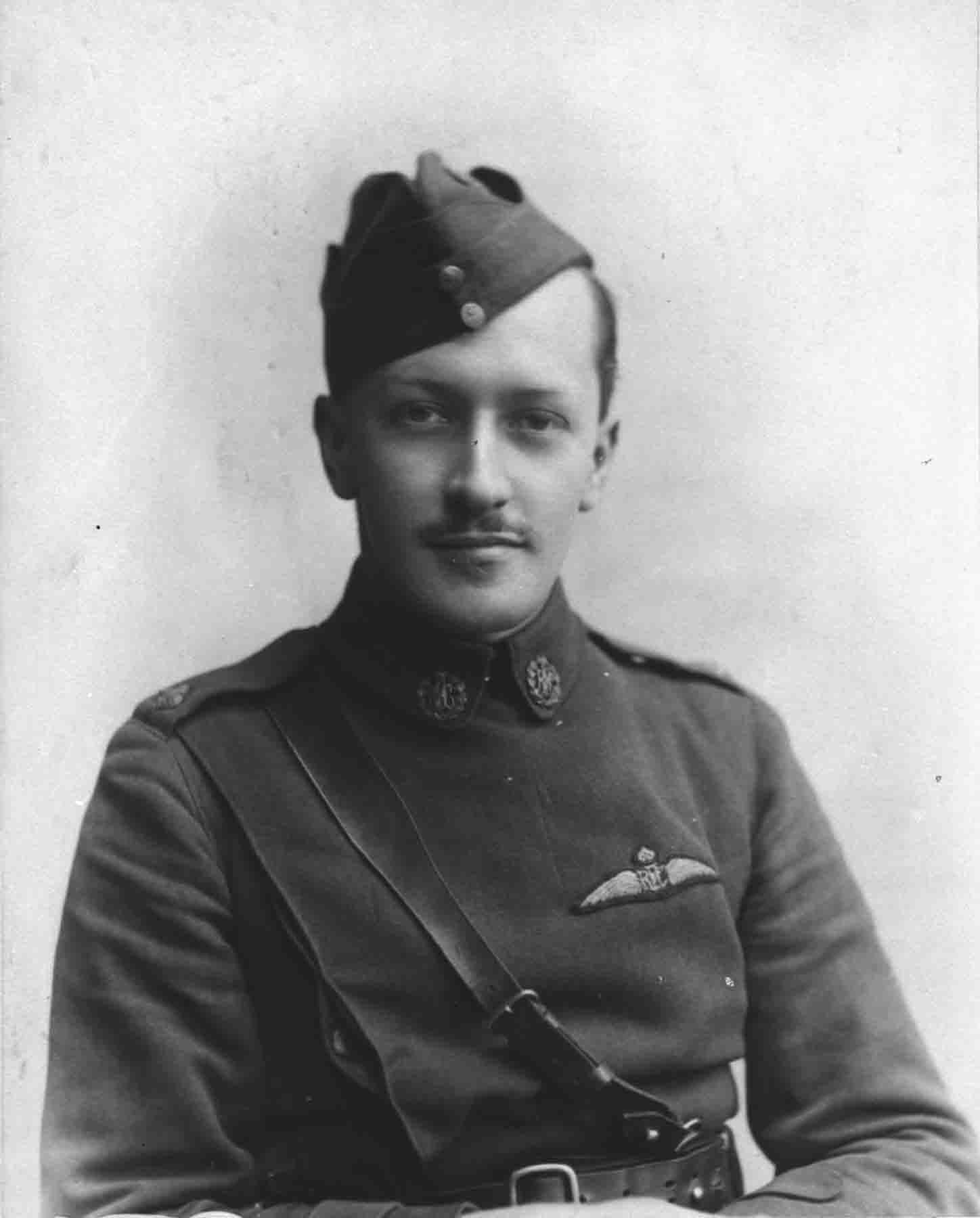 22nd May, 1915.
     His Majesty the KING has been graciously pleased to approve the grant of the Victoria Cross to the undermentioned Officers, Non-commissioned officer, and Men, for their conspicuous acts of bravery and devotion to duty whilst serving with the Expeditionary Force :—
2nd Lieutenant William Barnard Rhodes-Moorhouse, Special Reserve, Royal Flying Corps.
For most conspicuous bravery on 26th April, 1915, in flying to Courtrai and dropping bombs on the railway line near that station. On starting the return journey he was mortally wounded, but succeeded in flying for 35 miles to his destination, at a very low altitude, and reported the successful accomplishment of his object. He has since died of his wounds.
—The London Gazette, Special Supplement 29170, Saturday, 22 May, 1915 at Pages 4989–4990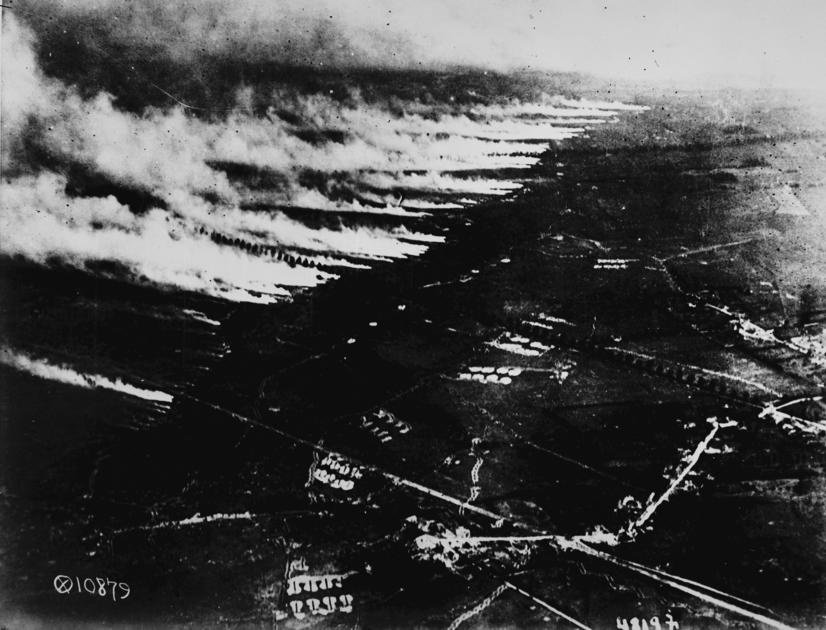 Beginning 22 April 1915 at the Second Battle of Ypres, the military forces of the German Empire began to use lethal chlorine gas as a weapon on the battlefield. A second mass gas attack took place on 24 April.
The Royal Flying Corps was ordered to interdict the German supply lines by bombing railways. On 26 April 1915, Second-Lieutenant William Barnard Rhodes-Moorhead, Royal Flying Corps, of No. 2 Squadron at Merville, France, was assigned to attack the railway at Kortrijk, West Floandern (Courtrai, West Flanders) with his Royal Aircraft Factory B.E.2.b reconnaissance airplane, number 687.
Departing alone from Merville at 3:05 p.m., Lieutenant Rhodes-Moorhouse flew to his target, approximately 35 miles (56 kilometers) away. He approached the railway station from an altitude of approximately 300 feet (91 meters) to accurately drop his single 100 pound (45.4 kilogram) bomb. He was hit in a leg by a rifle bullet, and shrapnel from his bomb damaged his airplane.
As Rhodes-Moorhouse flew away from the railroad station, he descended to 200 feet (61 meters) and was wounded twice more.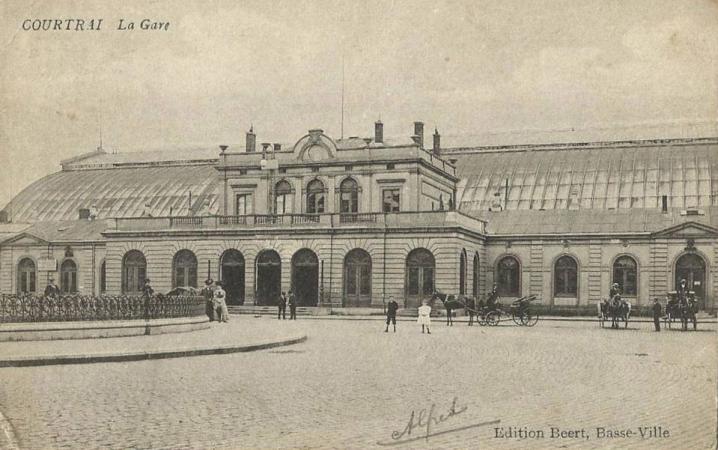 The wounds to his hand and leg were serious, but the one to his abdomen was mortal. However, he continued the difficult return flight in his damaged airplane, and arrived back at Merville at 4:12 p.m. Rhodes-Moorhouse' airplane had 95 holes from bullets and shrapnel. The wounded pilot insisted on making a report to his commanding officer and friend, Captain Maurice Bernal Blake, before being taken to an aid station.
It was soon apparent that Rhodes-Moorhouse would not survive. Captain Blake informed him that he had recommended that he be awarded the Distinguished Service Order.
Second-Lieutenant William Barnard Rhodes-Moorhouse, No. 2 Squadron, Royal Flying Corps, died of wounds at 2:25 p.m., 27 April 1915.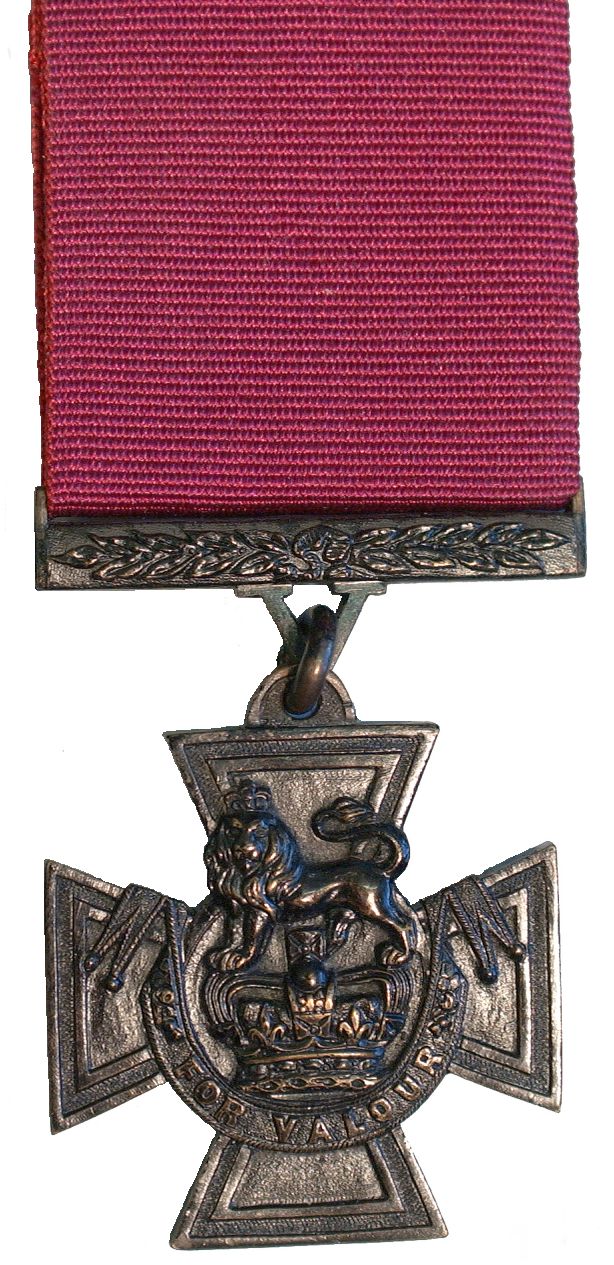 He was awarded the Victoria Cross, the United Kingdom's highest award for valor, on 22 May 1915. Lieutenant Rhodes-Moorhouse was the first airman of the British Empire to be so decorated.
His medal is part of the Lord Ashcroft Victoria Cross Collection, displayed in the Aschcroft Gallery of the Imperial War Museum. He also was awarded the 1914–1915 Star, The British War Medal 1914–1918, and the Allied Victory Medal.
Field Marshal John Denton Pinkstone French, 1st Earl of Ypres, K.P., G.C.B., O.M., G.C.V.O., K.C.M.G., A.D.C., P.C., commanding general of the British Expeditionary Force, later said that Lieutenant Rhodes-Moorhouse had been responsible for "the most important bomb dropped during the war so far."
Rhodes-Morehouse' remains were buried at the family home at Parnham Park,¹ Beaminster, Dorset. After his son, Flight Lieutenant William Henry Rhodes-Morehouse, D.F.C., No. 601 Squadron, was killed when his Hawker Hurricane was shot down during the Battle of Britain, his ashes were placed alongside his father.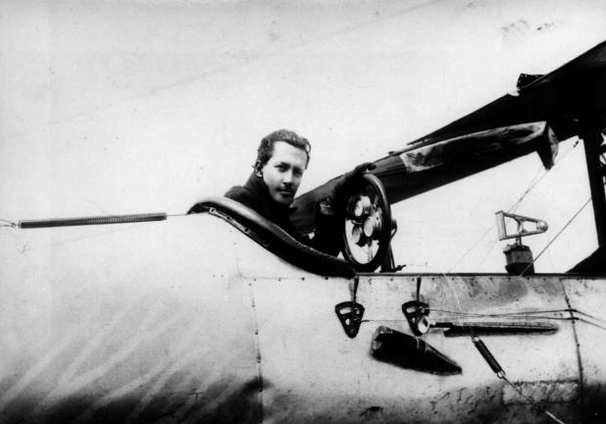 William Barnard Rhodes-Moorhouse was born into a wealthy family at 15 Princes Gate, London, England, 26 September 1887. He was one of four children of Edward Moorhouse, "a gentleman of independent means," and Mary Ann Rhodes, the wealthiest woman in New Zealand. Moorhouse was educated Harrow School in northwest London, and Trinity College, Cambridge.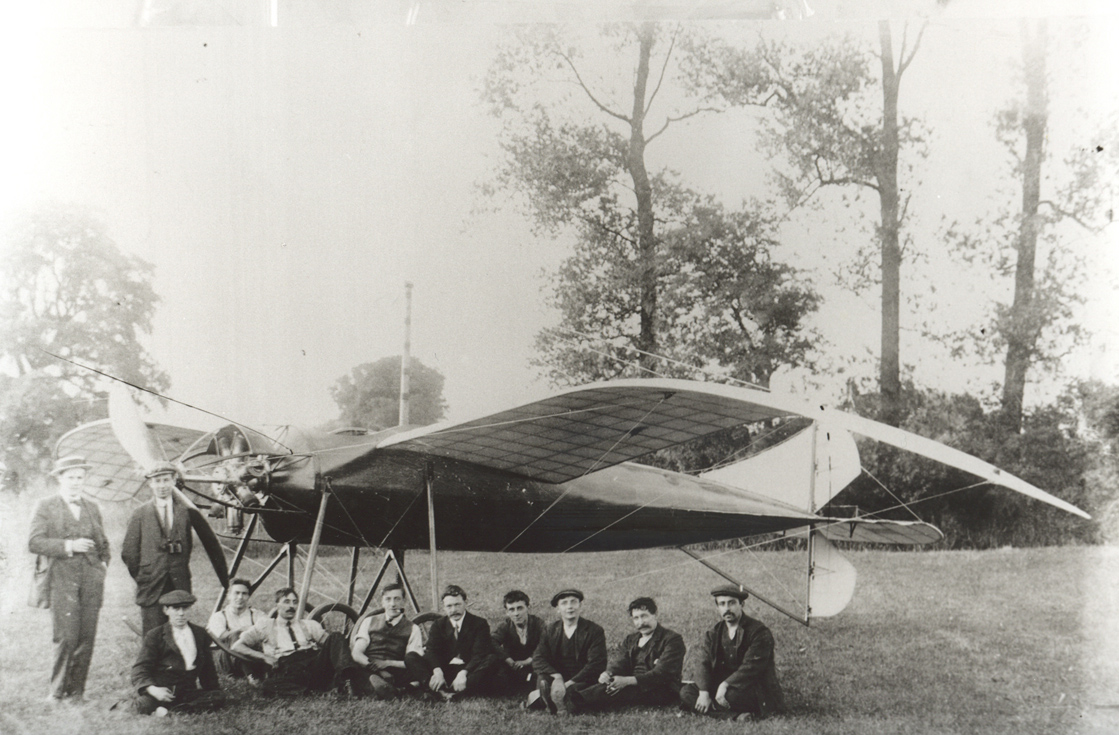 Moorhouse developed an early interest in aviation and was soon an expert airman of international renown. Working with James Radley at Huntingdon, he developed the Radley-Moorhouse Monoplane. In 1910, Radley and Moorhouse traveled to the United States  to demonstrate their airplane. Moorhouse is reportedly the first person to have flown through San Francisco's Golden Gate. He was granted pilot's certificate No. 147 by the Royal Aero Club of the United Kingdom, 17 October 1911.
In 1912, Moorhouse legally changed his surname to Rhodes-Moorhouse (and thereby replaced his second middle name, or maternal surname, Rhodes), because of the terms of his grandfather's will. A Royal Licence authorizing the change was granted 11 January 1913, and published in The London Gazette ten days later.²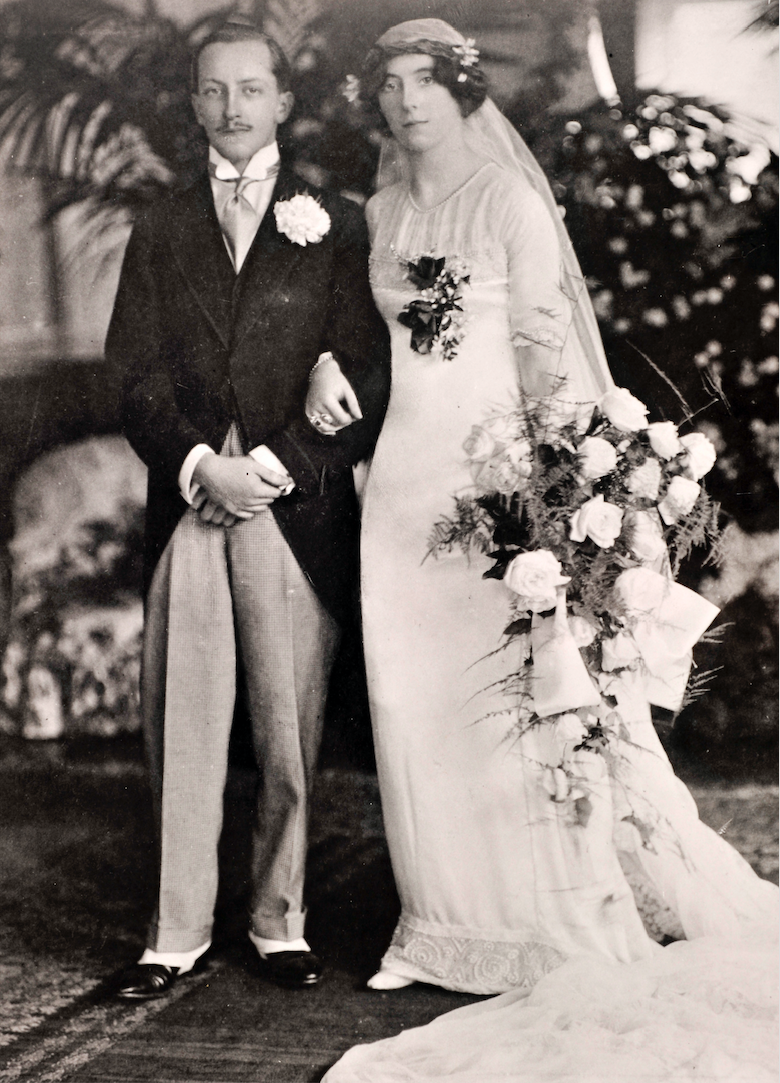 Rhodes-Moorhouse married Miss Linda Beatrice Morrit at St. Paul's, Knightsbridge, 25 June 1912, . They had one son, William Henry Rhodes-Moorhouse, born in 1914.
Mr. and Mrs. Rhodes-Moorhouse, along with John Henry Ledeboer, crossed the English Channel on 4 August 1912 in a three-place Société des Ateliers d'Aviation Louis Breguet 3-place biplane, flying from Douai, in northern France, where the airplane was built, to Ashwood, Staffordshire, England. The airplane was destroyed in a crash landing, but no one was hurt.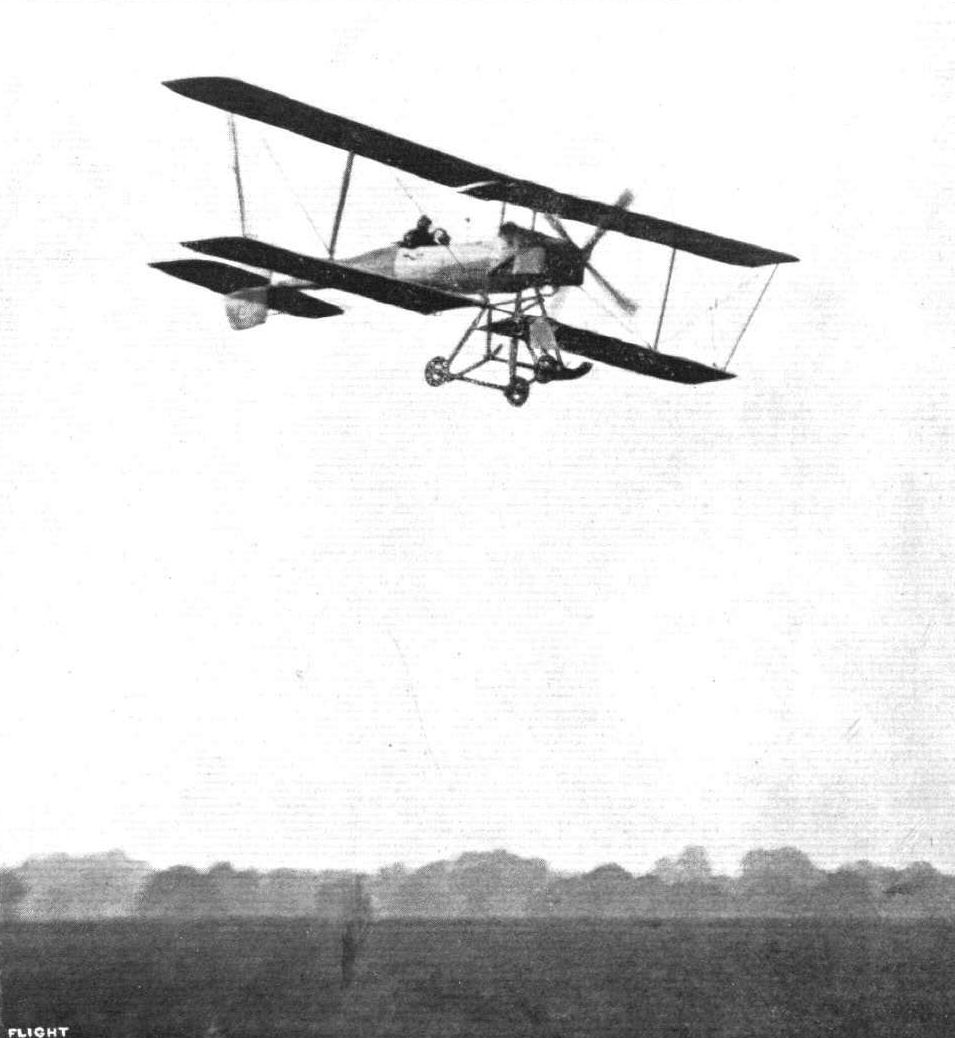 With England drawn into World War I, Rhodes-Moorhouse joined the Royal Flying Corps, 24 August 1914, and was assigned to the Royal Aircraft Factory at Farnborough. He was transferred to No. 2 Squadron, joining the unit at Merrville on 21 March 1915. He died just over one month later.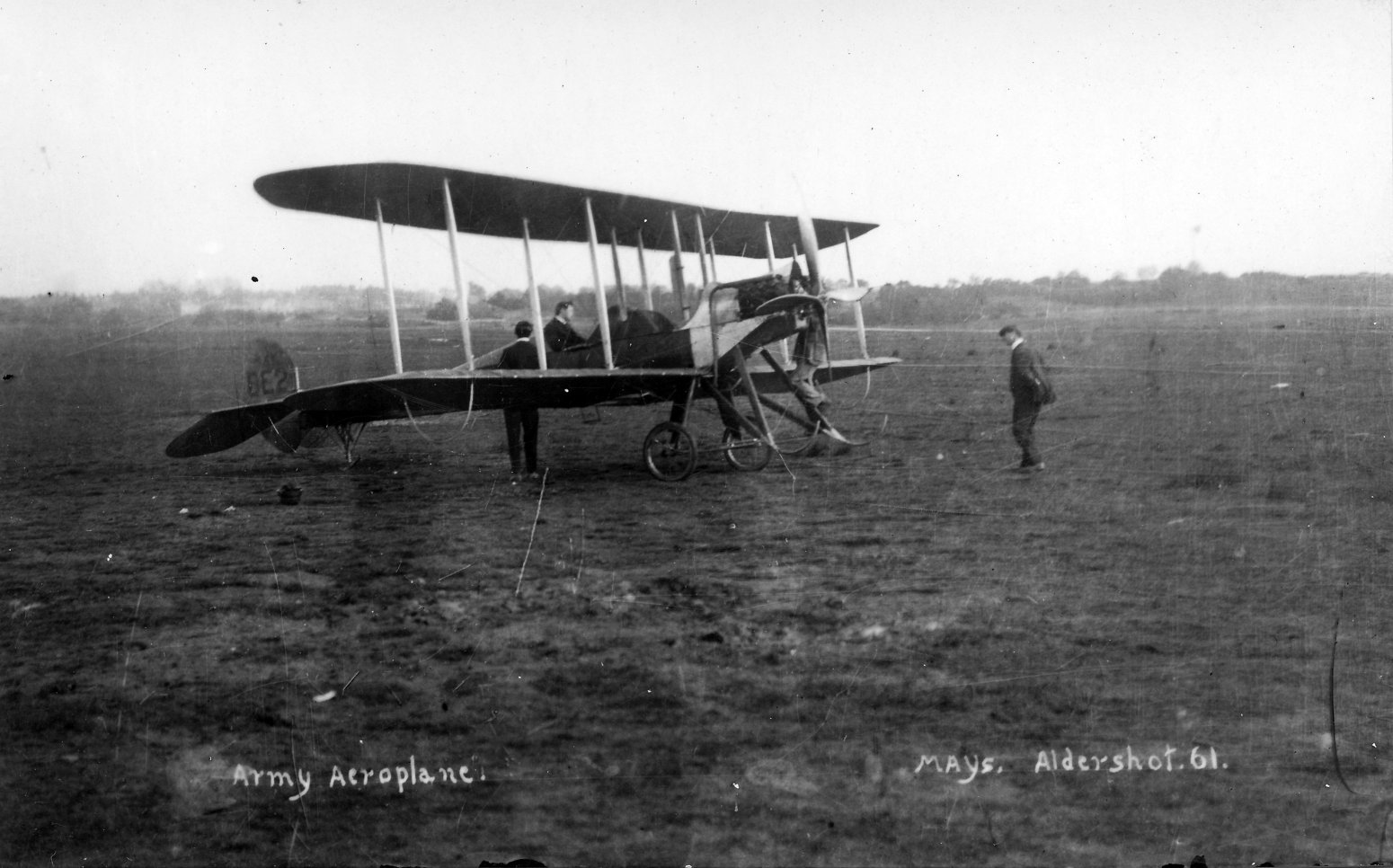 The Royal Aircraft Factory B.E. (which stands for Blériot Experimental, meaning that it was a tractor-type airplane, which had been developed by Louis Blériot) was designed by Geoffrey de Havilland. It was a two-place, single-engine, two-bay biplane which was used as a trainer, reconnaissance aircraft, artillery spotter or bomber. An observer occupied the forward cockpit and the pilot was aft.
The B.E.2.b was essentially the same as the B.E.2.a, except the cockpit sides were higher. The elevator control cables were external from the pilot's cockpit, aft. Probably the most significant change was the use of ailerons for the B.E.2.b, where the previous versions had used wing-warping like the original 1903 Wright Flyer.
The fuselage was constructed of a wooden framework, cross-braced with wires. The wings had wood spars and ribs. The airframe was covered in doped fabric.
The wings of the 2.a and 2.b were straight with no dihedral. Both upper and lower wings had the same span and there was no stagger. The lower wing spars were connected through the fuselage with steel tubing. The landing gear had both wheels and tires, but also wood-covered steel tube skids extending forward to protect the propeller from contacting the ground.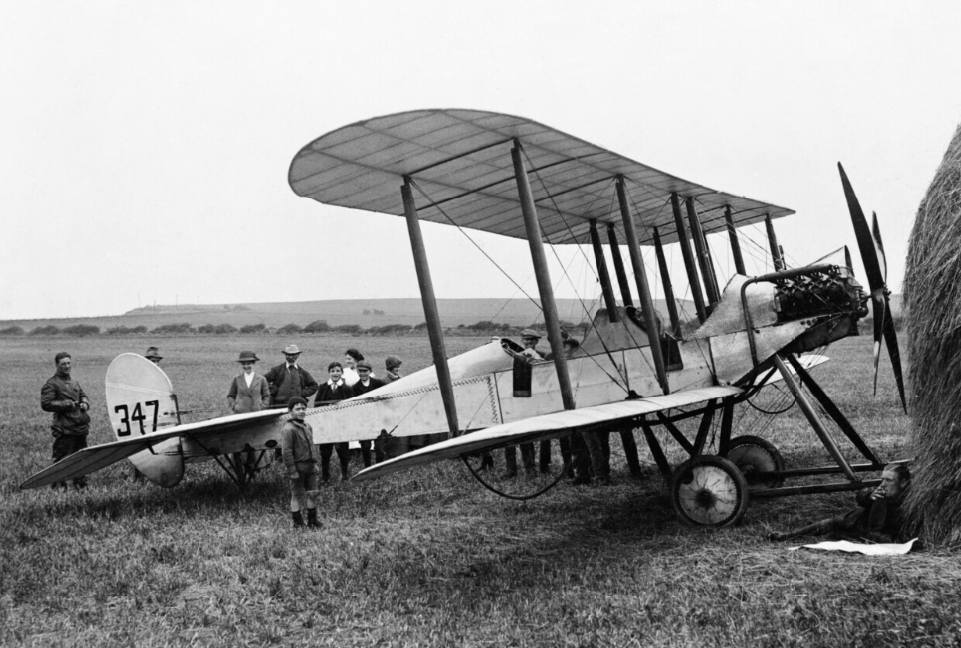 The B.E.2.a–2.b was 29 feet, 6½ inches (9.004 meters) long with a wingspan of 38 feet, 7½ inches (11.773 meters). It had an empty weight of 1,274 pounds (578 kilograms) and gross weight of 1,650 pounds (748 kilograms).
The B.E.2, B.E.2.a and B.E.2.b were powered by an air-cooled, normally-aspirated 6.949 liter (424.036 cubic inch) Renault Type WB side-valve 90° V-8 engine with two valves per cylinder and a compression ratio of 4.12:1. The WB was rated at 70 horsepower at 1,750 r.p.m. The engine drove a four-bladed, fixed-pitch wooden propeller at one-half crankshaft speed. The Renault WB was 3 feet, 9.5 inches (1.556 meters) long, 2 feet, 8.8 inches (0.833 meters) high and 2 feet, 5.8 inches (0.757 meters) wide. It weighed 396 pounds (180 kilograms).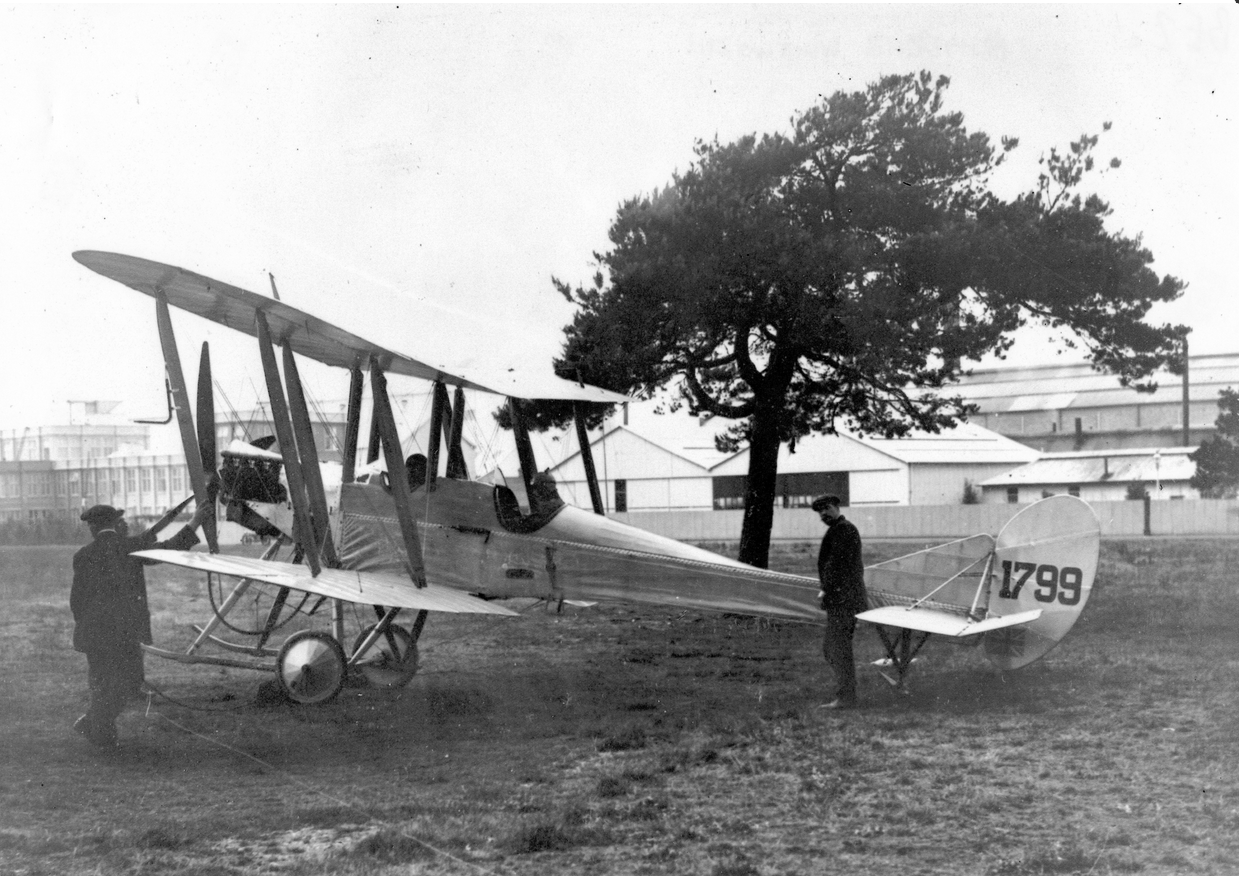 The airplane had a maximum speed of 70 miles per hour (113 kilometers per hour) at Sea Level and 65 miles per hour (105 kilometers per hour) at 6,500 feet (1,981 meters). It could climb to 3,000 feet (914 meters) in 9 minutes and 7,000 feet (2,134 meters) in 35 minutes. The service ceiling was 10,000 feet (3,048 meters). Maximum endurance was 3 hours.
The B.E.2.b was unarmed. The crew could only defend themselves with their personal weapons. The type was easy prey for German fighters. It could carry a small bomb.
Although designed by the Royal Aircraft Factory, Farnbourough, only 6 B.E.2s were built there. The remainder were built by Armstong Whitworth, British and Colonial Airplane Co., Coventry Ordnance Works, Handley Page, Hewlett and Blondeau, and Vickers. Eighty-five of the B.E.2.b variant were produced, with most being used as trainers. Nineteen were sent to the Expeditionary Force in France, and one to the Middle East Brigade. By late 1915, the type had been almost completely replaced by the improved B.E.2.c.
A reproduction of the Royal Aircraft Factory B.E.2.b flown by Lieutenant Rhodes-Moorhouse is in the collection of the Royal Air Force Museum. In a 2015 interview with Richard Moss for "Culture 24," Ian Thirsk, Head of Collections, said, "It's another gem of the collection, and was built from scratch by a designer called John McKenzie to the original drawings at the former RAF Museum facility at Cardington between 1983 and 1988."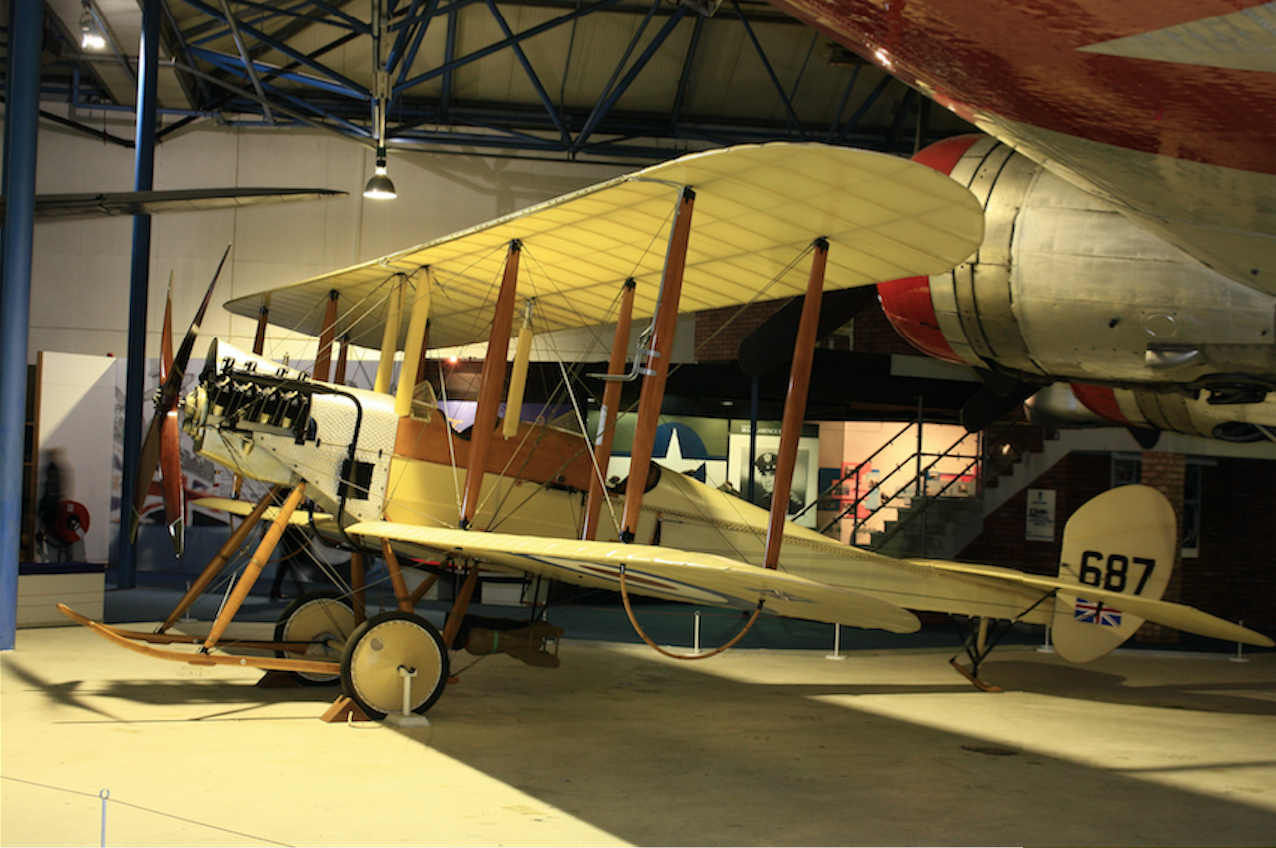 ¹ Interestingly, Parnham House is believed to have been the inspiration for Sir Arthur Conan Doyle's "Baskerville Hall" in his famous novel, The Hound of the Baskervilles (1902).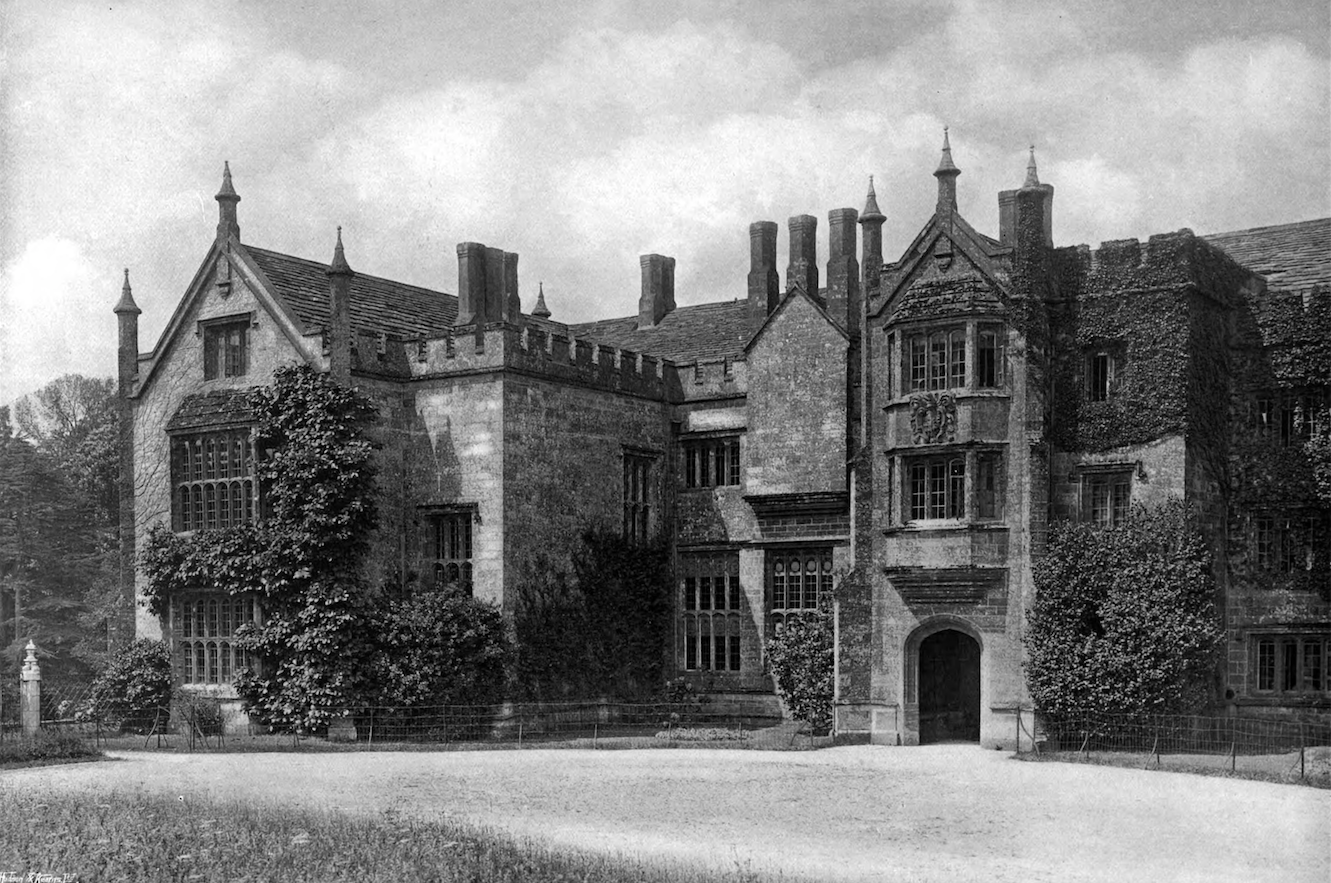 ² The London Gazette, Number 28683, Tuesday, 21 January 1913, at Page 494, Column 1
© 2018, Bryan R. Swopes