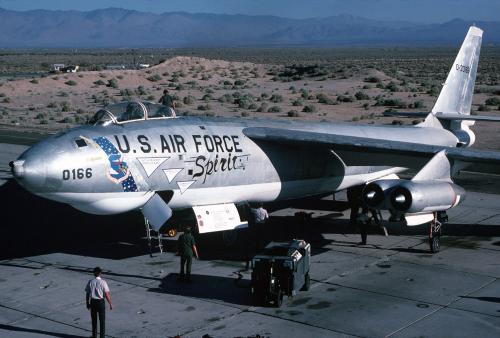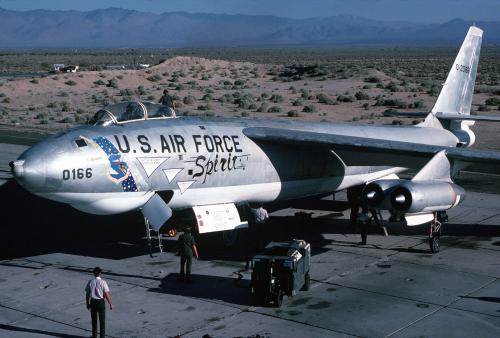 17 June 1986: After being returned to flyable condition, B-47E-25-DT Stratojet serial number 52-166, made the very last flight of a B-47 when it was flown by Major General John D. ("J.D.") Moore and Lieutenant Colonel Dale E. Wolfe, U.S. Air Force, from the Naval Air Weapons Station China Lake in the high desert of Southern California, to Castle Air Force Base in California's San Joaquin Valley, to be placed on static display.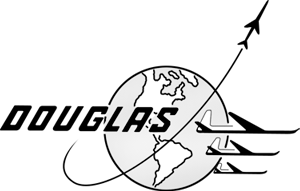 52-166 had been built by the Douglas Aircraft Company at Air Force Plant No. 3, Tulsa, Oklahoma, in 1952. 52-166 had not been flown in twenty years, having sat in the Mojave Desert serving as a radar target. General Moore and Colonel Wolf were experienced B-47 pilots, though they hadn't flown one in the same twenty years. Because the B-47 it had not been through a complete overhaul prior to the ferry flight, it was decided to leave the landing gear extended to avoid any potential problems.
During the 43 minute trip, the aircraft had several systems fail, including airspeed sensors, intercom, and partial aileron control. On approach to Castle Air Force Base, a 16 foot (4.9 meters) approach parachute was deployed. This created enough aerodynamic drag to slow the airplane while the early turbojet engines were kept operating at high power settings. These engines took a long time to accelerate from idle, making a go-around a very tricky maneuver. Releasing the chute allowed the airplane to climb out as the engines were already operating at high r.p.m.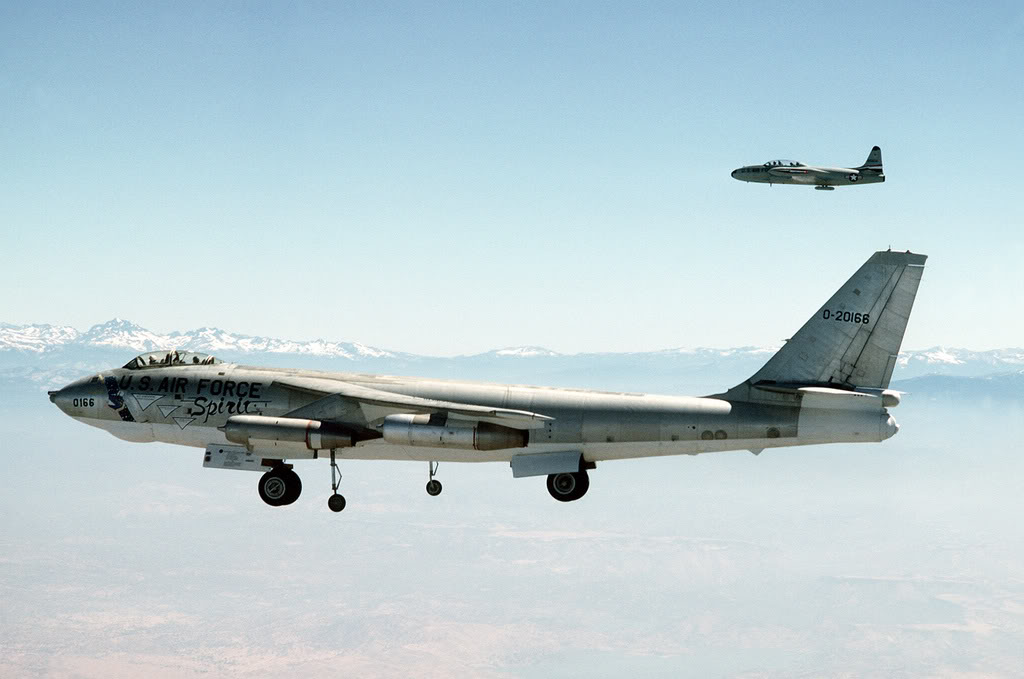 Designed by Boeing, the Stratojet was a high-subsonic speed strategic bomber and reconnaissance aircraft, in service from 1951 until 1977. The B-47 could fly higher and faster than jet fighters of the time, and it was also highly maneuverable. B-47E (Boeing Model 450-157-35) was flown by a two pilots in a tandem cockpit. A navigator/bombardier was at a station in the nose.
The B-47E Stratojet differed from the earlier B-47B primarily with upgraded engines and strengthened landing gear to handle an increase in maximum weight. The B-47E Stratojet is 107.1 feet (32.644 meters) long with a wingspan of 116.0 feet (35.357 meters), and an overall height of  28.0 feet (8.534 meters). The wings are shoulder-mounted and have a total area of 1,428 square feet (132.67 square meters). The wings' leading edges are swept aft to 36° 37′. The angle of incidence is 2° 45′ and there is 0° dihedral (the wings were very flexible). The B-47E in standard configuration had an empty weight of 78,620 pounds (35,661 kilograms) and maximum takeoff weight of 200,000 pounds (90,718 kilograms).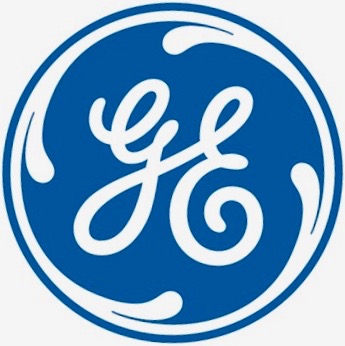 The B-47E was powered by six General Electric J47-GE-25 turbojet engines in four nacelles mounted on pylons below the wings. This engine has a 12-stage axial-flow compressor, eight combustion chambers, and single-stage turbine. The -25 has a continuous power rating of 5,320 pounds of thrust (23.665 kilonewtons) at 7,630 r.p.m., at Sea Level; Military Power, 5,670 pounds (25.221 kilonewtons) at 7,800 r.p.m. (30 minute limit); and Maximum Power, 7,200 pounds (32.027 kilonewtons) at 7,950 r.p.m. with water/alcohol injection (5 minute limit). The J47-GE-25 has a maximum diameter of 3 feet, 1 inch (0.940 meters) and length of 12 feet, 0 inches (3.658 meters) and weighs 2,653 pounds (1,203 kilograms)
The B-47E had a maximum speed of 497 knots (572 miles per hour/920 kilometers per hour) at 20,000 feet (6,096 meters), and 485 knots (558 miles per hour/898 kilometers per hour) at 38,600 feet (11,765 meters).
The service ceiling was 31,500 feet (9,601 meters) and combat ceiling 40,800 feet (12,436 meters).
The combat radius of the B-47E was 1,780 nautical miles 2,048 miles (3,297 kilometers with a 10,000 pound (4,536 kilograms) bomb load. Ferry range with 14,720 gallons (55,721 liters) of fuel was 4,095 nautical miles (4,712 miles/7,584 kilometers).
For defense the B-47E was armed with two M24A1 20 mm autocannons with 350 rounds of ammunition per gun. The remotely-operated tail turret was controlled by the co-pilot.
The maximum bomb load of the B-47E was 12,000 pounds (5,443 kilograms). The B-47 could carry up to six 2,000 pound (907 kilogram) bombs, or one 10,670 pound (4,840 kilograms) "Special Store": a B-41 three-stage radiation-implosion thermonuclear bomb with a yield of 25 megatons).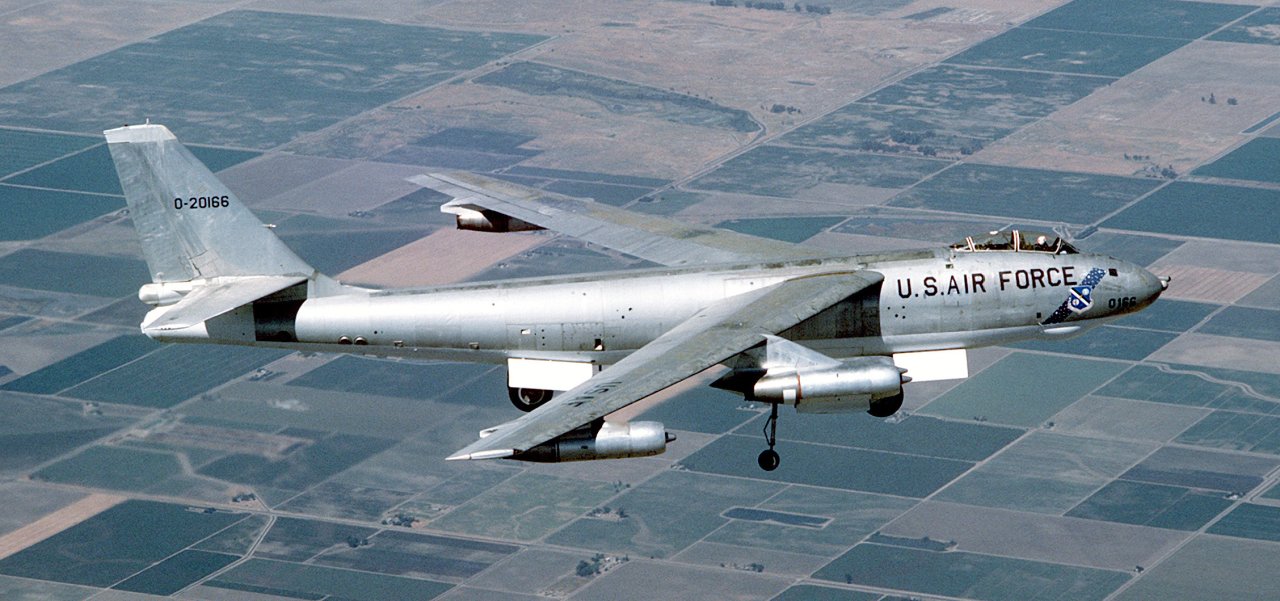 A total of 2,032 B-47s were built by a consortium of aircraft manufacturers: Boeing Airplane Company, Wichita, Kansas; Douglas Aircraft Company, Tulsa, Oklahoma; Lockheed Aircraft Company, Marietta, Georgia.
The Stratojet is one of the most influential aircraft designs of all time and its legacy can be seen in almost every jet airliner built since the 1950s: the swept wing with engines suspended below and ahead on pylons. The B-47 served the United States Air Force from 1951 to 1977. From the first flight of the Boeing XB-47 Stratojet prototype, 17 December 1947, to the final flight of B-47E 52-166, was 38 years, 6 months, 1 day.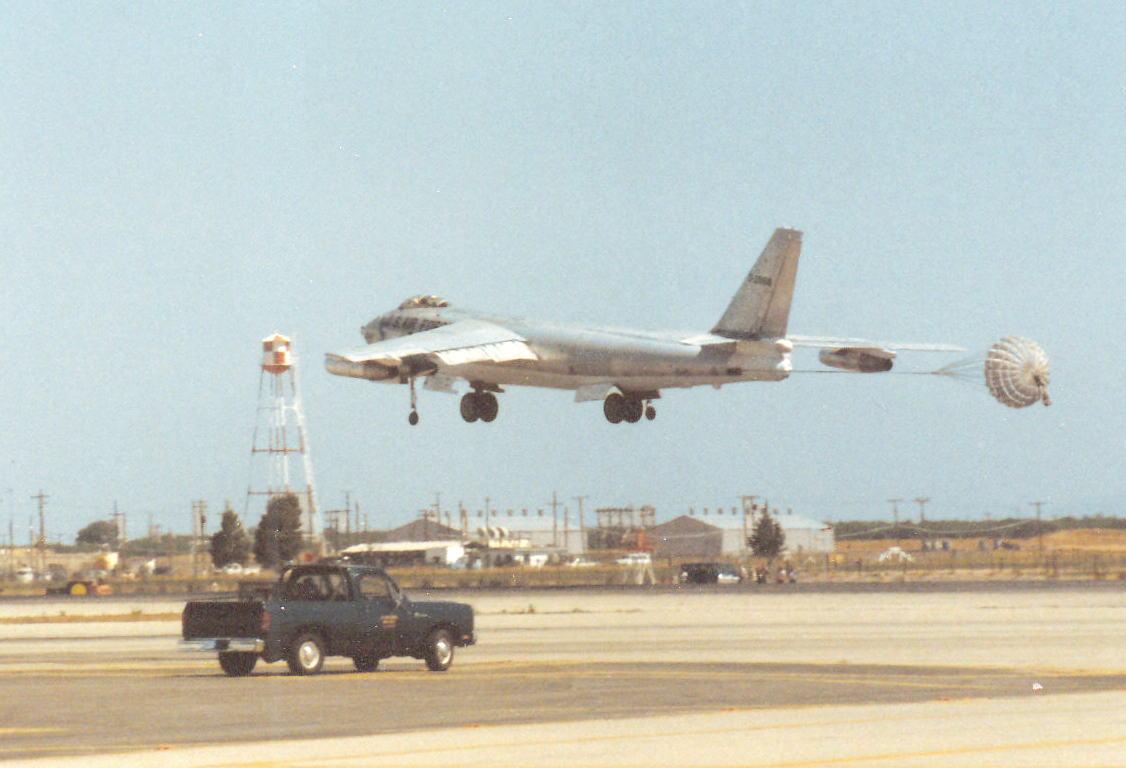 © 2018, Bryan R. Swopes