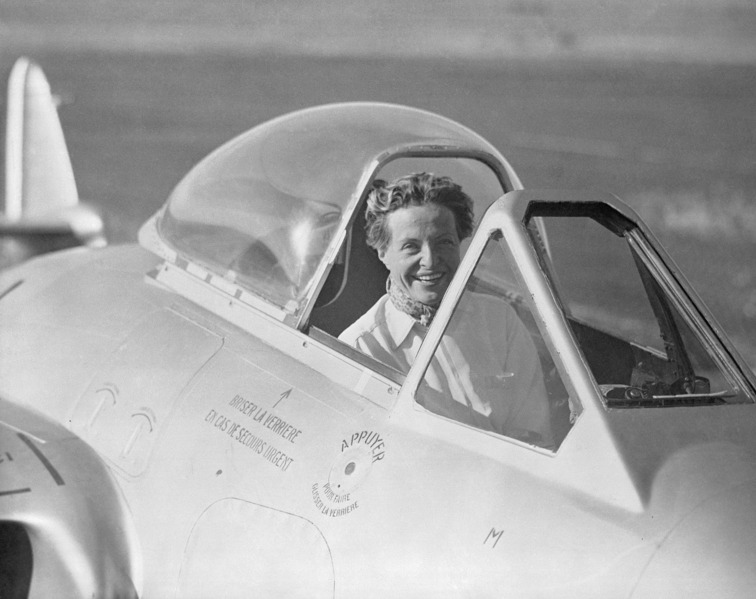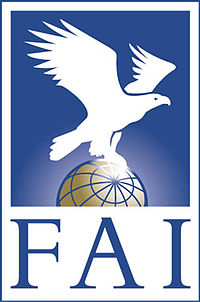 12 May 1951:  Mme Jacqueline Marie-Thérèse Suzanne Douet Auriol flew a Goblin-powered de Havilland DH.100 Vampire to set a Fédération Aéronautique Internationale (FAI) world record for speed over a given distance of 100 kilometers (62.14 statute miles), averaging  818.18 km/h (505.39 m.p.h.). ¹ Mme Auriol  took off from Istres, flew to Avignon and back. She broke the existing record, 703.38 km/h (437.06 m.p.h.) set 29 December 1949 by Jacqueline Cochran of the United States with a North American Aviation P-51C Mustang. ²
The Chicago Tribune reported:
MRS. AURIOL, 33, PILOTS PLANE AT RECORD 507 MPH
Breaks Women's Mark of Jacqueline Cochran
     ISTRES AIRFIELD, Marseilles, France, May 12—[Reuters]—Mrs. Jacqueline Auriol, daughter-in-law of the French president, Vincent Auriol, today officially smashed the American held 100 kilometer [62.5 miles] air speed record for women.
     Mrs. Auriol, blue eyed mother of two children, flew the Istres-Avignon return course at an official speed of 818.558 kilometers an hour [about 507 miles].
     Thus she broke the three year old record of Jacqueline Cochran, who flew the distance at Coachella Valley, Cal., in a P-51 Mustang, powered by a Rolls-Royce piston engine, of 469 m.p. h.

     Mrs. Auriol established the new record in a French built Vampire jet, named "Mistral" after a prevailing French wind. The ship has two British De Havilland Gobling [sic] turbo-compressors.

Trial Run Even Faster
     At a trial run this morning Mrs. Auriol went even faster, covering the course at 509½ m.p.h. After the morning test run, Mrs. Auriol said she hadn't "pushed" he aircraft at all. The French makers claim it can reach 567 m.p.h.
     Mrs. Auriol, 33, is slim, boyish, has her hair cut short and usually wears slacks. She studied painting, but gave it up after her marriage in 1938 to Paul Auriol, private secretary to his father.
     Her face bears the marks of a flying accident in which she nearly lost her life two years ago. She was co-piloting a seaplane which crashed into the Seine.
Holds U. S. Pilot License
     She spent a year in hospital in France before going to the United States to complete her treatment, which included 22 operations. Four eight months she had to be fed artificially.
     She learned to pilot a helicopter at Buffalo, N. Y., and passed her pilot test over Niagara Falls. She learned jet piloting in a Meteor with Test Pilot Raymond Guillaume, who was present today and made a test flight over the course before her record attempt.
—Chicago Sunday Tribune, Vol. CX, No. 115, 13 May 1951, Part 1, Page 29, Column 1
For her record flight, Mme Auriol was named Chevalier de la légion d'honneur. Harry S. Truman, President of the United States, presented her with the Harmon International Aviatrix Trophy.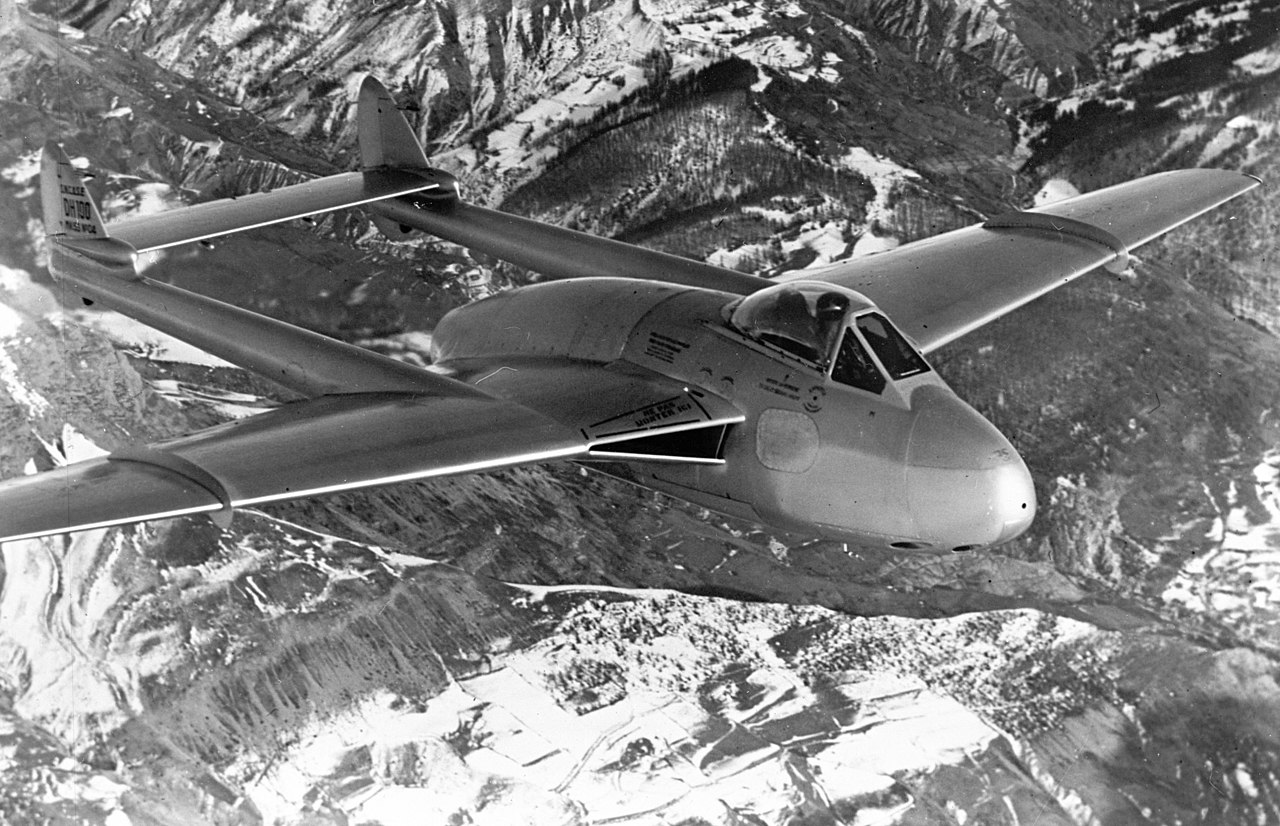 The DH.100 was a single-seat, single-engine fighter powered by a turbojet engine. The twin tail boom configuration of the airplane was intended to allow a short exhaust tract for the engine, reducing power loss in the early jet engines available at the time.
Société nationale des constructions aéronautiques du Sud-Est (SNCASE) assembled knocked-down kits of de Havilland DH.100 Vampires before entering into licensed manufacture of its own SE.530 Mistral.

The fighter variant, the DH.100 F1, was armed with four 20 mm guns.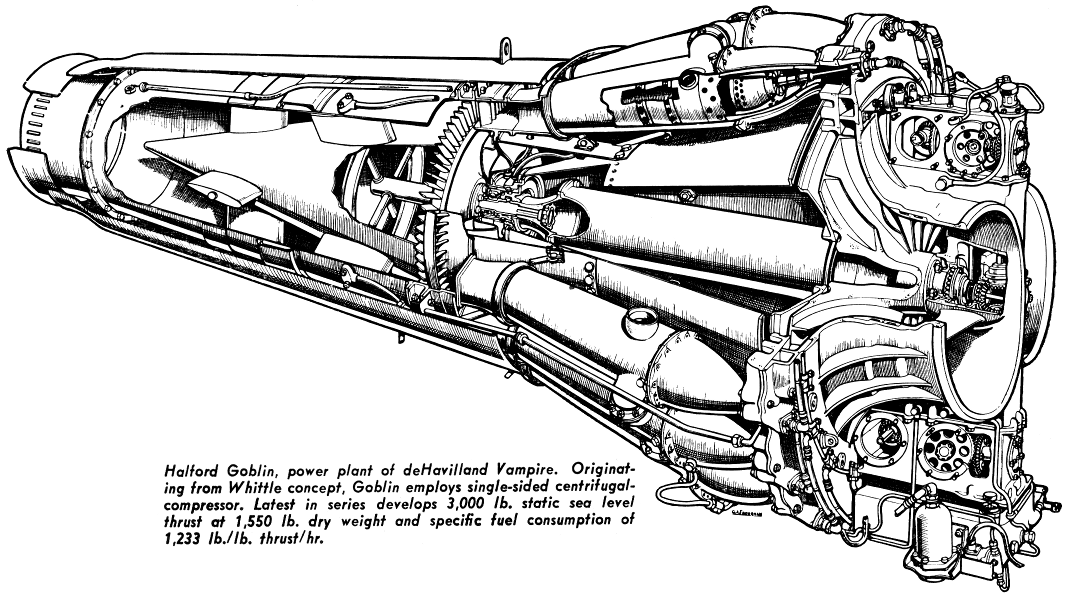 The Goblin is a linear descendant of the early Whittle units. It comprises a single-sided centrifugal compressor delivering air to sixteen combustion chambers grouped symmetrically around the axis of the unit and leading to the nozzle of the single-stage axial turbine which drives the compressor. Compressor impeller and turbine rotor are coupled by a tubular shaft to form a single rotating assembly which is mounted on only two ball bearings. The maximum diameters of the engine, around the compressor casing, is 50in., [1.27 meters] and with a jet pipe of minimum length fitted the overall length is about 8ft. [2.438 meters] Equipped with a jet pipe and all the necessary engine auxiliaries the dry weight of the complete unit is 1,500 lb. [680 kilograms] Fuel consumption is at the rate of 1.23 lb. / hr. per lb. thrust.
—FLIGHT and AIRCRAFT ENGINEER, No. 1923. Vol. XLVIII. Thursday, 1 November 1945 at Page 472, Column 2
The Vampire entered service with the Royal Air Force in 1945 and remained a front-line fighter until 1953. 3,268 DH.100s were built. The SE.530 Mistral served with the Armée de l'air from 1952 to 1961. SNCASE had assembled 67 Vampire FB Mk 5 kits and built 120 SE.530 Mistrals.
¹ FAI Record File Number 10834
² FAI Record File Number 12462
© 2023, Bryan R. Swopes