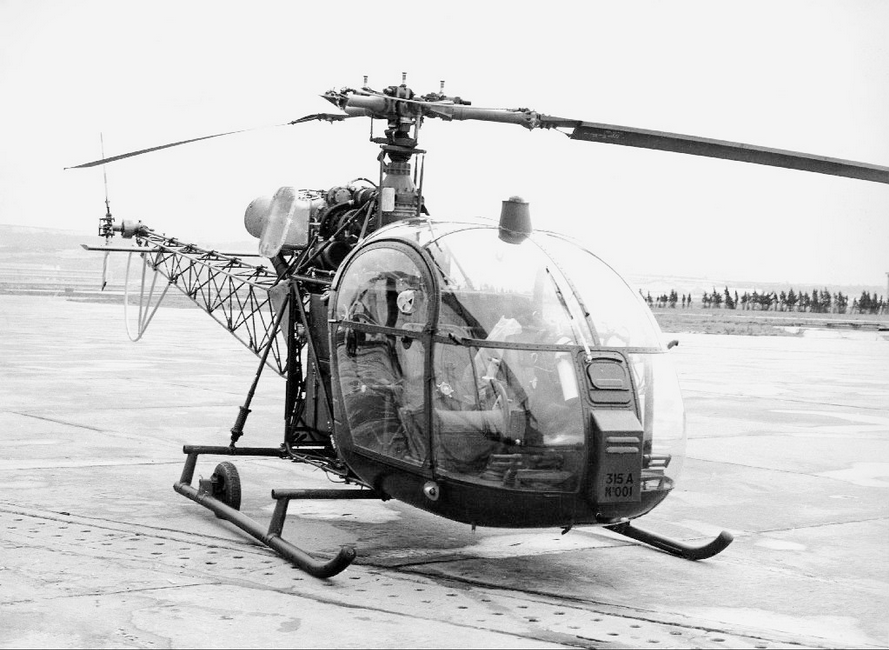 17 March 1969: First flight, Société nationale des constructions aéronautiques du Sud-Est test pilot Roland Coffignot and flight engineer Gérard Boutin made the first flight of the prototype SA 315A Lama, serial number 315-001. The new helicopter combined the airframe of the SNCASE Alouette II with the drive train and rotors of the Alouette III.
The helicopter was built to meet the specific needs of the Indian Air Force for operations in the Himalayan Mountains. It was required to take off an land at an altitude of 6,000 meters (19,685 feet) while carrying a pilot, one passenger and 200 kilograms (441 pounds) of cargo. The SA 315A was able to exceed  this, landing at taking of in the Karakoram Mountains at 6,858 meters (22,500 feet).
315-001 was later upgraded to the SA 315B configuration. It was registered F-BPXS. On 19 June 1972, Aérospatiale Chief Test Pilot Jean Boulet with Gérard Boutin set an Fédération Aéronautique Internationale (FAI) World Record for Altitude Without Payload at 10,836 meters (35,551 feet).¹ Three days later, 21 June, Boulet set another three World Records by flying 315-001 to an altitude of 12,442 meters (40,820 feet).²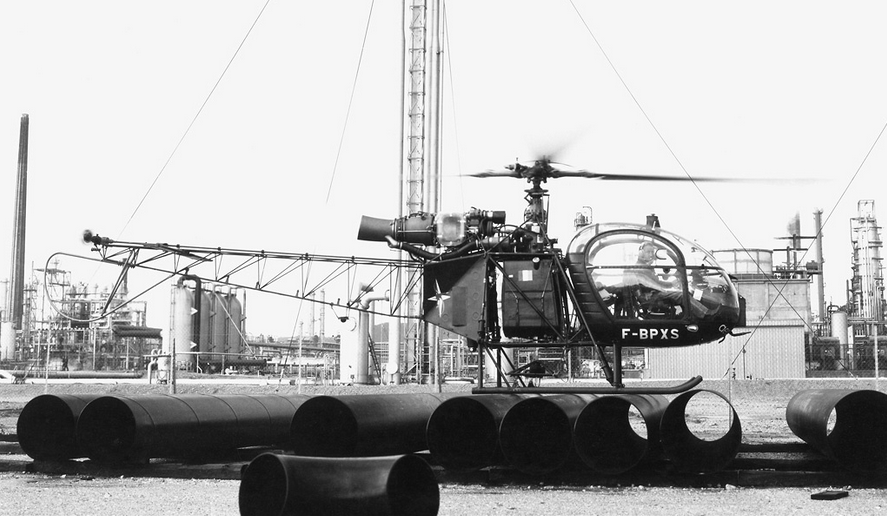 The SA 315B Lama is a 5-place light turboshaft-powered helicopter which is operated by a single pilot. The fuselage is 10.26 meters (33 feet, 7.9 inches) long. With all rotors turning, the helicopter has an overall length of 12.92 meters (42 feet, 4.7 inches) and height of 3.09 meters (10 feet, 1.7 inches). The SA 315B has an empty weight of 1,021 kilograms (2,251 pounds) and a maximum gross weight of 1,950 kilograms (4,299 pounds). With an external load carried on its cargo hook, the maximum gross weight is 5,070 pounds (2,300 kilograms).
The three-bladed, fully-articulated main rotor has a diameter of 11.02 meters (36 feet, 1.9 inches). It turns clockwise, as seen from above. (The advancing blade is on the left side of the helicopter.) Normal main rotor speed, NR, is 350–360 r.p.m. The three-bladed anti-torque tail rotor is 1.91 meters (6 feet, 3.2 inches) in diameter and turns clockwise, as seen from the helicopter's left side. (The advancing blade is below the axis of rotation.) It turns at 2,020 r.p.m.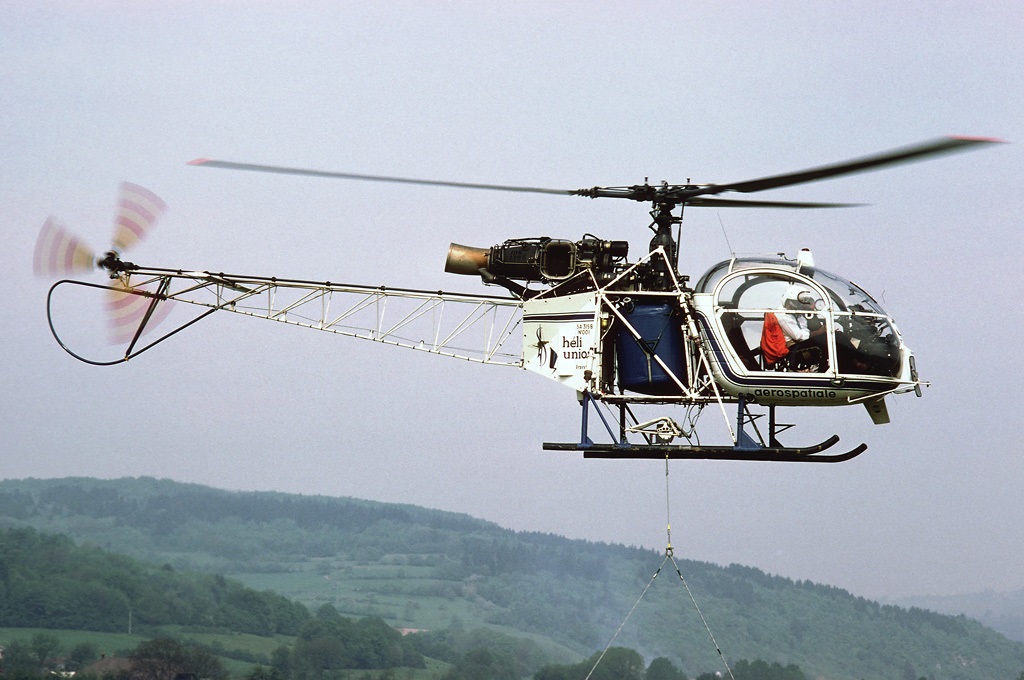 The Lama was initially powered by a Turboméca Artouste IIIB (later aircraft, Artouste IIIB1) turboshaft engine. Thia is a single-shaft engine with a single-stage axial-flow, single-stage centrifugal flow, compressor section and a three-stage turbine. The engine turns 33,500 r.p.m. and the output drive shaft turns 5,773 r.p.m. The Artouste IIIB1 produces a maximum 870 horsepower, but is derated to 570 horsepower for installation in the Lama. The engine is 1.815 meters (5 feet, 11.5 inches) long, 0.667 meters (2 feet, 2.3 inches) high and 0.520 meters (1 foot, 8.5 inches) wide. It weighs 178 kilograms (392 pounds).
The helicopter has a cruise speed 103 knots (191 kilometers per hour, 119 miles per hour) and a maximum speed of 113 knots (209 kilometers per hour, 130 miles per hour) at Sea Level. The service ceiling is 5,400 meters (17,717 feet). At 1,950 kilograms (4,299 pounds), the Lama has a hover ceiling in ground effect (HIGE) of 5,050 meters (16,568 feet), and out of ground effect (HOGE), 4,600 meters (15,092 feet).
Société nationale des constructions aéronautiques du Sud-Est became Aérospatiale in 1970. The company produced the SA 315B Lama beginning in 1971. It was also built under license by Hundustan Aeronautics in India and Helibras in Brazil.
The total number of SA 315Bs and its variants built is uncertain. In 2010, Eurocopter, the successor to Aérospatiale, announced that it will withdraw the Lama's Type Certificate in 2020.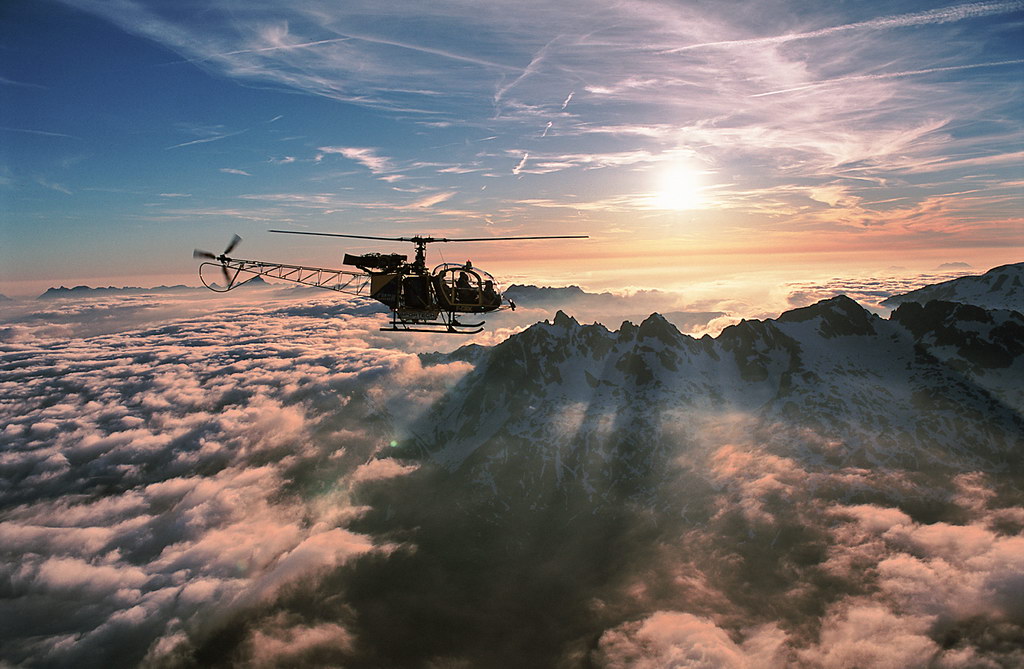 ¹ FAI Record File Number 788.
² FAI Record File Numbers 753, 754 and 11657.
© 2017 Bryan R. Swopes
by