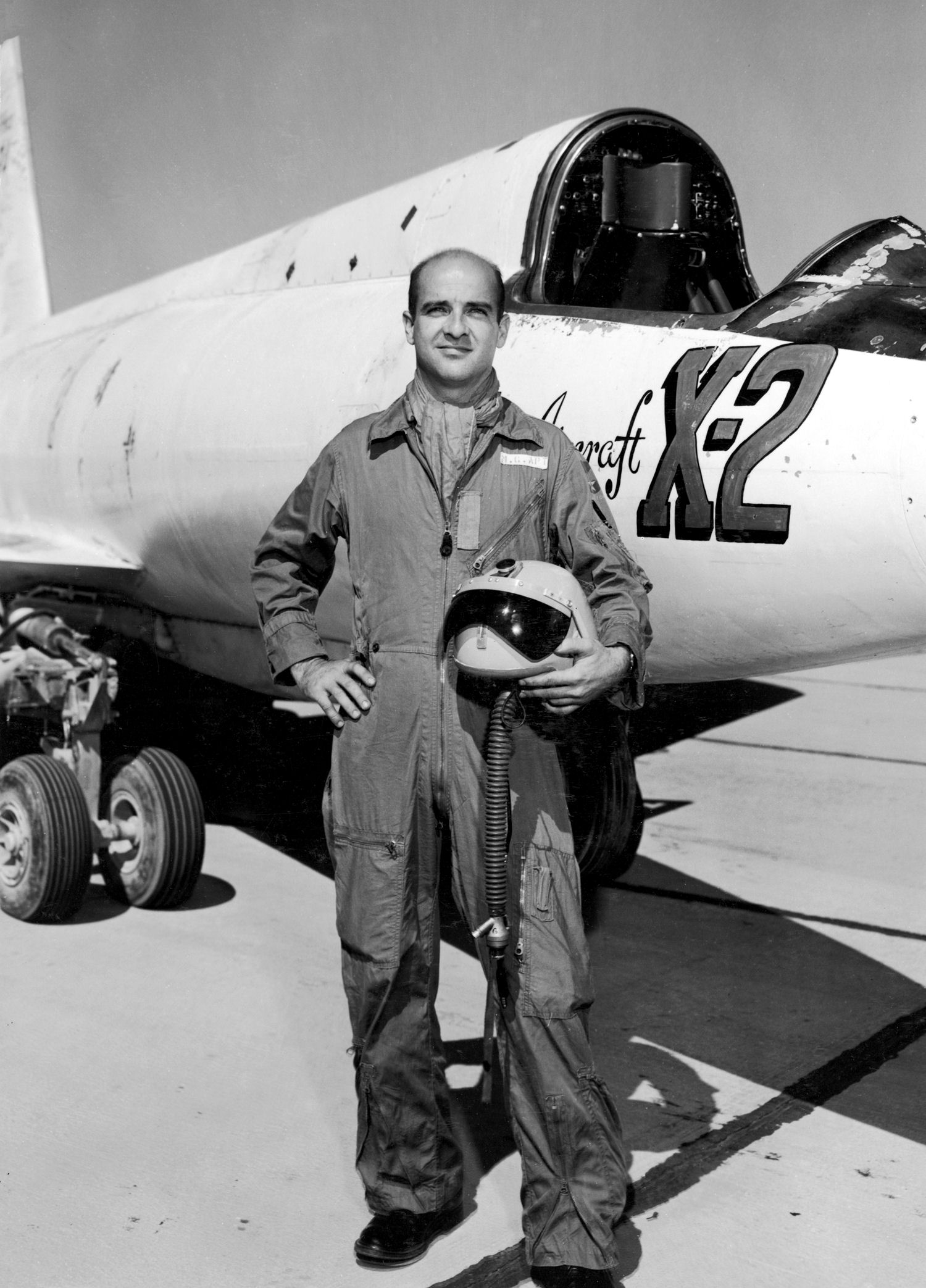 27 September 1956: Captain Milburn G. ("Mel") Apt, United States Air Force, was an experimental test pilot assigned to the Air Force Flight Test Center at Edwards Air Force Base, California. After Frank Everest and Iven Kincheloe had made twelve powered flights in the Bell X-2 supersonic research aircraft, Mel Apt was the next test pilot to fly it.
The X-2 was a joint project of the U.S. Air Force and NACA (the National Advisory Committee on Aeronautics, the predecessor of NASA). The rocketplane was designed and built by Bell Aircraft Corporation of Buffalo, New York, to explore supersonic flight at speeds beyond the capabilities of the earlier Bell X-1 and Douglas D-558-II Skyrocket.
In addition to the aerodynamic effects of speeds in the Mach 2.0–Mach 3.0 range, engineers knew that the high temperatures created by aerodynamic friction would be a problem, so the aircraft was built from stainless steel and K-Monel, a copper-nickel alloy.
The Bell Aircraft Corporation X-2 was 37 feet, 10 inches (11.532 meters) long with a wingspan of 32 feet, 3 inches (9.830 meters) and height of 11 feet, 10 inches (3.607 meters). Its empty weight was 12,375 pounds (5,613 kilograms) and loaded weight was 24,910 pounds (11,299 kilograms).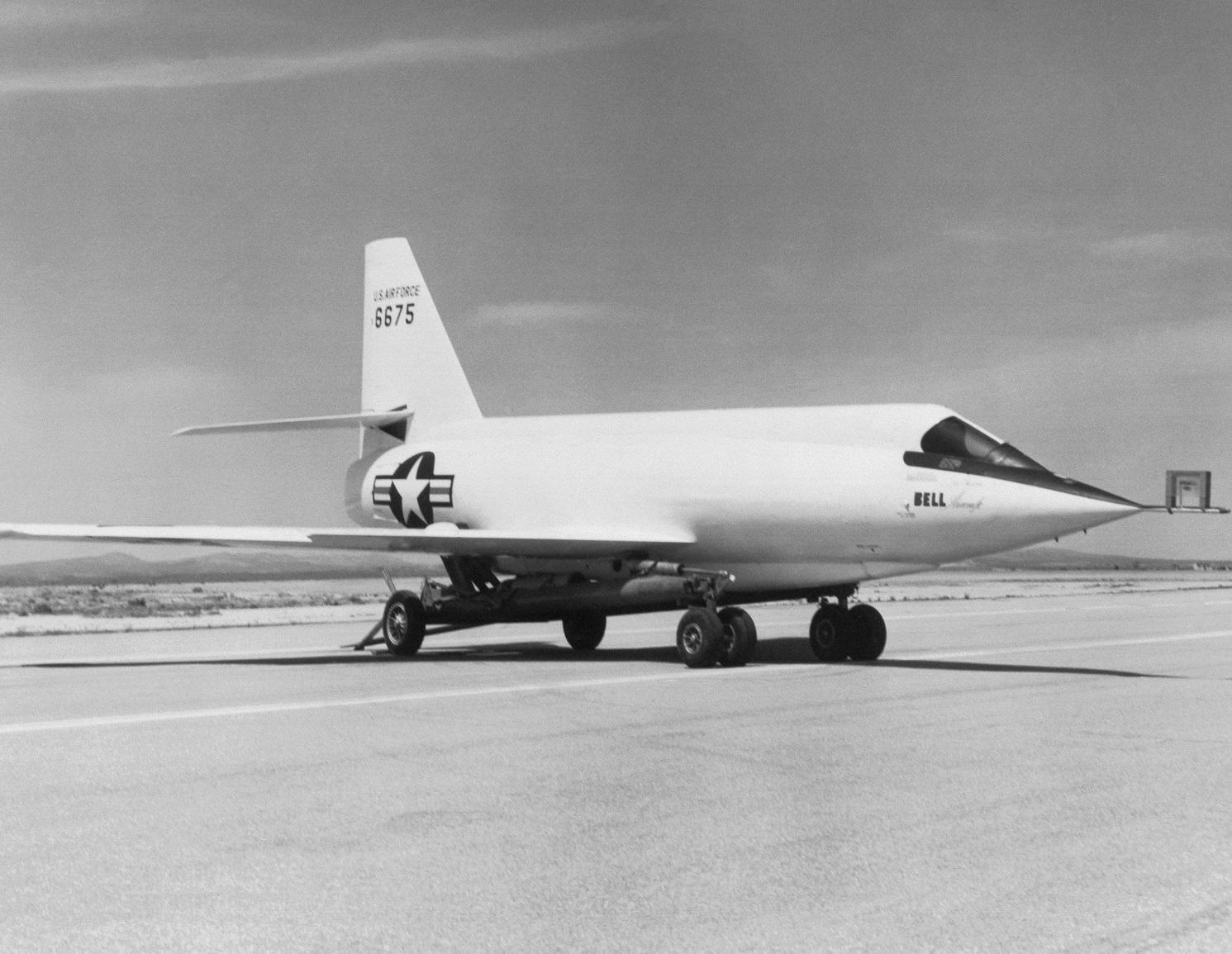 The X-2 was powered by a throttleable two-chamber Curtiss-Wright XLR25-CW-1 rocket engine that produced 2,500–15,000 pounds of thrust (11.12–66.72 kilonewtons)
Rather than use its limited fuel capacity to take off and climb to altitude, the X-2 was dropped from a modified heavy bomber as had been the earlier rocketplanes. A four-engine Boeing B-50D-95-BO Superfortress bomber, serial number 48-096, was modified as the drop ship and redesignated EB-50D.
The launch altitude was 30,000 feet (9,144 meters). After the fuel was exhausted, the X-2 glided to a touchdown on Rogers Dry Lake at Edwards Air Force Base.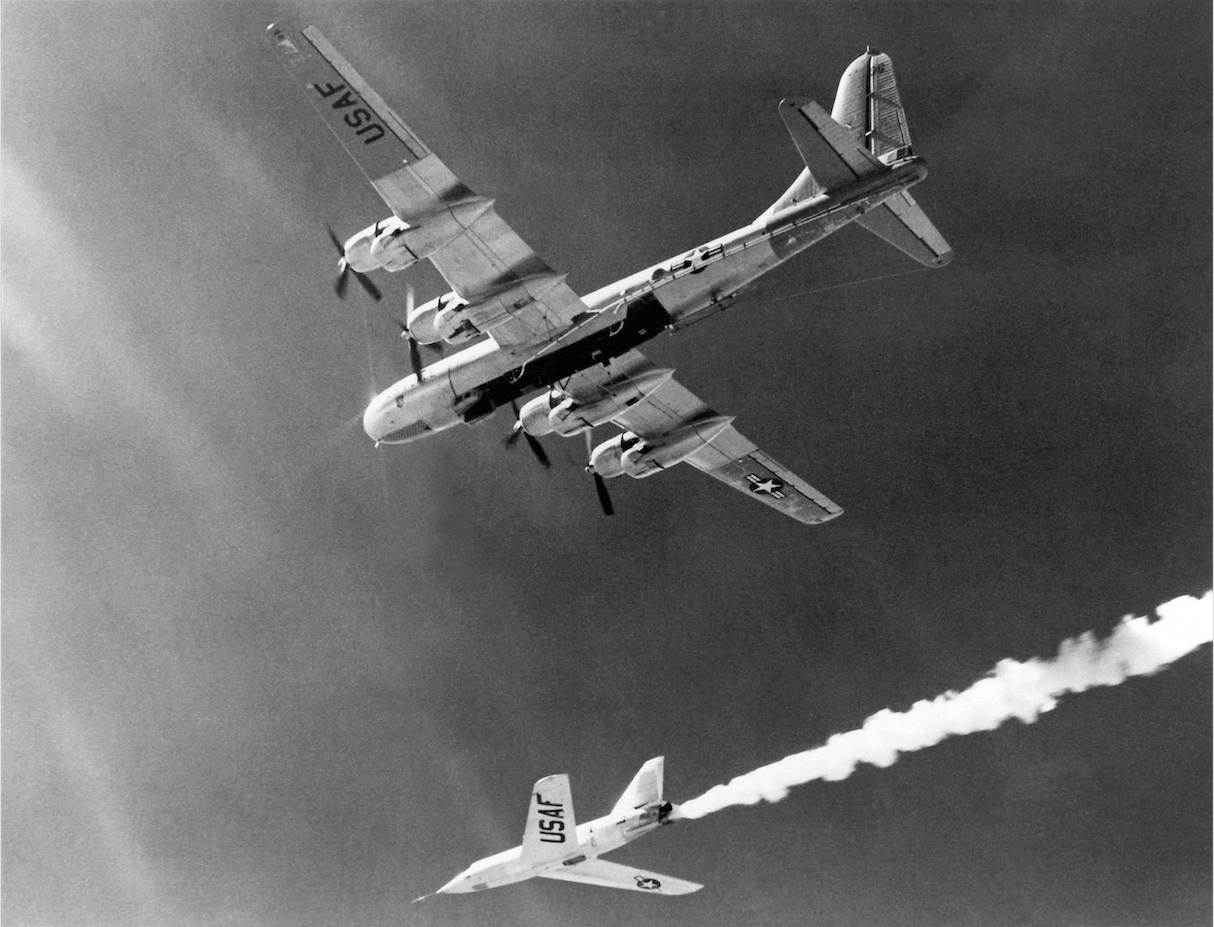 With Mel Apt in the cockpit on his first rocketplane flight, the B-50 carried the X-2 to 31,800 feet (9,693 meters). After it was dropped from the bomber, Apt ignited the rocket engine and began to accelerate. He passed Mach 1 at 44,000 feet (13,411 meters) and continued to climb. Apt flew an "extraordinarily precise profile" to reach 72,200 feet (22,007 meters) where he put the X-2 into a dive. The rocket engine burned 12.5 seconds longer than planned, and at 65,589 feet (19,992 meters) the X-2 reached Mach 3.196 (2,094 miles per hour, 3,377 kilometers per hour).
Milburn Apt was the first pilot to exceed Mach 3. He was The Fastest Man Alive.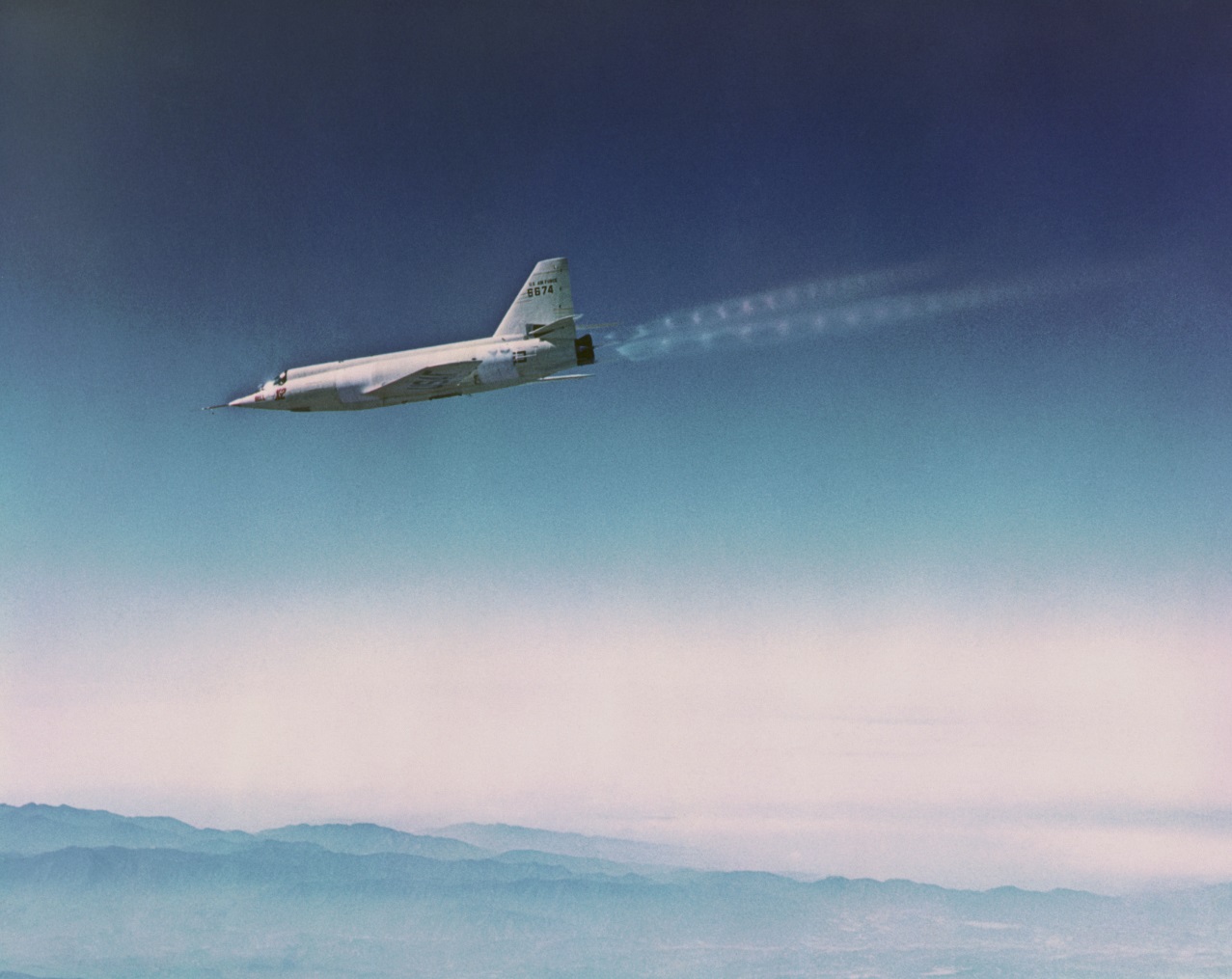 It was known that the X-2 could be unstable in high speed maneuvers. The flight plan called for Apt to slow to Mach 2.4 before beginning a gradual turn back toward Rogers Dry Lake where he was to land, but he began the turn while still at Mach 3. Twenty seconds after engine burn out, the X-2 began to oscillate in all axes and departed controlled flight. His last radio transmission was, "There she goes." ¹
Mel Apt was subjected to acceleration forces of ± 6 Gs. It is believed that he was momentarily unconscious. Out of control, the X-2 fell through 40,000 feet (12,192 meters) in an inverted spin. Apt initiated the escape capsule separation, in which the entire nose of the X-2 was released from the airframe. It pitched down violently and Mel Apt was knocked unconscious again. He regained consciousness a second time and tried to parachute from the escape capsule, but was still inside when it hit the desert floor at several hundred miles per hour. Mel Apt was killed instantly.
Since 1950, Milburn G. Apt was the thirteenth test pilot killed at Edwards Air Force Base.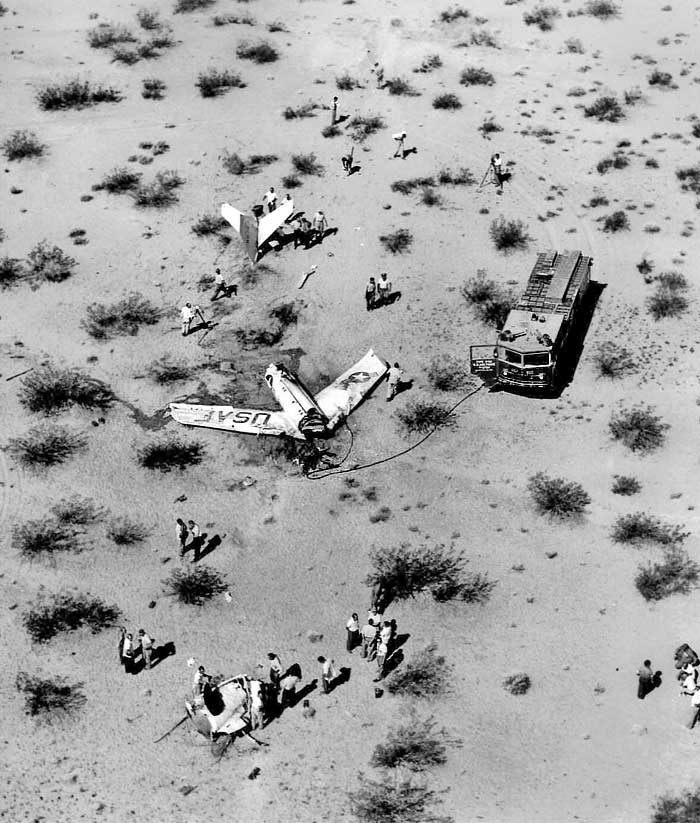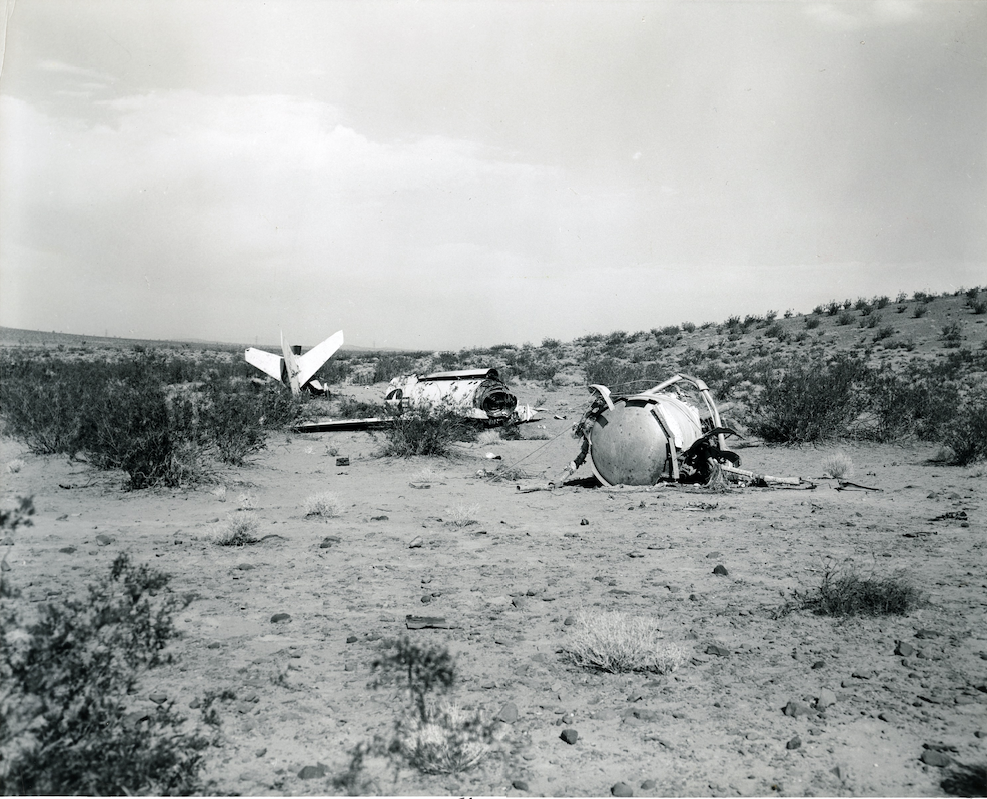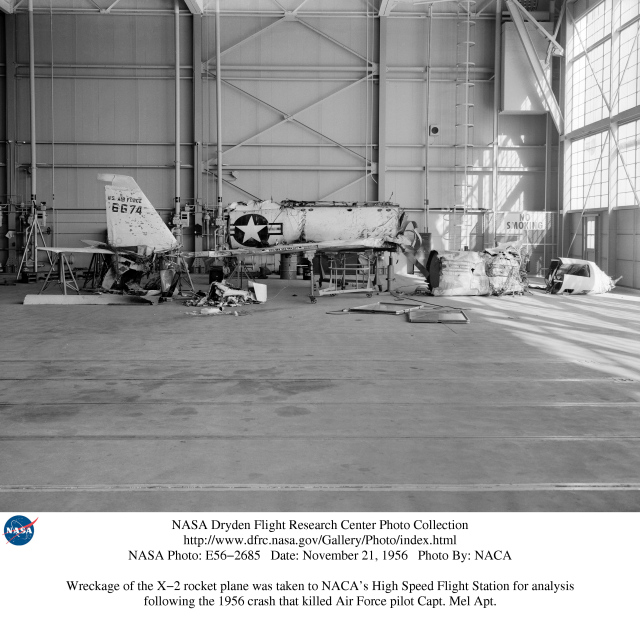 Milburn Grant Apt was born at Buffalo, Kansas, 8 April 1924. He was the third child of Oley Glen Apt, a farmer, and Ada Willoughby Apt.
"Mel" Apt enlisted as a private in the Air Corps Enlisted Reserve, United States Army, 9 November 1942. On 23 June 1943, Private Apt was appointed an Aviation Cadet. After completing flight training, Cadet Apt was commissioned a Second Lieutenant, Army of the United States (A.U.S.). He was promoted to First Lieutenant, A.U.S., 4 September 1945. Apt was released from active duty on 11 August 1946. On 10 October 1947, he was reclassified as a Second Lieutenant, Air Corps, United States Army, with date of rank 8 April 1945.
In February 1950, Lieutenant Apt, then stationed at Williams Air Force Base, Arizona, married Miss Faye Lorrie Baker of Phoenix. They would have two children.
Mel Apt earned a Bachelor of Science degree from the University of Kansas, Lawrence, Kansas, in 1951, and a second bachelor's degree in aeronautical engineering from the Air Force Institute of Technology, Wright-Patterson Air Force Base, Ohio. He then attended the U.S. Air Force Experimental Test Pilot School at Edwards Air Force Base, California, graduating in September 1954. Apt was assigned to the Fighter Operations Branch, Air Force Flight Test Center, as a test pilot.
On 22 December 1954, Captain Apt was flying a chase plane during a test at Edwards. The test aircraft crash-landed on the dry lake and caught fire with its pilot trapped inside. Mel Apt, with his bare hands, rescued the other test pilot, saving his life. For this courageous act, he was awarded the Soldier's Medal.
Captain Apt was posthumously awarded the Distinguished Flying Cross for his flight in the X-2. The medal was presented to his widow in a ceremony at Edwards in March 1957.
Captain Milburn Grant Apt, United States Air Force, was 32 years old at the time of his death. His remains were buried at the Buffalo Cemetery, Buffalo, Kansas.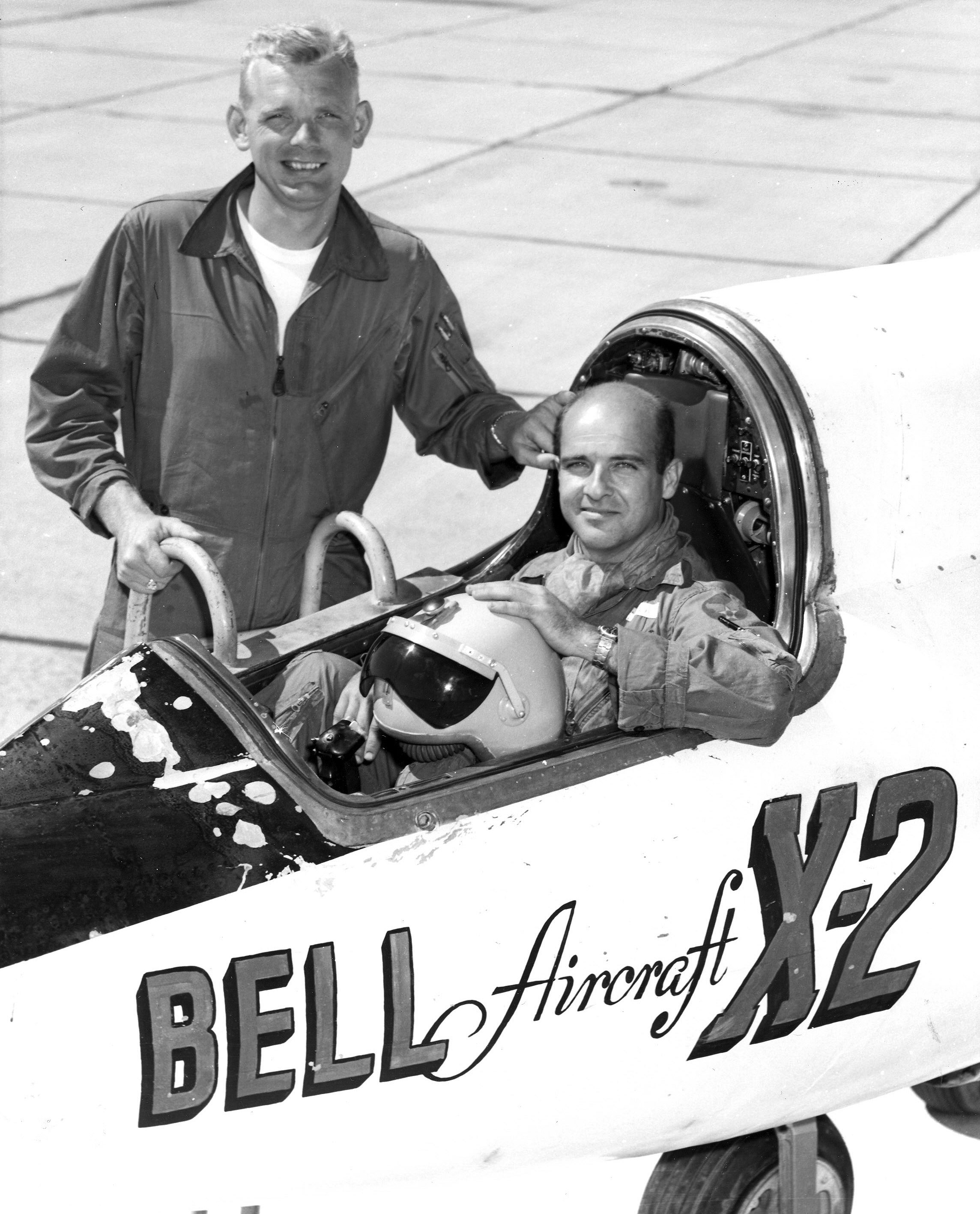 ¹ Recommended: Coupling Dynamics in Aircraft: A Historical Perspective, by Richard E. Day, Dryden Flight Research Center, Edwards AFB, California NASA Special Publications 532, 1997.
© 2018, Bryan R. Swopes