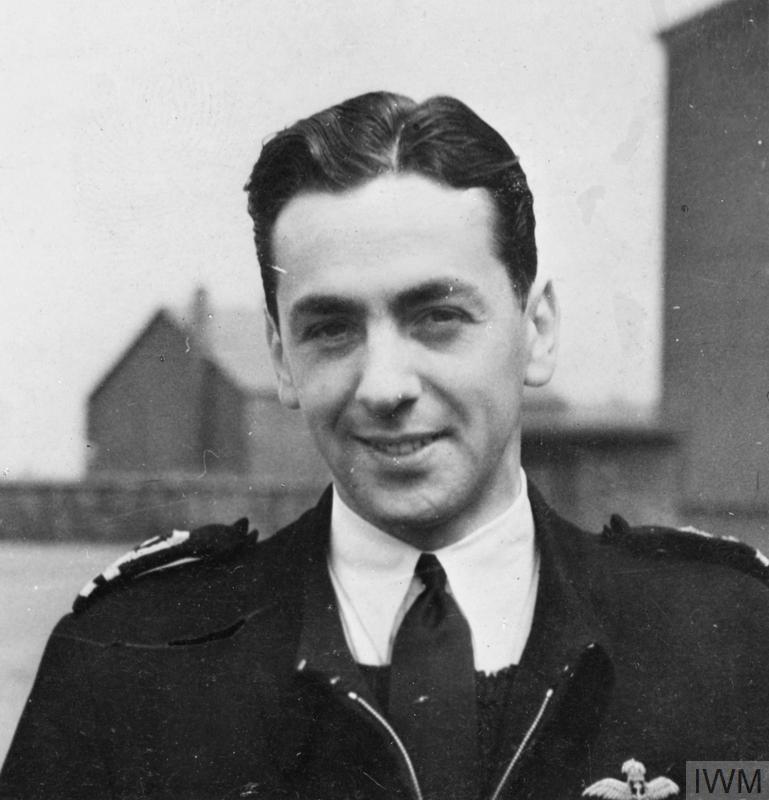 3 December 1945: The first landing and takeoff aboard an aircraft carrier by a jet-powered aircraft were made by Lieutenant-Commander Eric Melrose Brown, M.B.E., D.S.C., R.N.V.R., Chief Naval Test Pilot at RAE Farnborough, while flying a de Havilland DH.100 Sea Vampire Mk.10, LZ551/G. The ship was the Royal Navy Colossus-class light aircraft carrier, HMS Ocean (R68), under the command of Captain Casper John, R.N.
For his actions in these tests, Lieutenant-Commander Brown was invested an Officer of the Most Excellent Order of the British Empire (O.B.E.), 19 February 1946.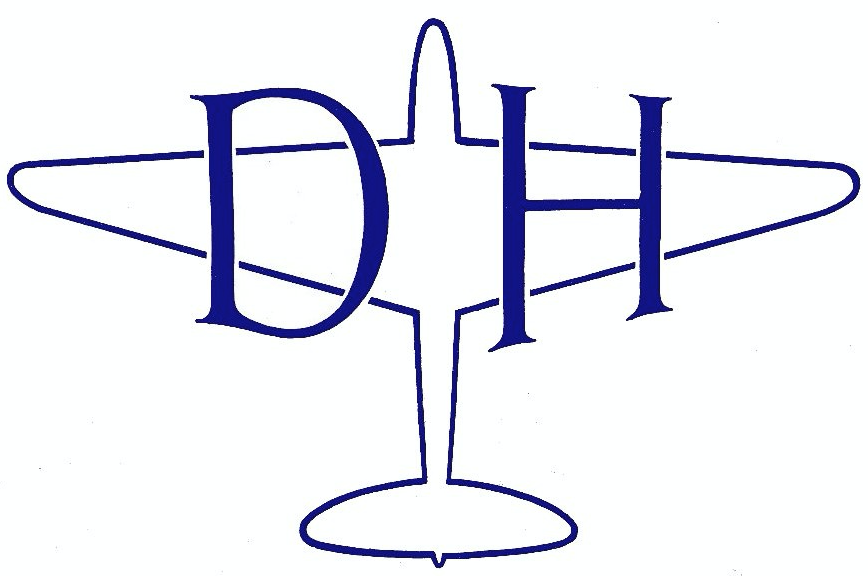 LZ551 was the second of three prototype DH.100 Vampires, which first flew 17 March 1944. The airplane was used for flight testing and then in 1945, was modified for operation for carriers. It was named "Sea Vampire" and reclassified as Mk.10.
The DH.100 was a single-seat, single-engine fighter powered by a turbojet engine. The twin tail boom configuration of the airplane was intended to allow a short exhaust tract for the engine, reducing power loss in the early jet engines available at the time.
LZ551/G was originally powered by a Halford H.1 turbojet which produced 2,300 pounds of thrust (10.231 kilonewtons) at 9,300 r.p.m. This engine was produced by de Havilland and named Goblin.
The Vampire entered service with the Royal Air Force in 1945 and remained a front-line fighter until 1953. 3,268 DH.100s were built. There were two prototype Sea Vampires (including LZ551) followed by 18 production Sea Vampire FB.5 fighter bombers and 73 Sea Vampire T.22 two-place trainers.
LZ551 is in the collection of the Fleet Air Arm Museum, Yeovilton, Somerset.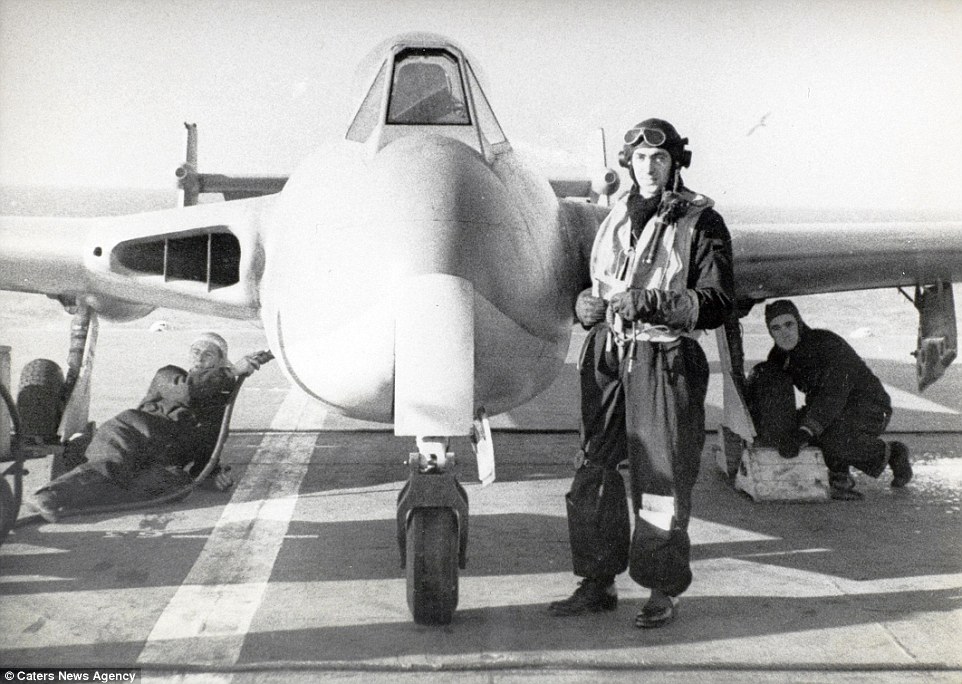 HMS Ocean was built at the Alexander Stephen and Sons yard on the Clyde, Glasgow, Scotland. The ship was launched in 1944 and commissioned 8 August 1945. Classed as a light fleet carrier, HMS Ocean was 630 feet (192 meters) long at the water line, with a beam of 80 feet, 1 inch (24.41 meters) and standard draft of 18 feet, 6 inches (5.64 meters) at 13,190 tons displacement; 23 feet, 3 inches (7.09 meters), at full load displacement (18,000 tons). The aircraft carrier's  flight deck was 695 feet, 6 inches (212.0 meters) long. Ocean was driven by four Parsons geared steam turbines producing 40,000 shaft horsepower, and had a maximum speed of 25 knots (28.8 miles per hour/46.3 kilometers per hour). HMS Ocean had a crew of 1,050 sailors, and could carry 52 aircraft.
HMS Ocean served for twelve years before being placed in reserve. Five years later, she was scrapped at Faslane, Scotland.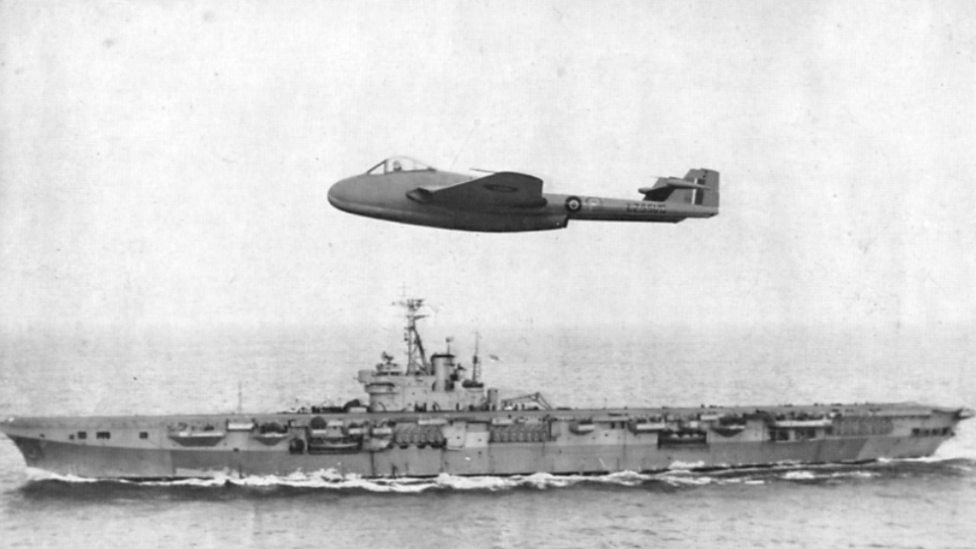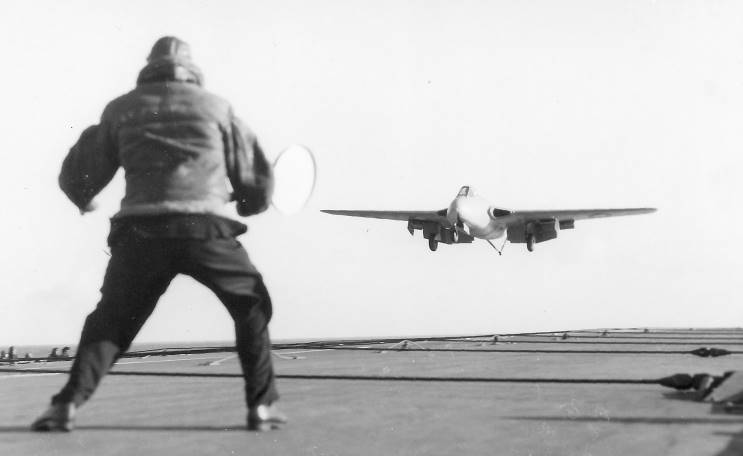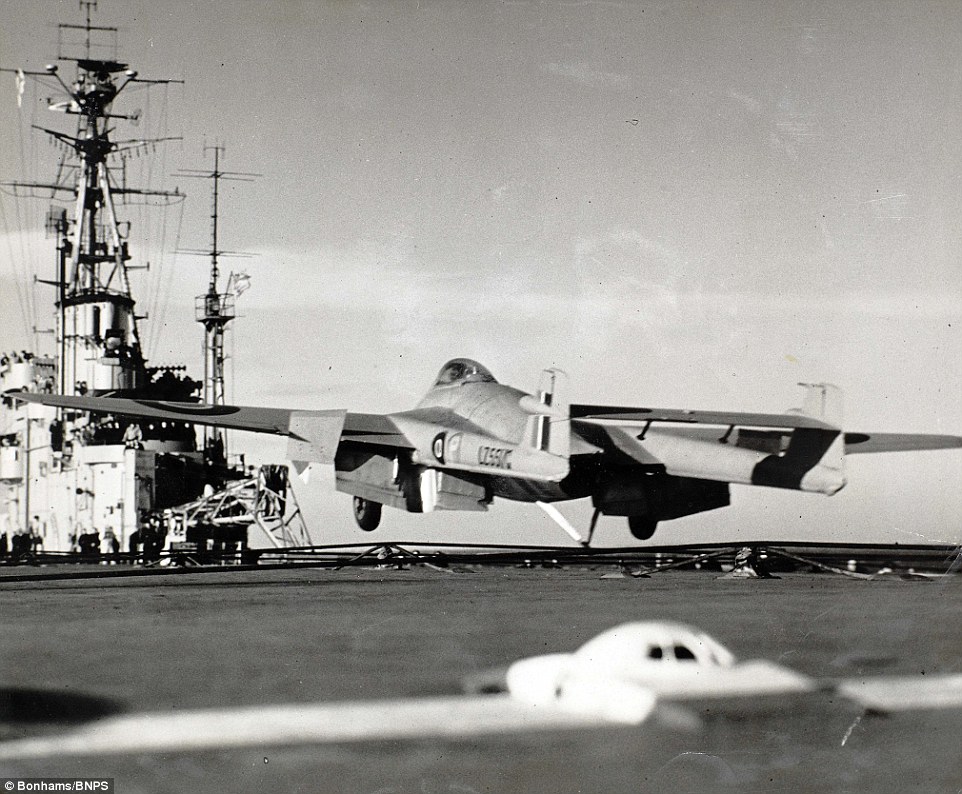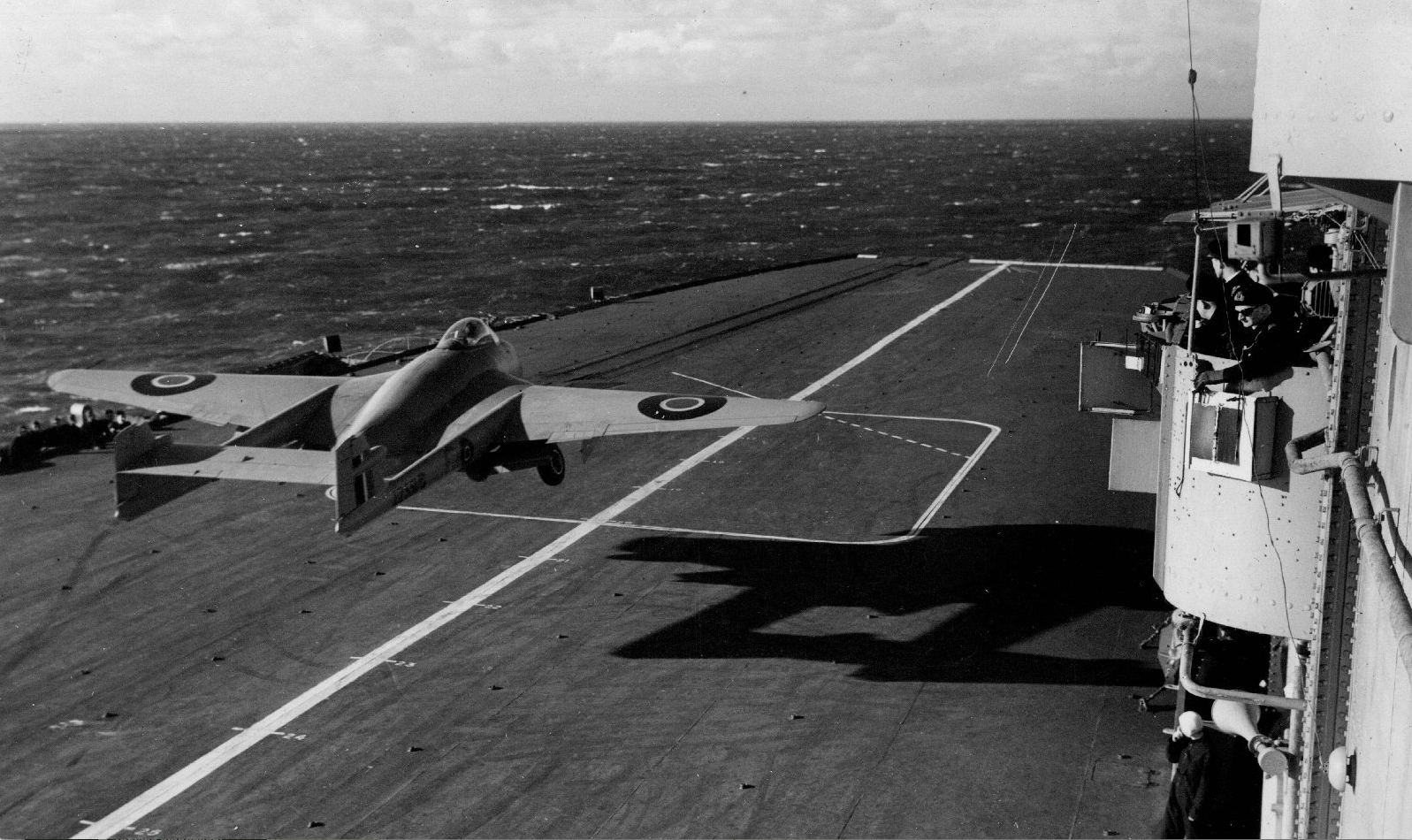 Captain Eric Melrose Brown, C.B.E., D.S.C., A.F.C., KCVSA, Ph.D., Hon. F.R.Ae.S., R.N., is one of aviation's greatest test pilots. He was born at Leith, Scotland, 21 January 1918, the son of Robert John Brown and Euphemia Melrose Brown. His father, a Royal Air Force officer, took him for his first flight at the age of 8. He was educated at the Royal High School, Edinburgh, Scotland; Fettes College; and at the University of Edinburgh. He received a Master of Arts degree from the university in 1947.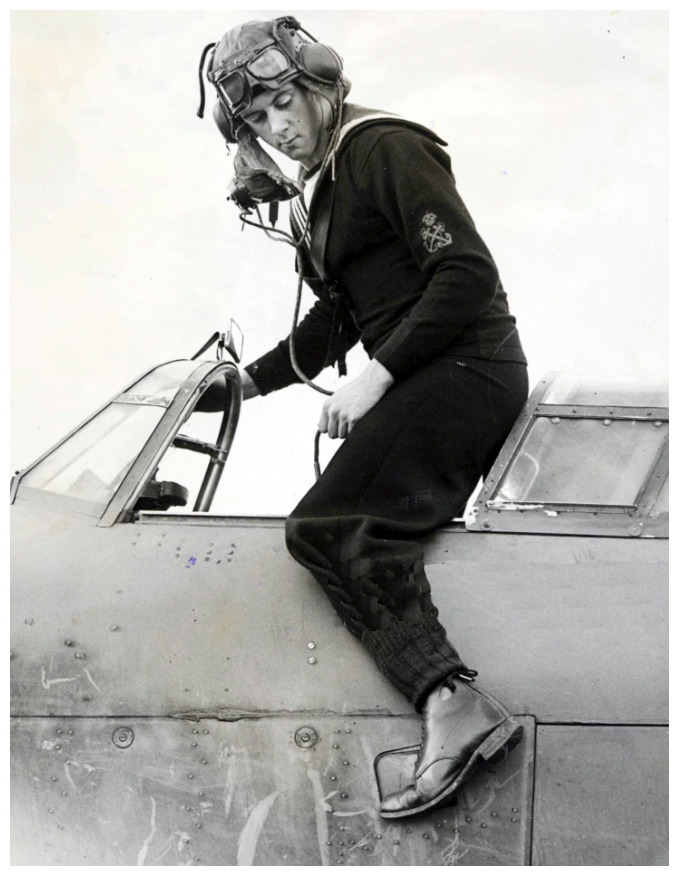 Eric Brown volunteered for the Royal Navy Fleet Air Arm, 4 December 1939. Having previously learned to fly at the University Air Squadron, Brown was sent to a Flying Refresher Course at RNAS Sydenham, Belfast, Northern Ireland.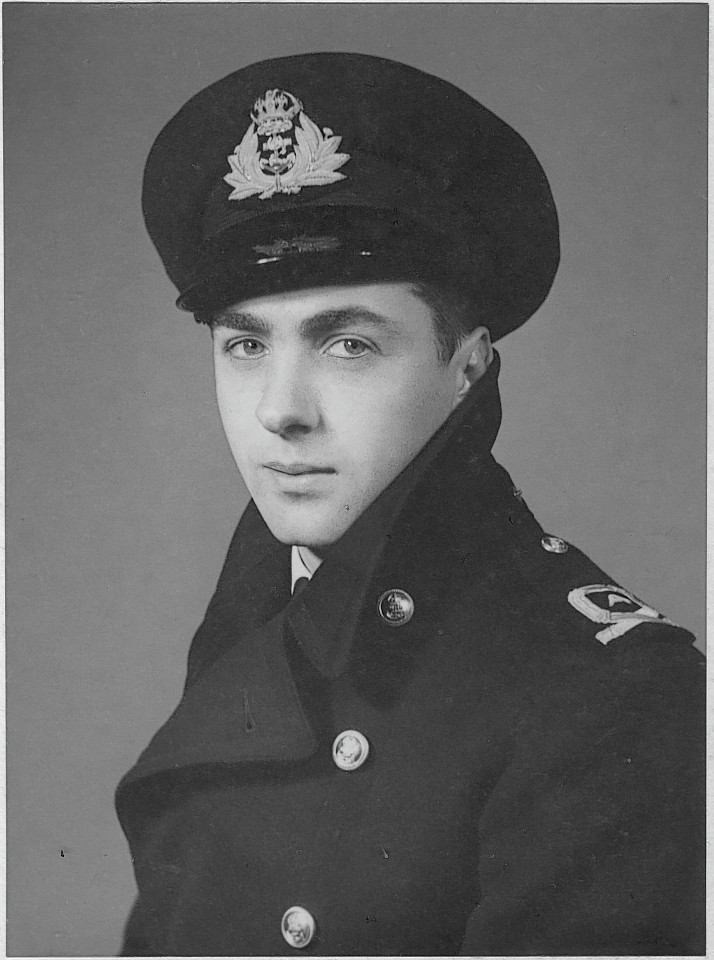 Brown received a commission as a temporary Sub-Lieutenant, Royal Navy Volunteer Reserve, 26 November 1940. He briefly served with No. 801 Squadron before being transferred to No. 802 Squadron. He flew the Grumman G-36A Martlet Mk.I (the export version of the U.S. Navy F4F-3 Wildcat fighter) from the escort carrier HMS Audacity (D10) on Gibraltar convoys.
Having shot down several enemy aircraft, including two Focke-Wulf Fw 200 Condor four-engine patrol bombers, Brown was awarded the Distinguished Service Cross. HMS Audacity was sunk by enemy submarines in the Atlantic, 21 December 1941. Brown was one of only 24 to escape from the sinking ship, but only he and one other survived long enough in the frigid water to be rescued.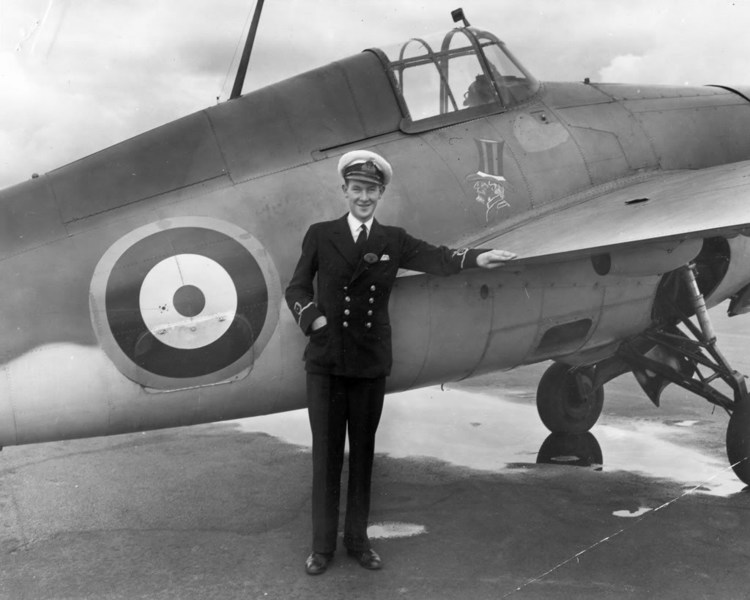 Sub-Lieutenant Brown met Miss Evelyn Jean Margaret Macrory on 7 April 1940. They married in 1942 and would have one son.
Brown was promoted to lieutenant, 1 April 1943. After a number of operational assignments, Lieutenant Brown was assigned to the Naval Test Squadron at the Aeroplane and Armament Experimental Establishment, Boscombe Down, in December 1943. The following month Brown was named Chief Naval Test Pilot at the Royal Aircraft Establishment, Farnborough. He held that post until 1949.
In July 1945, Eric Brown was promoted to the rank of lieutenant-commander (temporary), and then, following the war, he was transferred from the Royal Navy Volunteer Reserve to the Royal Navy, and appointed a lieutenant with date of rank to 1 April 1943.
Lieutenant Brown was awarded the King's Commendation for Valuable Service in the Air in the New Year's Honours List, 1949. Brown returned to No. 802 Squadron during the Korean War, flying from the aircraft  carriers HMS Vengeance (R71) and HMS Indomitable (92). He was promoted to lieutenant-commander, 1 April 1951. In September 1951, Brown resumed flight testing as an exchange officer at the U.S. Naval Air Test Center, Patuxent River, Maryland.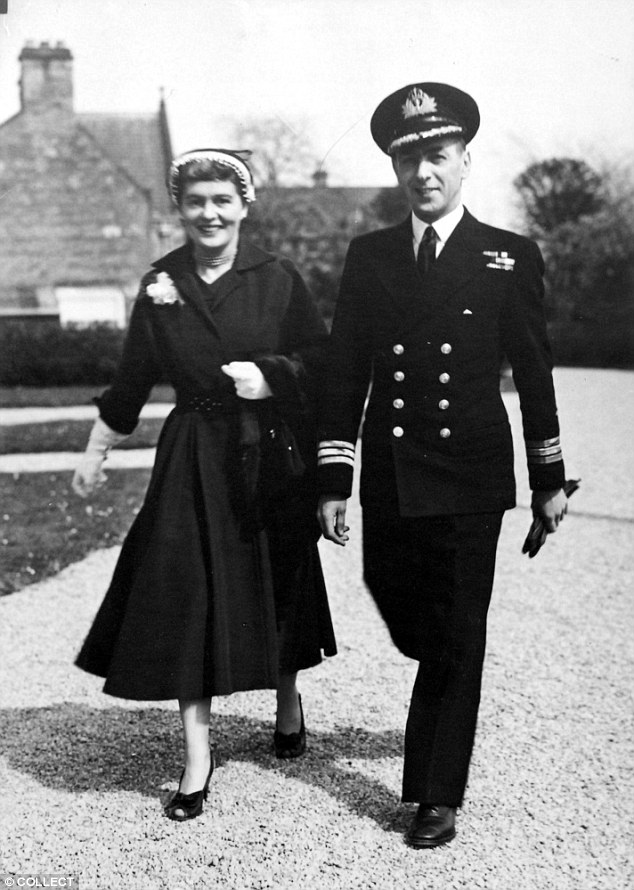 In 1953, Lieutenant-Commander Brown was a ship's officer aboard HMS Rocket (H92), an anti-submarine frigate. He was promoted to commander, 31 December 1953. After a helicopter refresher course, Brown commanded a Search-and-Rescue (SAR) helicopter flight aboard HMS Illustrious. He next commanded No. 804 Squadron based at RNAS Lossiemouth, then went on to command RNAS Brawdy at Pembrokeshire, Wales.
From 1958 to 1960, Commander Brown was the head of the British Naval Air Mission to Germany. He then held several senior positions in air defense within the Ministry of Defence. He was promoted to captain 31 December 1960.
From 1964 to 1967, Brown was the Naval Attache at Bonn, Germany. He next commanded RNAS Lossiemouth, 1967–1970.
Captain Brown's final military assignment was as Aide-de-camp to Her Majesty, Queen Elizabeth II of Great Britain.
Eric M. Brown was invested a Member of the Most Excellent Order of the British Empire (M.B.E.), 3 July 1945, for landings of a de Havilland DH.98 Mosquito aboard HMS Indefatigable, 2 May 1944. On 1 January 1970, Captain Brown was named a Commander of the Most Excellent Order of the British Empire (C.B.E.) in the Queen's New Years Honours List.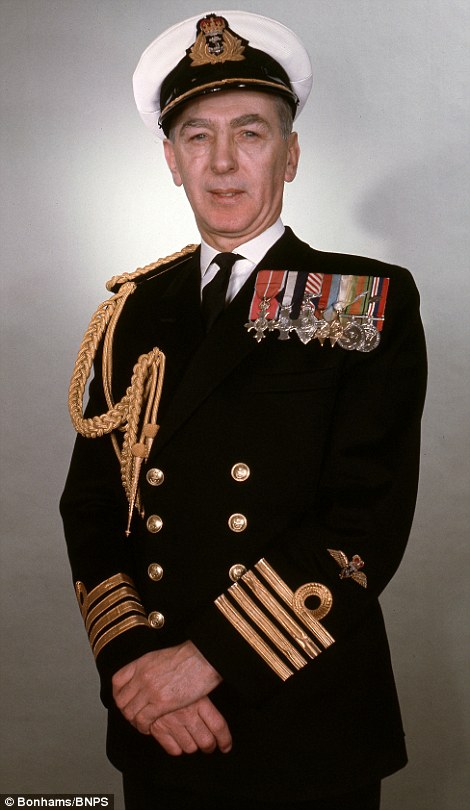 Captain Eric Melrose Brown, C.B.E., D.S.C., A.F.C., K.C.V.S.A., Ph.D. Hon. F.R.Ae.S., R.N., retired from active duty 12 March 1970.
At that time, he had accumulated more than 18,000 flight hours, with over 8,000 hours as a test pilot. Captain Brown had flown 487 different aircraft types (not variants), a record which is unlikely to ever be broken. Brown made more landings on aircraft carriers than any other pilot, with 2407 landings, fixed wing, and 212 landings, helicopter. He made 2,721 catapult launches, both at sea and on land.
In 1982 and 1983, Captain Brown served as president of the Royal Aeronautical Society.
Eric "Winkle" Brown died at Redhill, Surrey, England, 21 February 2016, at the age of 97 years.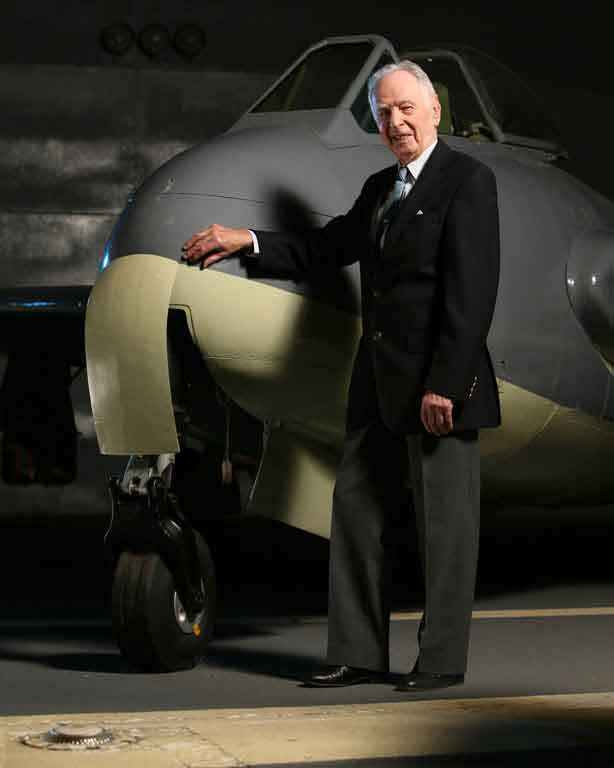 © 2018, Bryan R. Swopes